by Dave Waddell
Two years ago, Mike Dunbaugh came out of retirement to set the Chico Police Department on a path to reform. His five-month stint as interim police chief ended with a June 4, 2015, final report. In that confidential memorandum sent to the City Council and other officials, Dunbaugh described Chico PD as having abnormally poor relations with the community it served, as well as being unwelcoming to women.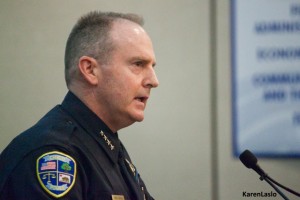 "The failure of the Police Department to maintain healthy community connections is extreme," Dunbaugh wrote. "In over 40 years of being associated with the law enforcement industry in California, I have not seen a department from a city this size dig a hole this deep for itself. City leadership played a role in this happening; and, it is going to take significant effort and time for the police department to reconnect and correct."
According to Dunbaugh's memo, the department's culture contained "a significant 'good ole boy' faction within … or, at a minimum, the strong perception of one." He wrote that past civil rights violations had contributed to "diminished numbers of female officers" and to having no women above the rank of police officer.
Dunbaugh was succeeded as chief by department veteran Mike O'Brien, who Dunbaugh, during a previous stint at the helm in Chico in 1992, had hired away from the Los Angeles County Sheriff's Office and introduced to so-called "community policing." O'Brien, a former downtown and Bidwell Park bicycle cop, rose through the ranks to become commander of the detective bureau and a captain.
In announcing his selection, City Manager Mark Orme said O'Brien possessed three qualities Chico's new chief needed: strong communication skills, a willingness to collaborate with other city departments and officials, and a commitment to the community policing approach ushered in by Dunbaugh. All were in short supply at the top of Chico PD for many years, critics say.
So how's O'Brien, who was interviewed twice at his office by ChicoSol for this story, doing after about 21 months in the job?
Consistent with a community-oriented emphasis, O'Brien has been more accessible and more visible around town than most of his predecessors. For example, he's been spotted at Chico's gay-pride celebration, at a parade for Pleasant Valley High School's state championship football team, and among refugees from the Oroville Dam scare. And, by some statistical measures, both community relations and the department's culture for female staff have improved markedly on O'Brien's watch.
"The failure to maintain healthy community connections is extreme" — Mike Dunbaugh
When O'Brien took over as chief, he stepped into what had become something of a revolving-door corner office for near-term retirees, becoming the fifth Chico police chief in six years. Most recent before the reformist Dunbaugh were Mike Maloney and Kirk Trostle, each of whom retired on or about his 50th birthday after a couple of years in the top job during budget-slashing times. Though finances have improved and O'Brien appears to be making strides in key areas, some community members question how much attitudes have actually changed at Chico PD.
Missing cell phone case still unresolved
Looming over Chico PD and its image is the outcome of a complaint filed by Chico State senior Madeline Hemphill alleging that police retaliated and used excessive force against her last August.
Hemphill said she was tackled by officers while filming with her cell phone the arrest of her roommate, Nicole Braham. Both women were accused of resisting arrest by Chico police, but Butte County District Attorney Mike Ramsey has charged only Braham, who is due back in court March 7 for a trial readiness conference.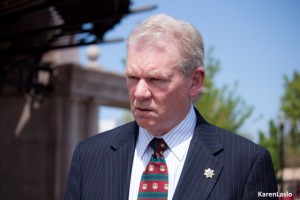 The incident, which can be read about here, drew much scrutiny after part of Braham's arrest was videotaped by a third roommate and posted on YouTube. An oddity of the case is that while police claim Hemphill's phone was lost during her arrest, Hemphill insists that police asked her multiple times during her detention for permission to access the phone's video as evidence. The phone was used for several days after the incident before use stopped.
Given the public attention the case has drawn, O'Brien said he asked the district attorney's office to investigate Hemphill's complaint. O'Brien said the DA's investigation, which is six months old and unfinished, is looking at the "totality" of the case, though Ramsey said his office's inquiry is limited to a single issue: "Where's the phone?"
Chico PD will evaluate the DA's findings and, if warranted, do additional investigation before determining whether any officer discipline is warranted, O'Brien said.
Ramsey said he is "very frustrated" because the provider of Hemphill's cell phone, T-Mobile, has been "uncooperative" with the investigation. His office currently is seeking a revised court order over what the DA described as technical issues.
Ramsey said that since multiple Chico police officers "were in the vicinity of that phone" when it left Hemphill's possession, it was appropriate for his office to investigate.
Investigators "have a better idea" of where the phone traveled after Hemphill's arrest, but the revised search warrant being sought is intended to provide a "more micro" vantage point of its path, Ramsey said.
O'Brien said he has been kept closely apprised of the DA's investigation and indicated that he had heard nothing to date that alarmed him about police conduct. The chief said he anticipates a public report from authorities.
"I think you'll see the thoroughness of this investigation," O'Brien said.
Shortly after the arrest video went viral, Chico PD issued the detailed statement signed by O'Brien. Some questioned the veracity of O'Brien's account, including Michael Coyle, an associate professor at Chico State who teaches criminal justice classes. Coyle also chairs the American Civil Liberties Union board in Chico.
After viewing the video that went viral, Coyle labeled portions of O'Brien's statement "preposterous," saying it sugar-coated the aggressiveness of the arrest of the petite Braham, then 19, by burly officer Steve Dyke.
"That entire report is without any credibility," Coyle said in an interview shortly after the incident. "I do not trust anything in that report."
O'Brien said recently that he stands fully behind his statement, pending completion of the DA's investigation.
Female officers scarce
With women not joining a police force that was unwelcoming to them – or at least perceived as such, according to Dunbaugh's memo — the loss of several veteran female supervisors in recent years hit Chico PD especially hard. Capt. Lori MacPhail and Lt. Linda Dye both retired, with Dye paid a $24,600 settlement in her last year for an unspecified civil rights violation. Also departing as 2015 dawned was 19-year department veteran Lt. Jennifer Gonzales, then 40, hired away to a captain's position by the Napa Police Department.
By 2015, only two of the department's "sworn" personnel were female. Since O'Brien took over, three women officers have been added to the force, though no females are in management roles except in the "non-sworn" divisions of dispatch/records and animal services.
"It's time our Chico police change things" — Emily Alma

"I don't want a good ol' boy department; I want a good department, period," O'Brien said. "We're attracting good female candidates now. After they get experience, I expect them to do very well in the promotional process."
Chico PD has just one African-American police officer, Brian Miller, who was promoted to sergeant on O'Brien's tenure.
"We want a diverse department because I think that's healthy, and we want the best," O'Brien said.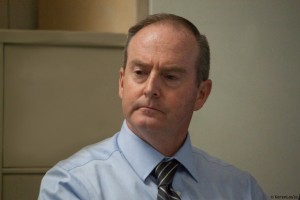 The chief noted that retirements have been transforming Chico PD into a relatively young department. Lt. Rob Merrifield retired in December after 29 years with Chico PD, and O'Brien's current No. 2 man, Dave Britt, is departing this month after 26 years of service, his final 15 months as deputy police chief.
Both Merrifield and Britt retired a little over a year after being promoted by O'Brien. Since California Public Employees Retirement System benefits are based on a member's highest annual salary, each likely received a healthy late-career bump in his life-long CalPERS retirement income.
If the number of personnel complaints filed against officers are a good measure of a department's community relations, then Chico PD has improved dramatically over the past two years. In 2015 and 2016, the department received 11 and 10 official complaints from the public, respectively, as compared to averaging about 24 "external" complaints per year for the previous four years — 2011-2014. Personnel complaints from within the department are also way down from previous years, with just four filed in 2016.
Formal complaints against police fell last year despite a 7 percent increase in service calls from 2015. According to O'Brien, the department handled nearly 73,000 calls in 2016, with just 51 (0.0007 percent) of those resulting in force being used. Two suspects were seriously injured when police used force last year, but no firearms were discharged by officers and there were no deaths.
One long-discussed Chico PD reform has been the use of body cameras by officers. Their use, for example, might have proven or disproven allegations of retaliation and excessive force by the Chico State students in the strange case of the missing cell phone.
Two cameras were tested in 2015, and the department opted for a camera that's worn on each officer's chest and activated in any sort of enforcement action. While the cameras are relatively inexpensive, storing their data is quite costly — about $50,000 to $60,000 a year – though Chico PD has secured grant funding to pay for storage for two years. What stands in the way of camera use now – and apparently has for several months — is a persistent glitch in being able to digitally send data to the district attorney's office, Britt said.
'There's this blue wall'
Not everyone is convinced that the times they are a changin' all that much at Chico PD, however. Community activist Emily Alma is one.
Alma accompanied Hemphill and Braham, the Chico State students arrested by police last August, when they spoke at a local ACLU board meeting shortly after the incident. At that meeting, Alma criticized the department's lack of responsiveness in handling complaints.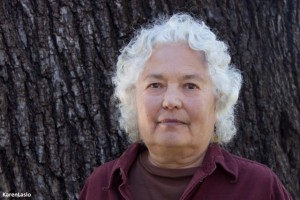 "There's this blue wall," Alma told the ACLU board. She said O'Brien says things have changed but they haven't enough.
"It's time our Chico police need to answer to what they're doing and change things," she said.
In addition to the Hemphill-Braham case, Alma is critical of police handling of a custody incident in 2015 involving Emily Brannen and her transgendered child, who was then 7. The child was viewed as a boy at the time but has since transitioned to a girl.
Officers Neil Simpson and Derek Ament responded to Brannen's residence because the child would not go with the father, who had custody. By Brannen's recollection, the officers spent about 30 minutes at the scene, talking separately with the parents and the child. Brannen audio-recorded the event, and the officers repeatedly tried to urge and cajole the child out the door to the father waiting outside.
They also at times sounded insensitive to what the child might be going through in terms of gender identity, with Simpson dismissively telling Brannen when she raised the matter: "He's 7."
The child also was wearing boy's underwear back to front, and one of the officers later asks: "Why do you have your shorts on backwards?"
With the child crying and apparently curled up on a couch and refusing to budge after much talk, Simpson grew impatient. "I'm tired of waiting; I've been more than nice to you," Simpson tells the child in the recording. "Your behavior is becoming inappropriate and unacceptable."
Finally, the officers attempted to good-naturedly carry the child outside, but the child suddenly clings to the handle of the screened security door, Brannen recalls.
"Let go of me! Let go of me! Let go of me!" the child can be heard yelling in Brannen's recording.
Brannen believes it was improper and traumatizing for police to have "dragged" her child out of the home. Along with Alma and other community members, Brannen met with O'Brien and other police brass and asked for an apology, which was not forthcoming. Brannen said she informed O'Brien that she had audio-recorded the episode. The chief asked if she still had the recording but did not ask to listen to it or for a copy, she said.
Brannen then filed an official complaint. The department's letter of response several months later says an investigation determined her complaint to be "unfounded." Officers took the steps necessary to enforce a custody order, including "the appropriate level of force and rapport techniques," it says.
Alma said that if there isn't a law against the police physically removing a child against her will, "there ought to be."
"That was terrorizing for a little child," Alma said. "If a child is that adamant that she doesn't want to go … maybe there's a reason."
Racial profiling 'not tolerated'
The department has been accused of racial profiling in past years, and Vince Haynie of Chico believes he got a dose about five years ago. Haynie said that after he called police to report a verbally abusive trespasser, the arriving officer's first words to him were: "Are you still on parole?"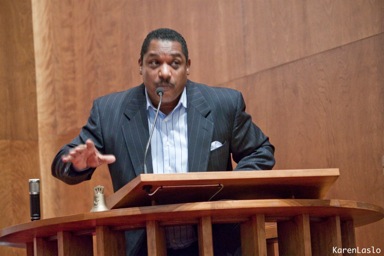 Haynie said he's never been on parole. He complained about what he felt was a race-based remark to then-chief Maloney, who "handed it over" to Lt. Dye. Haynie met with Dye, who he said apologized on behalf of the officer and the department. He ended up not filing a complaint.
Haynie said that even though he is active in the community and an NAACP board member in Chico, "I call police and this is what I get."
O'Brien said that no complaints of racial profiling have crossed his desk as chief.
"We're not going to tolerate that," O'Brien said. "I do not want a polarized community; I do not want a polarized department."
The city's improved fiscal health has allowed O'Brien to hire 19 police officers, including several new positions that raised the department total to 92 officers — still 10 fewer than were deployed in Chico a decade ago.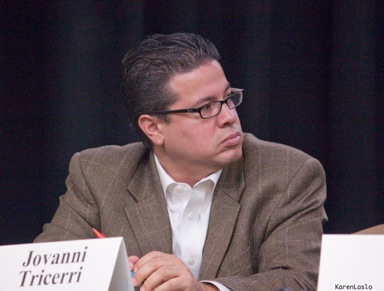 Jovanni Tricerri, who ran unsuccessfully for City Council last year, chairs Chico's Police Community Advisory Board. Tricerri acknowledged that department "morale was bad" due to staff reductions and that community relations declined when various "proactive" police programs had to be scrapped. The downtown/park bicycle team and resource officers for schools are examples of two such programs that were cut and have yet to be restored because of budget constraints.
"I agree with Mr. Dunbaugh that it was bad, but I don't think it was poor (Chico PD) leadership," Tricerri said. "It was poor financial management by the city leadership."
"I do think under Mike O'Brien the culture is somewhat changing" — Bob Trausch
The City Council recently approved a budget shuffle in order to restart the PD's traffic unit after a five-year absence. In 2016, six people were killed in traffic accidents in Chico, and two others died just beyond the city's edge. Officers will be paid overtime to patrol near schools by day and restart DUI enforcement by night – the latter "literally a matter of life and death," Tricerri said.
Robert Trausch, an activist and ACLU board member, came to Chico in 1984. Trausch says Chico PD's unhealthy community relations existed long before the city budget crisis. He said the police administration and the Chico Police Officers Association have been both politically powerful and disconnected from the community. Poor people in Chico fear rather than respect the police, he said.
"If you're a hammer, everything's a nail," Trausch said of Chico PD's past approach. "It was adversarial versus community based, and that has gone on for years. … I believe that the (police) union is still incredibly strong."
In Trausch's view, Dunbaugh was Chico's best police chief and O'Brien has carried on with his predecessor's community-policing approach, noting it can take several years to change an organization.
"I do think under Mike O'Brien the culture is somewhat changing," Trausch said. "It's actually going to take getting rid of some of the police officers."
Dave Waddell is news director at ChicoSol.