by Hannah Yeager
When Chico State third-year student Jaclyn Soller arrives in Ukraine, she will not just help manage an event. She'll also travel in a new country and meet other students from a total of 20 nations.
"Learning their different cultures and traditions is just so cool," Soller said. "Especially the cultures I haven't been able to encounter yet in my life. I mean, you're in one place and can experience all of these cultures."
Soller is one of 10 Chico State student mentors who will help run the World Championship event for Students for the Advancement of Global Entrepreneurship program (SAGE) in Odessa, Ukraine.
Every year, CSUC students mentor teams of high schoolers participating in SAGE, an organization that was founded by Chico State business professor Curt DeBerg. The SAGE World Championship takes place in a different host country each year, and this year will be held Aug. 10-14.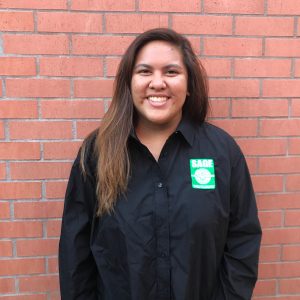 "You get to learn how to interact with other people," Soller said of the inter-cultural experience. "You also learn to keep an open mind with everything."
For more than 15 years, the World Championship has brought together student teams from more than 20 countries to compete for cash prizes based on their entrepreneurial business concepts. The teams can compete in either of two categories: the Socially-Responsible Business (SRB) and the Social Enterprise Business (SEB).
Teams that choose SRBs are focused on creating a profit, whereas SEBs focus on businesses that make an impact in the students' respective communities.
SAGE puts on several events annually — state, national, and world – and the latter is a chance for each country involved to present its two best teams.
"Each country gets to send their champions, just like the Olympics," said DeBerg, SAGE CEO. "Instead of sending our basketball team and our hockey team, we are sending our SRB and SEB teams."
Awards are also given by the United Nations for sustainability. Each team has the option to submit a one-page summary prior to the world competition explaining how it completed one or more of the sustainability requirements. Each winner for each of the sustainability categories wins a plaque and a $100 cash prize.
At this world competition, the students don't only compete, they tour the city where the competition is held, learning about the culture of the host country and having a "culture day." Culture day is when the teams give presentations about their cultures.
This year, the U.S. is sending two teams that are both from Mount St. Mary Academy in Buffalo, New York. These teams will represent America in the SRB and SEB categories.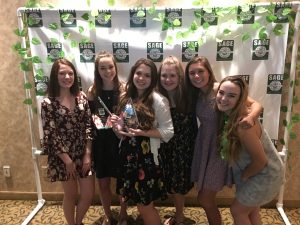 The SRB project, called "Essence," is a room-spray for-profit business. Not only are the spray's ingredients all organic, they also include essential oils that help alleviate stress as well as energize or relax the consumer. The SEB project is "Business Buzz," which combines community service and community activism. This company is focused on teens and has taken part in programs such as "Gowns for Proms."
DeBerg selects the student mentors who will become part of the traveling team based on their leadership skills and overall passion for SAGE.
"My team's job is to run the event that day," DeBerg said. "They morph from what we call 'mentors' into project leaders."
Chico State student mentors will practice their project management skills through planning and organizing the event beforehand and then making sure everything runs smoothly throughout the week.
Jonathan Gomez, a Chico State senior serving as SAGE California president, will be joining Soller in Ukraine and has been part of the traveling team for the past two years. He calls the program "life changing," and says the young students are amazing and skilled in ways he did not expect when he went into his first competition.
"To see a 14-year-old up there, and like not having coaching but just being passionate about a problem and being able to deliver inspiringly, is just something that I admire them for and makes me try to do better," Gomez said.
Gomez is able to observe the teams in California from inception to competition. High school students start by forming a team at their school. Once the team is registered, the students get mentors to help teach the program and check on the team's progress. Each team then develops either an SRB or an SEB, following the criteria stated in the handbook.
"My colleagues think that Curt has a nice little program that has an international flavor, but they don't quite understand it until they come out to one of these," DeBerg said.
During the championship, students compete by giving presentations on their projects until there are three winners in each category. The winners receive a trophy and the cash prize is considered seed money to help jump start the wining teams' businesses.
Even the teams that don't make it to the final three have done something that is perhaps more important than winning a competition. In the process of preparing, they have made a long-lasting change in their communities, and there are countless communities that have been changed for the better, DeBerg said.
Students who embark on the journey from the SAGE team to the World Championship are successful in the areas of growth, dedication and teamwork, he added.
"They don't get to go because they are the Miss America pageant winners," DeBerg noted. "They have to explain what they did. It is not a business-plan competition; it is a business-do competition."
Hannah Yeager is a second-year journalism major at Chico State. She is a summer intern at ChicoSol, assisting with social media and writing features.