by Dave Waddell
Hundreds of area residents turned out Sunday evening to celebrate the life of Desmond Phillips, a mentally ill black man gunned down March 17 by Chico police.
Money from the barbecue/entertainment fundraiser at 20th Street Park will be used by the Phillips family to seek justice for Phillips, organizers said.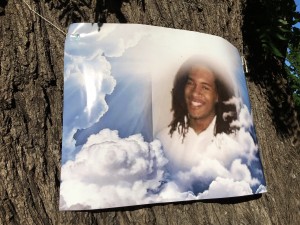 Next up for the group will be a June 9 rally beginning at 3 p.m. at the state Capitol in Sacramento, where demonstrators will march to the California Attorney General's Office seeking a state probe of the killing.
"It went just wonderful," said David Phillips, Desmond's father, of Sunday's fundraiser. "So many people there, and so much love. People from different walks of life enjoying each other. And that's Desmond right there."
Rain Scher of Showing Up for Racial Justice, Butte County, urged those attending Sunday's barbecue to file official complaint forms with the Chico Police Department over the killing. Scher said she hopes the forms will first be dropped off at the Chico Peace and Justice Center, 526 Broadway St., so that organizers can keep track of the number of complaints submitted.
Scher said Phillips' supporters also will urge the 2017-18 Butte County Grand Jury to investigate the incident as a precursor to an AG investigation.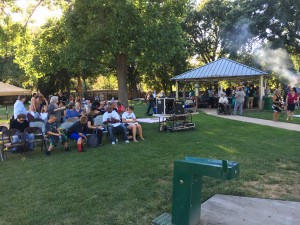 Phillips, 25, was shot at least 10 times by Chico officers Alex Fliehr and Jeremy Gagnebin in his father's West Fourth Avenue living room, just 21 minutes after medical aid was first called to help him. After Butte County District Attorney Mike Ramsey ruled the shooting justifiable, Police Chief Mike O'Brien returned Fliehr and Gagnebin to the force.
Diane Suzuki of the Beyond Violence Alliance told Sunday's crowd she was concerned the officers had not had "time to heal" before returning to duty less than a month after they fired a total of 16 shots at Phillips.
Dave Waddell is news director at ChicoSol.