by Dave Waddell
A proposal to turn Bidwell Park's three rangers into Chico police officers was scaled back Tuesday to arming just two of them as cops and having the third ranger work to bolster park volunteerism.
The so-called "hybrid" plan, outlined by Chris Constantin, assistant city manager, drew mixed reactions from members of the Bidwell Park and Playground Commission, as well as mostly skepticism from citizens who spoke at a public hearing.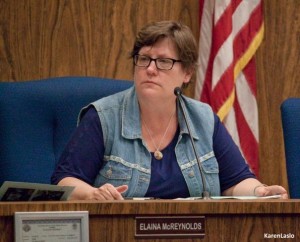 In an oddity at such hearings, one speaker, Dan Everhart, was interrupted twice during his brief testimony by commissioners who disagreed with his comments – first, pointedly, by Tom Nickell and a second time by Jeffrey Glatz. Commission Chair Marisa Stoller reminded commissioners that the purpose of the hearing was to receive public comments, and Glatz later apologized.
Nickell's interruption followed a lengthy, rambling monologue by Nickell earlier in the evening that drew heavily on his experience as a CHP officer. In urging commissioners to support the "hybrid" plan, Nickell argued that Bidwell Park safety is declining and that criminal activities in the park frequently go unreported.
"You see it all the time on Facebook," Nickell said. "It's time to take back the park."
Commissioners Glatz and Valerie Reddemann expressed similar sentiments about the park becoming more dangerous for visitors and rangers.
Other commissioners, including Aaron Haar and Elaina McReynolds, pushed for considering a proposal that would make just one of the rangers a cop.
"We want to change our brand to public safety," said Haar, referencing a City Council priority. "Our brand is Bidwell Park."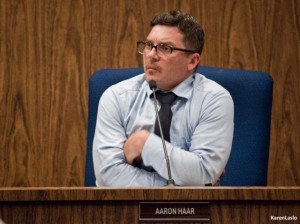 More information on different options and their costs will be presented at the commission's next meeting at 6:30 p.m. June 26 in the City Council Chambers.
Constantin represented his "hybrid" plan as a "win-win" for the community. Not only would it bolster public safety but also enhance Bidwell Park's stagnated educational programs, he argued.
Constantin believes that by working with the internship program in Chico State's department of natural resources, a team of 20 to 25 park volunteers could be created at a cost of about $15,000 a year to rejuvenate the park's interpretive efforts.
One speaker, Trevor Skaggs, applauded the volunteer proposal, which was labeled "Park Watch Plus," and said he would be among the first to sign on, "so everyone can enjoy the Chico I enjoy."
Looming over Tuesday's discussion was the City Council's desire to hire more police officers while confronting an imminent budget crisis brought on by the city's escalating contributions to the California Public Employees Retirement System.
Commissioner McReynolds said the city faces "potential bankruptcy" in 2019 due to those rising CalPERS costs, and she expressed concern that rangers would be cut and cops kept in any coming budget squeeze. Constantin acknowledged that the city will have difficulty balancing its 2018-19 fiscal year budget as a result of surging employee pension obligations.
McReynolds noted that training police officers is time-consuming and expensive and would take rangers away from their educational and interpretive missions. She also said that only two Bidwell Park rangers have been hurt in the past 30 years.
"Why do we need to do this now?" she asked.
Officials are developing a proposed agreement between Chico PD and the city's Department of Public Works, which manages the parks, setting forth how any armed rangers would be utilized. To McReynolds, such "dual reporting" by employees to supervisors from two different departments "becomes a problem, it becomes a stressor."
Commissioner Haar said a better way to make the park safer than arming rangers is requiring personnel to attend de-escalation training put on by Capt. Andy Duch of the Butte County Sheriff's Department. Haar, an employee of the Chico Area Recreation District who has worked in Bidwell Park for 15 years, said Duch's training had a "profound" impact on how he handles people he encounters in the park.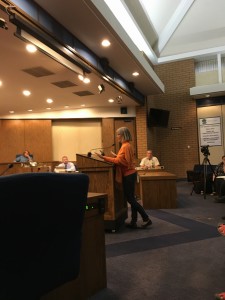 Sarah Salisbury, another speaker, said she can imagine certain scenarios – such as the owner of a misbehaving dog confronted by a ranger — that could quickly escalate and even turn deadly.
"It can just really go that way," Salisbury said. "Ask the Phillips family."
Salisbury's reference was to the March 17 killing of Desmond Phillips, a mentally ill young black man who was shot 10 times by Chico police just 21 minutes after aid was called to help him.
Another community member, Steve Breedlove, said that once the rangers are trained to be police officers, "they cease to be rangers anymore, end of story."
Dave Waddell is news director at ChicoSol.