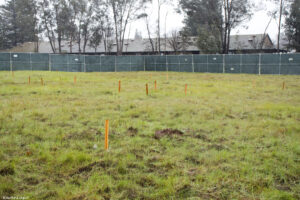 Editor's note: Chico resident Eileen Robinson shared a March 13 letter she sent to the Chico City Council regarding the City's newly-designated campsites at Eaton and Cohasset roads. The city has set up two new sites for unhoused people to comply with a judge's order.
Honorable Council Members and Mr. Sorenson,
I saw the televised account of Target Team members visiting designated campsite one and issuing citations because some folks didn't have permission to be there.
The news report said two additional campsites were being prepared across Cohasset Road for the people being cited to move to. Saturday morning I drove out to take a look at sites 2-3. There are two areas with green fencing that is difficult to see through around them. What I was able to see were flagged stakes that appear to have designated the 20/20 foot area each person will be allowed to occupy. read more