by Natalie Hanson & Leslie Layton
posted Feb. 22, updated Feb. 23
The City has been halted from evicting nearly 40 people living unhoused at the encampment it opened in north Chico until it can create two new additional campsites.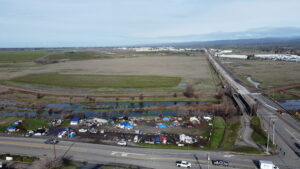 The City announced plans to open the sites quickly following a Feb. 22 meeting with Magistrate Judge Kendall Newman regarding terms of the settlement agreement in the lawsuit filed by Legal Services of Northern California (LSNC).
Meanwhile, some unhoused people and their advocates say it's a struggle to access the city's new pallet shelters, erected as part of the settlement agreement.
The campsite at the corner of Eaton and Cohasset roads in north Chico was also opened last year in response to the settlement. It was designated by the City as the alternative location where unhoused people who aren't eligible to enter the pallet shelters or the Torres Community Shelter can camp for a limited time with a referral.
But in a Feb. 7 notice to Legal Services of Northern California (LSNC), the City said it has referred nine people to the site and that 45 people are in fact living outside there. The City said it wanted to direct enforcement at 36 people, four of whom have "refused shelter." The City also said it will enforce anti-camping ordinances in upper Bidwell Park where one person was found occupying a camp.
The City's notice said conditions at the Eaton site were becoming "increasingly dangerous." The notice cited 19 incidents that worried, scared or upset neighbors, including allegations that a "homeless person" screamed "threats and profanities," increased trash dumping, rock throwing, and vandalism to a sprinkler system at a nearby church.
"Unfortunately, the frequency of fires being set, and the large structures homeless people are building, create a significant hazard," the notice said.
A Feb. 23 press release issued by the City after the meeting with the judge said it expects to meet the requirement that it establish two additional sites "within a matter of days." The new sites will be close to the one that is already located on the north Chico corner, with one becoming immediately "operable."
Homeless advocate Charles Withuhn, who heads up the North State Shelter Team, says what's needed at such encampments is case management. Withuhn commented on the City's allegations that unhoused people at Eaton and Cohasset are leaving trash and vandalizing.
"If you neglect to help a desperate person, they become more desperate," Withuhn said. "This is what happens when you ignore people."
Withuhn says the site operates without a manager, too few portable toilets and inadequate garbage servicing. Instead of security, all that was provided was "four lines of barbed wire and an unlocked gate," Withuhn said.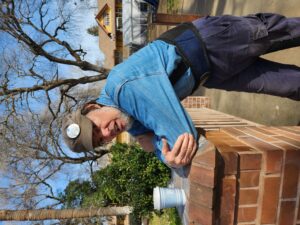 The City was contacted by ChicoSol for comment, but City Manager Mark Sorensen did not respond. However, Sorensen's office commented on the judge's order in an email with the attached press release.
"Some points were ruled in our favor, but some not so," the email states. "Worst of all, the City of Chico is prevented from enforcement actions anywhere until we have at least one more available alternative site, and preferably the total of (3) that Judge Newman (at the behest of LSNC) ruled is required under the terms of the settlement agreement."
For each alternate site, Judge Newman said the City may restrict access to people who have been referred to those locations and exclude unhoused people who have been offered other sheltering options. However, those people must now be re-evaluated for the other options.
Under the settlement, reached between the City and LSNC representing eight homeless plaintiffs, Chico is generally required to offer sheltering options or alternative campsites to people who are forced to move under the anti-camping ordinance.
"There are rules in the settlement agreement and order of the federal court that the City must follow when it wants to enforce its anti-camping ordinances and regulations," noted LSNC attorney Cory Turner.
Pallet shelters: "Kind of a mystery"
Creating more uncertainty is the fact that some people have said the pallet shelter program is not easy to access. The pallet shelter site on Dr Martin Luther King Jr. Parkway opened in April 2022 and has 177 micro shelters for unhoused people. The City's Feb. 21 update indicated there were 24 pallet shelters unoccupied.
Several unhoused people and their advocates told ChicoSol that it's been difficult to contact the managing organization, the Jesus Center, to get a placement. (The City, on one of its Web pages, provides a Shelter Interest telephone number that doesn't seem to be widely known or easily located.)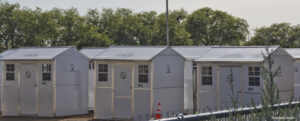 When ChicoSol reached out by phone several times to the Jesus Center, a staffer said to email instead. Nobody at the Center responded to emails requesting information about the shelter, and another email bounced back as "non-deliverable."
Shalom Free Clinic Case Manager and registered nurse Kelly Nokleby said she often works with people seeking housing. She and other case managers have tried to call the Jesus Center to get placements, to no avail.
"I've left messages," she said. "I've called (the pallets) just to see if I could come meet them or get a tour. I can't get anyone to answer the phone; no one ever calls me back. It's kind of a mystery, who gets in and how. There's not a clear cut way to get someone into the pallet shelters that I'm aware of."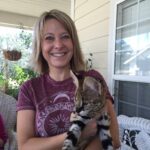 Shalom's director Nancy Morgans-Ferguson said she was told that physicians and medical providers cannot refer patients to the pallets and that the 211 number should be used. "Shalom, to my knowledge, has never been successful getting anyone into a pallet shelter," she said. "Our 'recently discharged from the hospital' patients are on their own to figure out how to get into the pallet shelter."
Jesus Center Executive Director Amber Abney-Bass said, in response, that the Shelter Interest Phone Line number is by design listed on the City's website -– not the Center's. Abney-Bass said that as the City runs the pallet program under the settlement agreement, it also has the responsibility to notify people about the procedure for placement. The Jesus Center is only the operator under a program contract.
She said the Center gets many calls from people trying to help someone who is unhoused. She said people should not call 211 to connect to the pallet shelter program, but rather the Shelter Interest Phone Line (see bottom of story for number.)
The Shelter Interest Phone Line is answered with an automated response directing the caller to leave a message in order to get connected to an outreach and engagement case manager for live information.
Nokleby said Shalom Free Clinic would like to be able to work with the Jesus Center and other providers in helping to resolve the homelessness crisis.
"It would be great if we could all work together to solve this problem," she said. "It seems like we're all in these little siloes. Nobody likes how the park looks … but moving people all over the place making them miserable isn't the answer either."
"We are walking through this together. We have to find common ground" — Amber Abney-Bass
Cooperation toward solutions is also what Abney-Bass says she would like to see happening.
"What we don't want to do is create multiple places where people will call and leave information," she said. "That's why there is only one phone number."
She said that outreach and engagement workers — who are employees in the Public Works department — will take the information left in messages on the phone line, then return calls about the pallet shelter program.
"It's important that people understand this is not the only way into shelter in our community," she added. "People can walk up or self refer to the Torres Shelter or the Jesus Center."
Abney-Bass also noted that since opening in April, the Jesus Center has been refining the process for how to admit people to the pallet shelters -– and it wasn't until June when all parties negotiated an intake system.
"We are walking through this together. We have to find common ground," she said. "The City isn't making the rules, Legal Services isn't making the rules. We have to do that collectively, and then the judge approves the process we have agreed to. Neither one of us are unilaterally making decisions."
The Shelter Interest Phone Line number is 530-897-5890.
Natalie Hanson is a contributing writer to ChicoSol. Leslie Layton is editor and a freelance writer.