by Natalie Hanson
posted April 4
The city's court-ordered pallet shelter project is close to completion, and advocates for unhoused people are hopeful but cautious about its chance for success.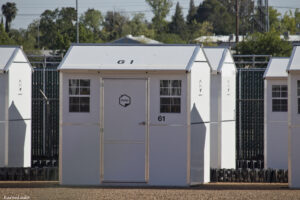 The proposed code of conduct and the operating standards for the site are now being finalized. The city, plaintiffs and the judge must agree on these standards in order to finalize insurance and open the site on Dr. Martin Luther King Jr. Parkway, said Jesus Center Executive Director Amber Abney-Bass.
Advocates for the unhoused are cautiously optimistic, but have concerns about how the management style will affect use of the site. One question some have is whether there will be armed security.
Abney-Bass: 'We want people to feel safe'
The pallet shelter project is now under the leadership of interim City Manager Matt Madden – who has been the chief of Chico Police Department – as well as Public Works Director of Operations and Maintenance Eric Gustafson, according to the city's administrative office.
Abney-Bass told the Butte County Homeless Continuum of Care on March 21 that there is no set opening date for the site. Court negotiations involving the settlement to the lawsuit filed last year by eight unhoused plaintiffs have continued behind closed doors.
Abney-Bass said she hopes to provide more information this month as the Center finalizes site staffing and shelter expectations. The city has already hired a social worker and two case aides, positions that will be the foundation for an "outreach and engagement team," she added.
The Jesus Center has run separate shelters for unhoused men and women for years, and previously ran meal and mail service programs that have since been eliminated. The organization relocated last year to a new site on Fair Street that includes a housing complex, the Renewal Center, for unhoused people.
The organization was selected by the city to oversee the project, which is the heart of the lawsuit settlement.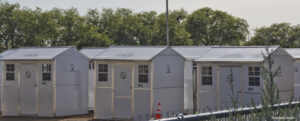 The lawsuit stipulates that the city cannot legally continue enforcing ordinances prohibiting public camping, by clearing encampments, while there is insufficient shelter for people who are unhoused in the city.
The lawsuit complaint said 2,304 homeless persons live in Butte County, 891 of whom are unsheltered, and according to the 2019 Point in Time study, with 571 adults living in Chico. Butte County Housing Authority Executive Director Ed Mayer told the Chico Enterprise-Record last March the authority estimated "as many as 6,000 to 7,000 households still living in the Chico and Oroville area are not in housing," in part due to displacement during the Camp Fire and North Complex fires.
The pallet site project is impacted by the resignation of longtime City Manager Mark Orme after a performance review by Chico City Council on March 25. Orme had been the city's lead on planning the project operations, alongside the selected managing provider, the Jesus Center.
Abney-Bass said what remains are "very few things we're continuing to hammer out." She said the city's case workers will handle primary contact with unhoused people, and Jesus Center senior-level staffers will also have leadership positions at the site.
"We want people to feel safe. We want them to come to the site because it offers safety, and we want it to be successful," Abney-Bass said. "We recognize the lack of safety most of this population has experienced while living in our public spaces."
" … that's where we believe people have the greatest opportunity to experience a changed and restored life" — Abney-Bass
She added that the Jesus Center's primary goal is "to get people into shelter and to keep people in shelter, because that's where we believe people have the greatest opportunity to experience a changed and restored life."
Abney-Bass praised the leadership former City Manager Mark Orme provided in getting the project off the ground and said, "While Mark has left his post, the folks he left behind there continue to work mightily."
"We're looking at success, not speed. I feel very encouraged by the progress we've made," she said.
Advocates weigh in
Chico Housing Action Team has stated support for the Jesus Center's role as administrator, with some concern for how the site may be managed. Board member Leslie Johnson expressed concern at the Continuum of Care meeting over whether "there will be armed guards there."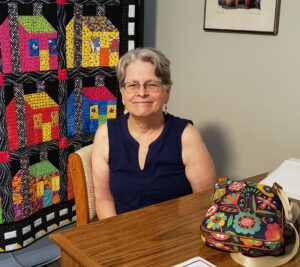 "So many of our clientele are fearful and have much higher anxiety if they see people in uniform carrying guns," Johnson said. "I know we need security of some sort … but if we have guards, it's like a jail."
In an interview with ChicoSol, Johnson said CHAT did not apply to manage the site "because we had made a purposeful decision to focus on long term permanent housing.
"We hope as people come through the pallet shelter site … that we'll be able to help at least some of them find permanent housing."
Johnson said she hopes the shelter will be a place where unhoused people feel respect and dignity.
"This is a voluntary program and people have to feel they're getting something out of it and that it's beneficial to them. There has to be respect for people and interest in people as individuals and understanding their troubles, and their reason for why they may be the way they are."
Johnson said she wants to see the site help to eradicate the stigma "associated with homelessness, and the shame and the despair that goes along …"
"I think it's going to be successful," Johnson said.
In an April 3 interview with ChicoSol, an unhoused man who identified himself as "David" said he worries that the city will run the pallet shelter site like a "detention camp."
If the city hires armed guards at the site, David said, "That kills it." He worries that pallet shelter residents will have to go "in and out of a checkpoint" and that the administering Jesus Center will ban even limited use of alcohol. He said the unhoused won't use the site if it resembles "county jail."
"Maybe it will work, but I don't really see it filling up," David said.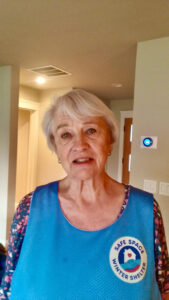 Advocate Nancy Wirtz has gotten to know unhoused people for more than a year, making and delivering sandwiches each week at encampments throughout the city. Wirtz said people she has talked to know there will be rules, and will be grateful to be able to lock up their belongings, which will give them a better chance to look for work.
"I know a lot of people would like to live there, but some people don't trust the Jesus Center – they won't go immediately. But a lot of people will, because the prospect of having a bed off the ground and a door they can lock is just wonderful.
"Living outside is very, very stressful. The more freedom they have coming in, the more comfortable they will be because they have had absolute freedom living in their own tents."
Wirtz noted that management might be a challenge at times.
"Putting 177-plus people in such close quarters is going to be very hard to manage," she said. "I think it will be difficult to keep things peaceful and running smoothly, because you put that many people together and there's going to be friction."
She added that she hopes there will be no requirement to attend religious events or services.
"As I understand it, they cannot have a religious requirement on this site. And I'm going to count on that, because people choose their own religions and the Jesus Center can't do that for them."
"We all really, really want it to work," Wirtz said.
Homeless advocate Chris Nelson said she is concerned about how the Jesus Center will draw people to the site. She said she thinks women and elderly people with health issues will be most attracted to the shelters, but men and partnered couples may not be as much.
"I just hope there will be places where they can not just have their own little personal shelter, but where people can get together," Nelson said.
"These are people that have been left out until they're just about wild – taking care of themselves the best way they can, for a very long time. And you just have to be open and use your listening skills and hear their stories and meet them where they are."
City staff quiet on details
City staff have not spoken about the site for weeks. ChicoSol made repeated requests for comment on the status and costs of the project, and neither Madden or Gustafson could be reached. "The City of Chico respectfully declines your interview requests," said Administrative Assistant Courtney Carrier in an email to this reporter.
The City Council has maintained that the court has imposed restrictions on public comment about any outcome of the settlement, including the site. Mayor Andrew Coolidge did not respond to requests for comment.
Councilmember Alex Brown said this: "It is my understanding, after the closed session, that we are allowed to share with the public that forward motion is still happening but there are finer details that are still being worked out. The exact date of the beginning of operation cannot be identified until the finer details are finessed."
Natalie Hanson previously worked in Chico covering homelessness and now focuses her reporting on Marin County.
This story was corrected April 5 to state that the Jesus Center has moved to Fair Street.