by Dave Waddell
posted Feb. 23
Sign-carrying demonstrators who braved Wednesday evening's freezing winds near City Hall to protest Chico police violence came in a wide range of ages.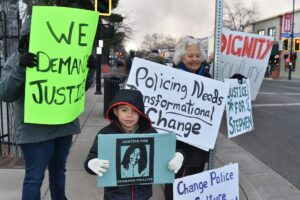 They included Jeremiah Lozada, age 5, whose sign demanded justice for his uncle, Eddie "Gabe" Sanchez, who was killed before Jeremiah was born. Chico police Detective Mark Bass , now a sergeant, shot the fleeing Sanchez in 2015.
Standing near Jeremiah in a line of about 15 protesters at the corner of Fourth and Main streets was 81-year-old Emily Alma, a leader of Chico's Concerned Community for Justice (CC4J), which organized the protest along with the group 40 Grandmothers.
"Little Jeremiah was the prize-winning trooper in that cold, cold wind!" Alma said later. "He never whined once, or even said 'I'm cold' or 'when are we going home?'" He just kept smiling and holding a variety of signs. He told me he never met his Uncle Gabe."
One sign that Jeremiah held listed not only Sanchez, but also Desmond Phillips, Tyler Rushing and Stephen Vest, all of whom were in mental crisis when shot to their deaths by Chico police. Also named on that florescent green sign was Myra Micalizio, who also was mentally disordered when shot in the back multiple times by a Butte County sheriff's deputy.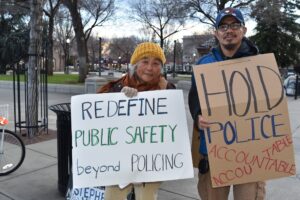 Eddie Sanchez of Paradise, Gabe's father, held a sign that said "REMEMBER CHICO PD KILLINGS."
"The only reason we protest is because we feel that justice needs to be done by the Police Department," Sanchez said. "A lot of police departments are corrupt and we need to correct a lot of stuff ourselves before the next generation starts taking over."
Alma, who held a sign that said "Policing Needs Transformational Change," said she's disheartened by the Chico Police Department's unwillingness to change.
"It makes me sad how little progress has been made in convincing Chico PD to change their culture," Alma said. "CC4J formed in 2017, the year Desmond Phillips and Tyler Rushing were killed, with the goal to establish citizen oversight over law enforcement, and help transform police culture to 'guardians, not warriors.' Yet almost six years later, it seems to me there has been little or no progress."
Chico Police Chief Billy Aldridge did not respond to a request for comment on Alma's statement.
Dave Waddell is a contributor to ChicoSol.