by Dave Waddell
posted May 11
A top expert on police use of force says a newly disclosed investigative video seems to contradict key claims made by Chico police officer Mark Bass about his killing of Eddie Gabriel "Gabe" Sanchez in 2015.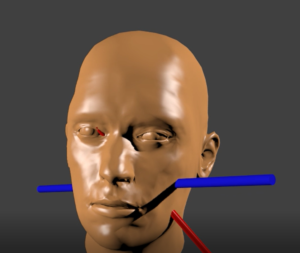 The video, a three-dimensional depiction of Sanchez's fatal wounds, was released by the Chico Police Department in response to a California Public Records Act (PRA) request submitted by this reporter in November 2020.
Sanchez, 34, grew up in Paradise. He was shot to death by Bass while fleeing along Pomona Avenue in west Chico. The killing garnered little media attention, let alone scrutiny, compared with the several Chico police shootings that have followed.
Seth Stoughton, a nationally recognized expert on police practices who was a witness for the prosecution at the trial of George Floyd's murderer, looked at the 3D video, which shows that Sanchez was shot twice in his left cheek. One bullet exited through the right side of Sanchez's neck; the other lodged near his right eye. A third Bass shot missed Sanchez and sailed through a nearby residence that was unoccupied at the time, according to investigative reports.
Stoughton also viewed a screenshot from Bass' videotaped interview with investigators on Nov. 10, 2015, the day of the killing. The screenshot captures Bass demonstrating how he claimed Sanchez, an armed robbery suspect, was directly facing him and aiming a pistol at him with both hands.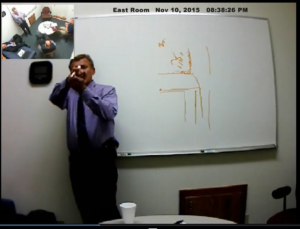 "The video you sent seems to contradict the assertion that the individual who was shot was standing in the manner Det. Bass demonstrated," wrote Stoughton in an email reply to this reporter.
Stoughton, a former Tallahassee cop and state detective in Florida, is a professor of law at the University of South Carolina and the lead author of the book "Evaluating Police Uses of Force."
Bass did not respond to multiple requests for comment about Stoughton's analysis.
A detective when he killed Sanchez, Bass is now a sergeant at or near the age of retirement eligibility. After serving as a military policeman for several years, Bass joined Chico PD in the early 1990s. The killing of Gabe Sanchez was his second shooting.
On Oct. 14, 2005, Bass was one of five Chico officers who fired his pistol in the killing of Nathan Butts, 20. A commonality of the Sanchez and Butts killings was that both involved a fleeing suspect.
Bass' Chico PD career survived multiple allegations in 2008 of verbal and physical abuse from Barbara Reed-Bass, his estranged wife at the time. In one instance, she claimed Bass pushed her down and, while pulling her hair, thrust her head several times into a laminate floor. Reed-Bass claimed she didn't seek a domestic violence restraining order because it would have cost Bass his job as a police officer.
Reed-Bass also reported allegations that Bass shot his gun while drunk and in distress on New Year's Eve 2008, leading to an involuntary mental health hold and a forced leave from his job, according to divorce records on file in Butte County Superior Court.
In addition to the video showing Sanchez's wounds, also contradicting Bass's story were the only two non-police witnesses to the killing – though their versions went missing from Butte County District Attorney Mike Ramsey's speedily issued report exonerating Bass. Both witnesses told investigators Sanchez never held a gun. One claimed she watched as a police officer, after the shooting, removed Sanchez's handgun from a holster inside his waistband and set it aside.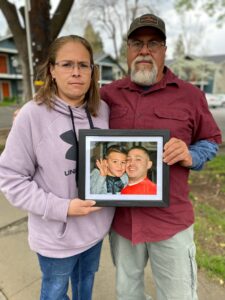 Detectives' stories conflict
Detective David Bailey was partnering with Bass at the time of the killing. He was the only other officer to witness the homicide. However, Bailey's account of Sanchez's alleged pulling of a gun is difficult to reconcile with Bass' description of Sanchez's purported gun-handling.
The report authored by DA Ramsey, as well as another report written by Ramsey investigator Jon Angle, misrepresented or somehow misreported Bailey's testimony. Ramsey's and Angle's reports asserted wrongly that both detectives claimed that Sanchez pointed his gun at them. Bailey never said any such thing in a videotaped interview viewed by this reporter. Neither Ramsey nor Angle responded to multiple requests for the specific time in the videotaped interview when the detective said what they claimed he said and/or an explanation for why the falsehood was in their reports.
Both Bass and Bailey told investigators they saw Sanchez pull a handgun from his waistband as he fled, but they differed markedly about what Sanchez then did with that gun. In his interview with investigators, Bass claimed Sanchez, while running away, quickly did a full 180-degree turn, put both hands on his gun and aimed it at the detectives.
"So if I understand you correctly," investigator Bill Proffitt from the district attorney's office said in summarizing what he thought he heard Bass telling detectives, "(Sanchez) is backpedaling away from you, but he's facing you."
Bailey, on the other hand, said that Sanchez, after pulling the handgun from his waistband with his right hand, then raised the gun above and to the right of his head in an "overly exaggerated" manner. Bailey, who was pointing his revolver at Sanchez when Bass fired, did not join in the shooting.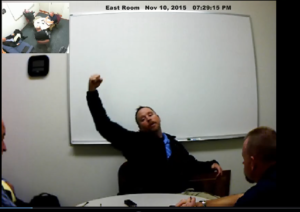 "As (Sanchez is) pulling (the gun) out," said Bailey while simulating the vertical lifting of a gun from his waistband with the barrel seemingly pointed down, "I hear 'pop, pop, pop.' As soon as I hear that, he goes down."
When asked by investigator Proffitt where Sanchez's gun was pointing, Bailey said, "I can't say specifically. I don't know. I don't know."
Bass was interviewed for fewer than 35 minutes by Proffitt and Angle. Stoughton, the police use of force expert, was asked for his take on both the shortness of the Bass interview and about the fact Bass was never re-interviewed about discrepancies between his story and the wounds Sanchez sustained. Nor did the investigators question Bass about statements from other witnesses that conflicted with the story he told.
"Thirty-five minutes seems a little short, but if investigators can get all of the relevant details that they need from that particular witness, there might be no reason to extend it," Stoughton said. "I'm a little more troubled about why investigators would not re-interview a witness when, from what you describe, there were some potential discrepancies between that witness's account and both other witnesses' accounts and the forensic evidence. Investigators need to be very careful about their assumptions; they should not assume that someone is lying just because they aren't an officer or that someone is telling the truth just because they are an officer."
Neither Ramsey nor Chico City Councilman Mike O'Brien, Chico's police chief when Sanchez was slain, responded to multiple emails asking why Bass was never questioned about Sanchez's wounds contradicting the shooter's claims. It was also on O'Brien's watch that Desmond Phillips and Tyler Rushing were shot to their deaths by Chico police in 2017.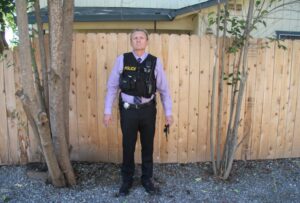 In the weeks leading up to his death, Sanchez had been staying at a residence in the 600 block of Pomona Avenue on the rural, wooded western edge of Chico. Apparently the house had been in foreclosure and had no running water. Housemates described Sanchez to investigators as a paranoid meth addict depressed about not being able to see his son.
Sanchez was suspected in two armed robberies just days earlier -– one at the Jackpot Food Mart on West Sixth Street and the other at a then-Chevron station at Nord and West Sacramento avenues. Video images from the robberies were shown in TV news reports.
"That evening, two tips were received naming Sanchez as the robber whose face could be seen," says Ramsey's six-page, single-spaced narrative. What Ramsey's report doesn't disclose was that both tips came from Sanchez's loved ones. His mother, Mary Romero, and his brother, Daniel Sanchez, each contacted Chico PD. Family members say they alerted authorities because they wanted to stop his criminal activities and protect him from being shot by police.
"I didn't want my son to get killed," Romero said in a recent interview.
Romero went to the Pomona Avenue house on the day of her son's death. Everyone was asleep, including Gabe on the couch. Romero banged on doors and windows and yelled Sanchez's name until he came outside. They talked for about 45 minutes to an hour.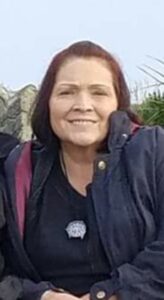 "I begged a lot. Cried. Everything to get him to turn himself in," Romero recalled. "I asked all the regular mother questions."
Despite her pleadings, Romero said her son would not leave with her or hand over his small black semi-automatic handgun. When she hugged him goodbye, she said she felt the hardness of the gun at his waist. "I was afraid I'd shoot him by accident if I grabbed the gun," she said.
Eye witness contradicts cops
At the time Bass killed Sanchez, warrants to search the Pomona Avenue residence and for his arrest still awaited the signature of a judge. At about 1:25 p.m., however, with a Chico PD SWAT team gearing up in military-like uniforms to serve the warrants, the secrecy of the police dragnet to take Sanchez into custody was blown. Two other detectives -– Joel Schmid and Dane Gregory -– were spotted approaching the rear of the residence holding assault rifles.
Schmid said in a report that Sanchez asked what they were doing. Schmid replied that they were looking for a lost child. Sanchez responded that he would go get the owner of the property and walked briskly to the front of the residence and down a 100-yard driveway toward Pomona Avenue. On that driveway, searching with her phone for an internet connection, was Keiana, 19, described by Ramsey as "a visitor from Siskiyou County" who was in a romantic relationship with another man staying at the house.
After Keiana agreed with Sanchez's request to walk with him, he held her hand in an apparent effort to fool the police about his identity. It didn't work. Sanchez led Keiana straight toward an unmarked police car from which Bailey and Bass emerged with guns drawn. When Sanchez saw them, he did a "pregnant pause," Bass said, and then started running away. Bass' bullets quickly felled Sanchez.
Keiana's most startling revelation was that, while laying as ordered on the sidewalk, she watched an officer remove Sanchez's gun from his holster.
The two investigators who questioned Keiana were Butte County sheriff's detectives Chris D'Amato and Jay Freeman, serving as part of the Butte County Officer Involved Shooting (OIS)/Critical Incident Protocol Team. Neither D'Amato nor Freeman asked Keiana for a description or more details about the officer she says pulled Sanchez's holstered gun. Scott Ruppel, a sergeant who 21 months later would shoot Tyler Rushing, wrote in a report that he retrieved the gun from beneath Sanchez's body.
Ruppel was apparently never questioned by anyone from Ramsey's OIS protocol team.
During questioning, Keiana lied and told investigators that she didn't know Sanchez at all and that she hadn't been staying at the Pomona Avenue residence. When confronted with evidence to the contrary, she indicated she lied because she was an underage teenager at a house where drinking was going on.
After the shooting, Bass described Keiana as "stone cold, just flat faced." Bailey said her demeanor under the circumstances "was weird. She really didn't have a whole lot of emotion. … She was, like, expressionless."
While Ramsey's protocol team investigators never asked Bass about discrepancies in his account of the shooting, D'Amato questioned Keiana about whether she'd had sex with Sanchez. The answer was an emphatic "no."
At another point in the interview, seemingly trying to get a reaction out of Keiana, D'Amato suddenly asks: "You know he's dead?"
"Ya," Keiana replies nonchalantly.
"It should be noted," D'Amato wrote in his report, "that (Keiana) did not express any emotion when I told her Gabriel was dead."
Those less-than-subtle efforts by investigators to establish a relationship between Keiana and Sanchez only showed that she barely knew him. That being the case, Keiana had no apparent motive for concocting a story out of thin air about an officer taking a gun from Sanchez's holster. Still, Ramsey and Chico PD excluded and/or discredited her account in their criminal and departmental exonerations of Bass' deadly actions.
Second witness 'violated'
Besides Keiana, a second non-police witness was a college student named Savannah who claimed to see "the entire incident." It was from the parking lot of the Pomona Avenue apartment building where Savannah lived that Bass shot the fleeing Sanchez.
Savannah was first interviewed by Corinne Beck, then a lieutenant with California State University, Chico's police force serving as a member of Ramsey's protocol team. Ramsey bills this team as composed of experienced detectives from an array of law enforcement agencies in the county. During Ramsey's 34-year tenure as DA, his team has yet to recommend a single criminal charge against any officer in any of three dozen killings by law enforcement personnel.
A report written by Beck says Savannah was sweeping dirt out her front door when she heard shouted commands and "looked up to see two police officers exiting (their unmarked) car. … (Savannah) said a light-skinned, possibly Hispanic, male and a younger female … were running away from police … She said the female looked scared and dropped immediately to the ground … She said the male threw his hands up and continued running away from officers. …
"(Savannah) said the male had his hands up and she did not see a gun in his hands. She said she was 87 to 89% sure he did not have a gun," says Beck's report.
Savannah's view of Sanchez as he fled was at times obscured by a pickup truck parked in front of her residence.
A couple of days later, two investigators from Ramsey's office, Lt. Juan Diaz and Jason Barkley, re-interviewed Savannah. A recording of that interview was not released until last month by Chico PD – some 18 months after it was originally requested under this reporter's PRA request. Savannah told the Sanchezes – in an interview they recorded – that she wasn't told the second interview was being audio recorded and didn't realize it until Diaz and Barkley made a point of turning off their recorder before allowing her to ask any questions.
The interview began with Savannah venting for a couple of minutes about being physically and verbally accosted by a female Chico police officer as she attempted to exit the area after the shooting as directed by two other cops. "She totally violated me," Savannah said.
Diaz responded that Savannah needed to understand "the totality of the circumstances and how everyone's a little amped up."
Barkley wrote what was described as a summary of the interview. Following are among Savannah's more impassioned comments, all of which were excluded from Barkley's report:
–"Everybody was telling me it was like a gun fight … I'm like: 'No. No.' (Sanchez) may have had a gun on him, (but) as far as I saw he wasn't holding a gun. He wasn't shooting. He was just running."
–"Five seconds after (Bass) got out of the car, he started shooting. He didn't even run after him. … I know I saw both hands and (Sanchez) didn't have a gun. …"
–"(Bass) got out, took four fast steps, then shot, shot, shot … Why didn't (Bass) tase or tackle him? … Why did he shoot? He could have just got him. (Sanchez) was so close. Holy shit, he just shot someone?"
Instead of quoting such remarks, Barkley claimed Savannah agreed with his suggestion that Sanchez did not throw up his hands so much as throw them out. Without discussing it with Savannah, Barkley speculated in his report that Sanchez -– after being shot in the head twice with hollow-point police bullets — was trying to "brace himself" while falling. Another possibility was that Sanchez was trying to show his hands while sprinting away.
Savannah told the Sanchezes that after the shooting "a huge army tank with army men" swarmed Pomona Avenue armed with assault rifles and assorted weaponry. A helicopter hovered overhead.
"It was ridiculous," said Savannah, pronouncing the final word in carefully differentiated syllables.
Bass 'freaked out'
In separate recorded interviews, Keiana, Savannah and Bailey all commented about Bass' agitated demeanor after the shooting.
"The guy who shot him was in shock," Keiana told investigators. "He freaked out a little bit."
"He just kept yelling after (the shooting)," Savannah told Sanchez family members in a recorded interview. "He was freaking out."
Bailey described Bass as "amped up," holding out his hands and demonstrating for investigators how Bass' hands were shaking considerably.
"Mark, stay back!" from Sanchez's body, Bailey said he ordered Bass before other officers arrived. After Bass helped Sgt. Ruppel handcuff Sanchez, "I pulled Mark away," Bailey said.
Bass told investigators that after he shot Sanchez, "I panicked a little bit because I couldn't see him" momentarily behind a short fence that Bass had fired over.
"I really thought he was playing opossum," Bass said. "I didn't see the gun anywhere (and thought) maybe it was tucked up in his hand. I remember saying, 'This is not a good day to do this. Show me your hands!' At that point I was just expecting him to jump up and try to shoot us again."
Bailey also said he didn't see a gun fly away when Sanchez was shot and assumed it was under him somewhere. Bailey said the prone Sanchez was bleeding profusely from the mouth.
Suit dismissed 'without prejudice'
Gabe Sanchez had a son who was 10 years old at his death and will turn 17 next month. Gabe's father, Eddie Sanchez of Paradise, filed a lawsuit on behalf of his grandson against Bass and Chico PD. Eventually, Eddie Sanchez and his attorneys parted company, and he was unable to obtain other counsel. In late 2020, Judge Troy Nunley of the U.S. District Court for the Eastern District of California, while expressing sympathy for the Sanchezes' situation, dismissed the suit "without prejudice," a phrasing that typically allows plaintiffs to sue again. Nunley indicated that state law may or may not give Gabe's son the right to sue once he reaches 18, the age of majority in California.
The lawsuit alleged that Chico PD failed to address "past complaints of grossly improper conduct" by Bass, "establishing he was unfit to be a police officer."
A letter written in 2019, 3½ years after the killing, by Amanda Eldridge, the single mother of Gabe Sanchez's son, became part of the court record. In it, she claimed Bass had a checkered history as a police officer and accused him of stereotyping Sanchez and "recklessly" killing him.
"This was not a decorated officer that held himself to the standards of justice," Eldridge wrote. "This was a man who publicly posted himself on social media partying (in) the days immediately after he shot and killed a man, and left a boy without his father."
Eddie Sanchez also recalled Bass' social media posts shortly after the shooting. "If I killed someone, I'd be home crying," said Eddie, who added that the posts were taken down by Bass shortly after he mentioned them to Ramsey.
Eldridge claimed Sanchez was working hard to overcome his past and be a good father.
"Gabe was not known to his son as a deviant," Eldridge wrote. "He was known to his child as a loving, playful and caring father. … Gabe was working so hard to bring up his son … as a strong man that never would have to know the struggles of the violent world that Gabe had been exposed to."
Crime not Sanchez's forte
Gabe Sanchez's family members said his criminal activities were rooted in a chronic drinking problem. Family members say Sanchez, who grew up in Paradise, was never a violent person. He began having run-ins with law enforcement at age 14, but the offenses were all misdemeanors or infractions ranging from petty theft to DUI to vandalism to showing false ID to police. In 2014, the year before his death, Gabe Sanchez got off probation for the first time in many years and was trying to turn his life around, according to his sister, Rachel Sanchez of Paradise.
"He was not like this big druggie, like they said," Rachel said.
Eddie Sanchez said his son was "a follower, not a leader." Gabe always thought he could evade arrest by fleeing because he never thought the police would shoot him while running away, his father said.
"He was a runner," Eddie said.
Rachel Sanchez said it was just in the last "few months, maybe a year," of her brother's life that he added an addiction to smoking methamphetamine to his drinking problems. Authorities said tests after his death showed he was under the influence of methamphetamine and had a blood alcohol content of .14, or nearly twice the legal limit of .08 for driving a vehicle in California. Romero, Sanchez's mother, believes he matriculated from petty crime to armed robbery because he was hungry.
In one incident about a month before he was killed, Sanchez left his cell phone behind while stealing designer jeans from a store. At an armed robbery, he was easily identifiable after adjusting the hoodie he was wearing. Sanchez family members said Ramsey told them that at one robbery Sanchez exhibited a politeness the DA had never encountered before, telling the clerk to "Give me the money, please."
When a reporter suggested that Gabe Sanchez was really bad at being a criminal, Romero said: "You have my son pegged."
Dave Waddell, a contributor to ChicoSol, is writing a book about law enforcement killings in Butte County. He has filed a lawsuit against the City of Chico related to public records access.