posted March 9
A coalition of environmental groups, including Chico-based AquAlliance, has submitted a notice of intent to sue the State Water Resources Control Board over an order to suspend water quality and fish protections in the Sacramento/San Joaquin Delta.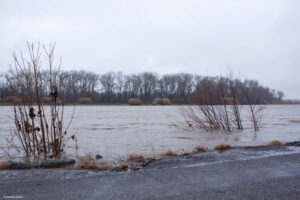 The Board issued the order following a decision by Gov. Gavin Newsom to retain water in state reservoirs to ensure future deliveries for Central Valley agriculture, an AquAlliance press release says. The coalition also includes the California Sportfishing Alliance and the California Water Impact Network.
"Fish advocates and conservationists were enraged by the order, given 2023's abundant rainfall and snowpack and repeated cutbacks over the years in the reservoir releases that sustained the ecological health of the Sacramento River and its Delta, resulting in the collapse of California's iconic salmon runs," the press release says.
The governor's decision to suspend water quality objectives "follows a long pattern and practice that appears intentionally directed against the fish," said Carolee Krieger, the executive director of the California Water Impact Network. "If there are no salmon, then it won't be necessary to enforce the laws protecting them."
Krieger said Newsom's order also undermines flood control efforts by maintaining excessively high reservoir levels during 2023's record storms and snowpack.
The coalition says it will sue if the order isn't rescinded as it "constituted an end-run
around state and federal legal requirements to maintain adequate water quality and temperature conditions for salmon below dams." — Leslie Layton