Editor's note: Chico resident Eileen Robinson shared a March 13 letter she sent to the Chico City Council regarding the City's newly-designated campsites at Eaton and Cohasset roads. The city has set up two new sites for unhoused people to comply with a judge's order.
Honorable Council Members and Mr. Sorenson,
I saw the televised account of Target Team members visiting designated campsite one and issuing citations because some folks didn't have permission to be there.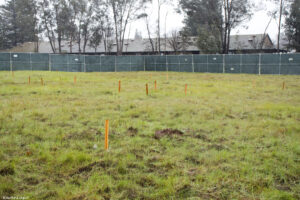 The news report said two additional campsites were being prepared across Cohasset Road for the people being cited to move to. Saturday morning I drove out to take a look at sites 2-3. There are two areas with green fencing that is difficult to see through around them. What I was able to see were flagged stakes that appear to have designated the 20/20 foot area each person will be allowed to occupy.
The porta potties were outside of the gated community at the edge of Eaton Rd. No hand washing station was there as far as I could tell. The only way to get to the porta potties is to walk through the mud and step over or into the ditch running in front of them. I'm not sure whose bright idea it was to put the potties outside the fenced area but even my granddaughter could tell it was a disaster waiting to happen.
If blowing your horn and shouting at homeless citizens is great sport imagine how much fun it would be to tip over a porta potty occupied or not.
They need to be secured inside the gated community. But from the deep wheel ruts in the mud just off the road I doubt that's possible. High wind warnings and heavy rain predictions bely the possibility people will be able to access either site anytime soon.
Who is in charge here. Oh, you are. Our citizens deserve better.
Regards,
Eileen Robinson
Resident since 1964
It would be nice to receive a response from someone other than Addison.