by Richard Roth
A few weeks ago, about 60 people, including farmers, ranchers, and backyard gardeners like myself, were gathered for a two-day workshop on soil health hosted by the Center for Regenerative Agriculture at CSU, Chico.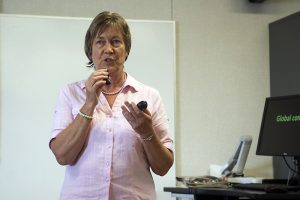 Christine Jones, known as the "Pearl" of soil microbiology, was half way through her fascinating presentation on soil research and practices she was involved with in Australia when she seemed to suddenly change course. She appeared to break away from her prepared presentation to drop what felt to some of us like a bombshell.
Jones made the argument that carbon dioxide actually has very little direct impact on global warming in comparison to air moisture. We need to focus on restoring the broken water cycle, she said.
Suddenly, Jones was preaching water vapor to a group acclimated to a climate-change language and perspective anchored on the parts per million (PPM) of CO2 in the atmosphere. To some of us in the room, the unfamiliar insight — the negative impact of atmospheric water — felt like she had committed heresy.
CO2's effect on climate has been theoretically recognized for over a hundred years, and for the past 60 years, the markers of PPM CO2 have been, and continue to be, the touchstone, the anchor of the language we have learned in order to identify, measure, and approach the subject of climate change mitigation. It is the touchstone popularized by organizations like 350.org, and it dominates discussions of climate change in popular media.
In contrast, measuring air water vapor is much harder than tracking CO2 levels because air water vapor circulates and varies so much from place to place and elevation to elevation. Climate scientists knew that theoretically it made sense, but they had no way to measure accurately the wide variety of moisture levels through 10 miles of Earth's atmosphere.
That changed in 2005. Scientists by then had the technology and opportunity to measure precisely the moisture content throughout the lowest 10 miles of the atmosphere and confirm and quantify the influence of atmospheric moisture on temperature rise. This technology has dramatically improved our ability to both track and predict the weather.
The recent heat wave across the central and eastern United States was accurately predicted and forecast days in advance. This weather pattern was considered dangerous, not so much because of high temperatures as by high humidity with dew points in the 70s and even 80s. The increased predictability of weather and the increasing impact of soil moisture on creating severe weather events, both cold and hot, have been integrated almost subconsciously into daily, and vastly improved, weather forecasts.
The trick for land use managers at all scales is to make that awareness conscious and part of our language.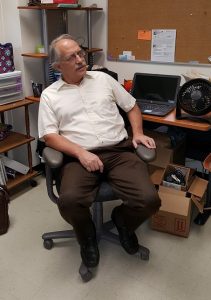 The broken water cycle is a recurring theme to all of us involved in agriculture. We are aware that current agricultural practices have significantly broken the ability of our soils to absorb water. Author Roland Bunch's presentation at CSU, Chico, a couple of years ago was about how Africa's so-called "drought" was not due to lack of moisture, but degradation of the soil health. With that degradation, the soil had a vastly reduced capacity to absorb and filter water falling from the sky. In other words, a broken water cycle had occurred. We were familiar with the effect that tillage and cropping systems had on the water cycle in the ground, but in the atmosphere? Not so much.
Consideration of air moisture as a primary driver of global warming presents an epiphany that is hard to swallow, in part because the relationships are complicated. CO2 is directly responsible for about 20% of global warming. Water vapor is directly responsible for about 50%.
The simplified explanation is that CO2 acts as the volume control and water vapor acts as the amplifier. As temperatures rise because of CO2 emissions, the atmosphere has the ability to absorb more moisture. How humans manage water use can either enhance or buffer the effect.
We land use managers should acknowledge that Jones dropped not a bomb, but a pearl. It did not fall from the necklace she wore that has given her the moniker "pearl," but from the new and unfamiliar topic she introduced.
Our agricultural/environmental relationship to CO2 is straightforward. We need to get carbon out of the atmosphere and into the soil.
Our ag/environmental relationship to H2O, simply stated, is: "It's very complicated!" – which means we are steering this land craft partially blind, by intuition and by the seat of our pants. But the primary objective is much the same as for carbon: We need to get water vapor out of the atmosphere and below the soil surface, either into the soil or into underground aquifers.
The question then is, what are best land-use practices? Are we better off with dryland farming or irrigated agriculture? If we're irrigating, from what source? And how much? How should irrigated water be applied, and when should it be applied (season, time of day, weather conditions.) These are the details we must wrestle from the devil.
The challenges of regenerative land use management, like all science-based real-life applications, demand that we translate and communicate what information we have into practical discussions and applications, even as new information comes streaming toward us at faster and faster rates.
The next workshop offered by the Center for Regenerative Agriculture is Dec. 3 through noon Dec. 5. Scholarships are available.
Richard Roth has farmed, gardened and contributed to ChicoSol for many years.