by Richard Roth
When Europeans arrived in the Americas, they applied their mouldboard plows to the prairies, to soils that were rich, dark and black. That soil was steaming with mineral and organic carbon — with soil life so small it was invisible to the human naked (unmicroscoped) eye and, hence, to our consciousness. So we ripped into them with gusto, mining this flesh of earth.
The settler-farmers killed the microbes by exposing them to sunlight, erosion, heat and dryness, and they planted monocrops – a single crop like wheat. Or corn. Or walnuts.
The soil's rich, dark color faded. The soil lost its carbon, its water, its oxygen. The rich, natural, complex collaborative ecologies were replaced by chemical fertilizers, pesticides, herbicides — inputs that continue to strip life from the thin surface of the planet.
We killed everything — plants, animals, insects, microbes. Each living thing other than our single crop was viewed as an enemy, a "competitor," and we went to war with every tool at hand, stripping the soil of its naturally complex soup of collaborative dynamic life.
Increasing soil carbon through regenerative agriculture presents a way for people to get a handle on this anthropomorphic mess of natural resource degradation and offers a "best practices" way of addressing climate change, but to do so requires respecting the biology of very tiny and complex microbiologic communities.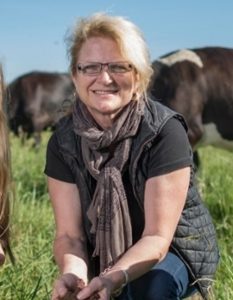 The recently formed Center for Regenerative Agriculture (CRA) team at CSU Chico is being led by its two co-founders and co-directors, Dr. Cindy Daley who established the Organic Dairy program, and Dr. Timothy LaSalle, formerly CEO of the Rodale Institute. LaSalle, in his introduction to the "One Minute to Midnight" program, emphasized that we must break through the conventional time barrier to innovation because "we have no time left."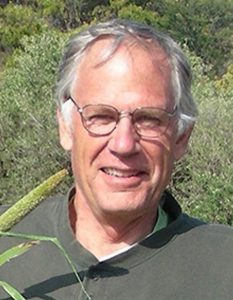 One of the ways they are hoping to do this is by putting as many outreach resources online that will be publically available as possible. The other is by hosting workshops on various aspects of a more biologically sound way of managing natural resources.
A few weeks ago I attended a two-day workshop at the Chico State University Farm. There I was introduced to two leading microbiologists exploring the data around regenerative agricultural practices, trials and demonstrations: Dr. Christine Jones, introduced as the "pearl" of soil ecology and cover crops because she is known for always wearing pearls whenever she presents, and Dr. David Johnson, adjunct professor at the College of Agriculture at Chico State and research scientist at the Institute of Sustainable Agricultural Research at New Mexico State University.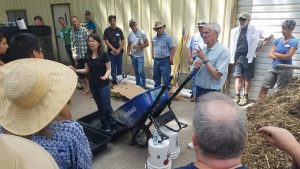 Jones and Johnson join the list of innovative scientists, researchers, farmers and educators from around the world who have presented at CSU Chico CRA events. Other past presenters include author Dr. Roland Bunch, and Dr. Elaine Ingham, who is director of research at the Environment Celebration Institute's farm near Berry Creek in Northern California, Ray (the Soils Guy) Archuleta, and North Dakota farmer Gabe Brown.
CSU Chico has the distinction today of having the first university-based Ag Program offering a Master's degree course of study in regenerative agriculture and its production practices.
Agriculture is on the brink of radical and blindingly rapid change and CSU Chico's CRA Ag Program has placed itself on the cutting edge of that revolution. Check out their upcoming events here.
Richard Roth is a local farmer and a contributor to ChicoSol.