by Katie McCammon
Saving humankind from climate change disaster is an immense challenge, and there will be no silver bullet solution. However, there are many "silver buckshot," and two of them involve greening our agricultural system and greening how clothing is produced.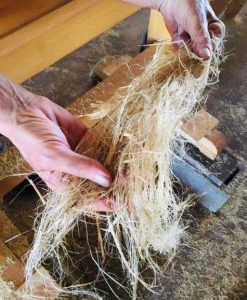 Both are found in the farming practices that turn flax plant fibers into linen clothing. According to an article by The World Bank, the fashion industry is responsible for approximately 10% of global carbon emissions.
As an intern with Citizens Climate Lobby Chico Chapter, I joined a group visit to Chico Flax, a small farm that grows flax and produces local linen textiles through regenerative farming practices. We learned a lot in one visit to this farm, including how much work goes into producing material using more sustainable farming initiatives.
Chico State and Chico Flax
Chico Flax's farm is owned and operated by partners Sandy Fisher and Durl Van Alstyne. Sandy has been a master weaver for about 35 years, and her inspiration was a desire to use locally sourced material (within 150 miles) to create linen yarns and textiles. Together with the Fibershed Affiliate Program, Sandy is working to provide linen yarns and textiles to the community of sustainability-conscious weavers, sewers, knitters and others.
Flax seeds are known as a healthy snack and a source of omega 3 fatty acids, but varieties of flax can also be grown for their blonde, hair-like soft fiber, found in the plant's stalk. Sandy and Durl showed us their processes for growing flax and turning it into wearable threads.
They started by rejuvenating about 3.5 acres of former orchard that had been made less productive by herbicides. They have slowly brought back to life the stripped soil through regenerative practices such as mixed seed cover crops and microbe-rich compost using the BEAM composting system, created by David Johnson and Hui-Chun Su. The practices were recommended by Chico State University's Regenerative Agriculture department.
When I asked Durl if they had experienced improvements in water retention from the soil restoration, he exclaimed quite simply, "Oh, yeah!"
He explained that some areas of their land were tougher to fix than others, and I could see a section where the cover crops are still struggling three years on.
Most people who do not work on farms are unaware that it can take such a lot of time and effort to transition from extractive practices to conservation/regenerative ones. Sandy and Durl, who have invested quite a lot of time and money in the project, said that to be able to plant completely no-till, they will need a roller-crimper to mow down and flatten the cover crops and a special no-till planter, equipment that would cost around $80,000. Tilling (disrupting) the soil can damage the soil ecosystem, but you can see why farmers hesitate to make such an investment.
After harvest, linen production from raw flax involves multiple steps. The flax is dried before undergoing a retting process, in which the flax fibers are detached from the inner core of the stalks by exposure to water and microbes.
It is vital to get that part correct, which requires monitoring the water temperature at all times to keep the stalks well maintained. After that, the flax's outer shell is put through a "break" to help free the fiber from its woody outer shell and process it into fine hair-like material.
They have used 18th century wooden "breaks" in the past to help free the fiber, but this year a cooperation with the Mechanical and Mechatronics department at CSUC yielded a fully mechanical break.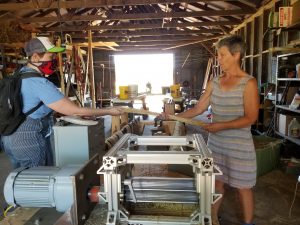 I found Sandy and Durl's involvement with the local university very inspiring. As mentioned, they also cooperate with the Center for Regenerative Agriculture and Resilient Systems, which has a website full of great information about regenerative agriculture and resilient ecological systems adaptable to a changing environment.
How regenerative agriculture can help solve the climate crisis
Worldwide, 18% of our greenhouse gas emissions come from agriculture. Soil microbial ecosystem rebuilding, or regenerative agriculture practices can improve our odds of avoiding catastrophic climate effects.
There are numerous practices available, all aimed at building the soil-dwelling carbon-based life forms like microbes and worms. These sequester carbon, while improving the fertility and productivity of farming, ranching or forestry. If adopted widely, such practices have the potential to draw down about 650 million metric tons of CO2 per year while offsetting up to 11% of US greenhouse gases. That's a big impact.
There are other benefits to the sequestration process as well. Water retention increases with carbon storage in soil; some levels have increased up to 17,960 gallons per acre. This is a huge benefit to areas in the U.S. that consistently deal with drought, such as California.
Capturing CO2 in soil is being accomplished by both farmers and ranchers in a variety of ag communities around the world. The potential of capturing carbon through these agricultural practices is of growing importance for all of those who hope to take action to fight climate change.
A 2014 article from the Yale School of the Environment discusses improving soil health through practices that don't rely on chemicals or tillage, and turning those soils into carbon sinks. Recent research is finding that the potential to pull carbon out of the air through no-till, cover crops, and micro-nutrient rich composting practices, can and should be measured by farmers so that support can grow around these new (actually very old) farming practices.
Many of us have been doing our part to reject single-use plastic and reduce energy consumption, but how can we also reduce our clothing-related carbon footprint? Consider the average piece of clothing in the "fast fashion" age is worn only seven times. Buying fewer clothes and using them longer can help save the planet and our hard-earned cash. We can also focus on what types of natural fibers can be used in our clothing and how those fibers are grown.
Agriculture and Environmental Policy
The Chico Flax visit was partly to get feedback from farmers on a new piece of congressional legislation designed to help farmers get paid to sequester carbon. Carbon markets already exist, but it is difficult for the average farmer to figure out how to use them and turn their regenerative practices into a cash crop.
The Growing Climate Solutions Act of 2020 is a bipartisan effort to make that process easier by setting up a one-stop shop administered through the USDA that helps connect farmers to companies and other entities willing to pay to support their efforts. One currently functioning carbon market is the Nori marketplace.
In these uncertain times, as a college student with hopes of having a livable future, I want to see something done about climate change. It is the looming problem that could very well be much worse than anything we have seen.
So, I propose we do something. Let's talk to farmers and learn from them about what they need and how we can support our farming communities. As it turns out, farms may very well be one of our greatest tools for protecting the future.
Katie McCammon is a Communications Studies student who will soon be attending the University of California, Davis. She grew up in Nevada City with what she calls a "large garden" of 10 acres and with chickens and horses.