by Leslie Layton
Regenerative agriculture expert Roland Bunch was at Chico State today discussing the ways farming techniques can help end an African famine threatening 20 million people. Bunch has spent the last six years using these techniques to end famine in Mali, Ethiopia, Kenya, Tanzania and other nations, and has consulted on regenerative agriculture in Latin America, Asia and Africa.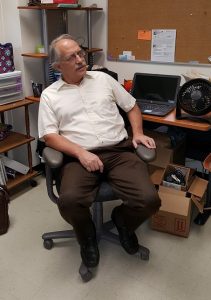 During years of working in other parts of the world, Bunch says he's come to realize that sound priniciples that have been developed for tropical climates can be applied to agriculture everywhere. (Regenerative agriculture involves using techniques that mimic nature to nourish the soil in place of dependence on chemical fertilizers.)
"It's amazing how, by not looking at nature, we've stayed ignorant so long," Bunch said in a Thursday morning interview with ChicoSol. "We learned that we had to imitate nature [only because] we've been out slogging through the mud longer than anyone else and listening to the farmers."
Bunch was brought to Chico by the university's Institute for Sustainable Development and the Regenerative Agriculture Initiative.