by Leslie Layton
Gov. Gavin Newsom has been described as one of the "most pro-Latino governors" in state history – but it's still unclear whether Latinx voters will help him stave off the recall that would oust him from office.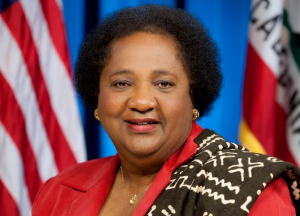 California Secretary of State Shirley Weber said today that based on the absentee ballots pouring in, the recall is "proving to be a relatively popular election." But there is still a distance to go by Sept. 14, which is, officially, election day for the recall.
"My goal is 80 percent turnout minimum," Weber said at a news briefing today sponsored by Ethnic Media Services. "This election says what California is going to do."
Of particular concern is whether young adults and Latinx voters – the two groups that analysts believe are vastly under-represented in the ballots that have so far come in — will vote in large numbers.
Raphael Sonenshein, executive director of the Pat Brown Institute for Public Affairs at Cal State LA, said ballots from voters in the 18-34-year-old age bracket are coming in "at a very low level." He believes that may change, though, in the coming days. Latinx voters are the most poorly represented in absentee ballots that have so far been returned, he added.
Analyses like this one are made based on a collection of factors, such as zip codes and last names, so a margin of error has to be considered.
Los Angeles Times columnist Jean Guerrero points out that Newsom has included Latinx Californians in state government and policy-making, "prioritized high-risk Latino neighborhoods" for vaccine access, and distributed pandemic stimulus checks to undocumented essential workers. Nevertheless, many Latinx Californians are struggling with COVID and their household economies.
Guerrero argues that it's precisely because of Newsom's pro-Latino policies that the recall was launched.
Sonenshein said the recall is a confusing election for most Californians – that it seems to have emerged out of nowhere at a random time. That confusion would in general tend to make it less likely voters participate.
"When you change the rules and create sudden, surprise elections … you run the risk of really narrowing participation, especially by marginalized communities," he told reporters today. Sonenshein notes that the recall will be determined by which voter groups participate. "This is pure numerical force," he added.
Weber emphasized that the ballot is a simple one and the two questions that are asked are independent of each other. That means a voter could, theoretically, answer either or both without one vote affecting the other vote. "Whatever you do, vote on [question] number one," she said.
A ballot has been mailed to every registered voter in California asking whether Newsom shall be recalled. A "no" means the voter supports keeping Newsom in office. Sonenshein notes that advertising designed to confuse voters could well appear prior to election day.
"Someone is going to put out an ad or mailer that is going to flip that around in order to get people to vote incorrectly," he predicted.
To find a dropbox where a ballot can be deposited securely, go to the Butte County Clerk-Recorder page here.