Lena Levine earned her MD in Obstetrics and Gynecology, one of 25 women in her medical school class of 400.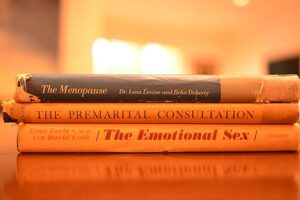 She worked at the Margaret Sanger Bureau in New York through its long history to becoming the Research Center for Planned Parenthood Federation of America, developing and dispensing contraceptives, overseeing clinics, working with international doctors from countries without contraceptive facilities.
In the 1940s she developed and ran group therapy sessions for married women providing information and discussions of women's sexual and reproductive lives. As part of the initiative to bring birth control to over-populated countries, she joined and served as Medical Secretary of the International Planned Parenthood Federation. Advocating in many places for sex education in the schools, she spoke to women's groups, taught at The New School in New York and wrote a column in Redbook magazine. With her co-authors, she wrote and published seven books about many aspects of women's lives, from advice to young brides to discussions of menopause. — Ellen Walker
Read the June 28 tribute to Levine posted by her daughter, Ellen Walker, a resident of Chico, here.