by Leslie Layton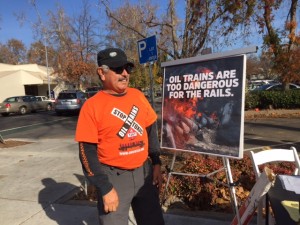 Chico, with its state university, valley oaks, coffee shops and bike paths, feels more collegial than industrial, a place that's far from the contamination and accidents that plague oil country. But the people in bright orange "Stop Toxic Oil Trains" T-shirts – they sometimes appear at Saturday Farmers Market and other events – say that when oil country rolls through Butte County, it brings accident potential here.
No one seems to be sure how many oil trains pass through the Feather River Canyon on Union Pacific's (UP) Oroville route that snakes above the north fork of the Feather River, but the activists in orange T-shirts want to stop crude-by-rail shipments on that route. That's because derailment and a spill of oil or another hazardous substance could contaminate Lake Oroville and poison the water supply that serves millions of Californians.
As the number of oil trains nationwide has skyrocketed, so too have the number of derailments; there have been more than 30 oil-train crashes since 2013, the Los Angeles Times reported last year. Oil train derailments usually trigger deadly explosions and toxic fires, as well as often contaminating water sources.
"Our objective is to protect our community, and part of protecting our community is protecting our watershed," says Dave Garcia, leader of the Subcommittee on Oil Trains (SOOT), a group that is part of the environmental organization Chico350.
SOOT predicts that if a rail spur – a crude oil unloading facility – is approved this coming year and installed at a southern San Luis Obispo County refinery, trains, each carrying several million gallons of crude, would use the Feather River Canyon tracks, increasing oil shipping on that route substantially. The group's members have been peddling postcards addressed to the San Luis Obispo County Board of Supervisors that ask the panel to deny an appeal from Phillips 66, the company that wants to build the rail spur.
As oil companies ramp up U.S. production through fracking and other new techniques, efforts are underway to expand pipelines and rail facilities to move oil to ports for export and to meet domestic demand. Fracked Bakken shale and oil from the Canadian tar sands are particularly explosive, so those in the #StopOilTrains movement call the growing number of trains carrying oil "bomb trains."
In July 2013, a train carrying Bakken crude from North Dakota rolled at high speed into the town of Lac-Mégantic, Quebec, Canada, and derailed; 47 people were killed and it dumped burning oil into a lake. Last June, a UP oil train carrying Bakken derailed in Oregon's Columbia River Gorge, spilling thousands of gallons and creating a groundwater contamination problem.
Grass-roots activism in opposition to the crude-by-rail business has helped stop projects in two East Bay Area communities – Benicia and Pittsburg.
At the Center for Biological Diversity in Oakland, Clean Energy Campaigner Valerie Love says 25 city and county governments and two regional associations have written letters to San Luis Obispo County officials opposing the rail spur. That intervention may have influenced the San Luis Obispo County Planning Commission, which voted against the project in October.
"Oil trains have had a bad record on safety," Love said in a telephone interview with ChicoSol. "There's been a coming together [of grass-roots groups] all up and down the rail line."
On its website, Phillips 66 says it's working closely with UP on the project and notes that up to three 80-car trains will unload oil at the refinery weekly. Phillips 66 says it has an "excellent safety record" and that railcars that would deliver crude would "meet or exceed" new standards.
The Butte County Board of Supervisors was not one of the many California boards and councils that spoke against the project. Garcia's group, though, has met or spoken with supervisors Doug Teeter, Maureen Kirk and Larry Wahl.
Soon thereafter, the board sent a letter to the Federal Railroad Administration (FRA), saying it was concerned about the transportation of hazardous materials through the Feather River Canyon and pointing out that the route is subject to falling boulders and frequent mud slides.
The Sept. 6 letter says fracked Bakken crude "is being shipped through the canyon to one of the five refineries in California's Bay Area."
"The Butte County Board of Supervisors requests that the Department of Transportation conduct a study of alternate routes … in order to protect the State's water supply," says the letter signed by board Chair Bill Connelly.
The letter points out that "there have been numerous incidences of train derailment in the Feather River Canyon and we have been fortunate that the rail cars have not contained hazardous material."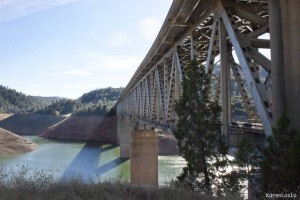 View of the Lake
On a September afternoon off Highway 70 over Lake Oroville, Garcia pointed to examples of track deterioration in the form of damaged spikes, missing bolts and rotting ties. Near a 3,000-foot tunnel at the Highway 70 bridge, many of the spikes were missing or bent. Garcia estimated there were probably 100 tie plates that were missing one or more spikes within 100 feet of the lake.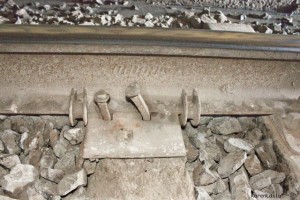 On the east side – and this was prior to the arrival of recent storms — puddled water was backed up and seeping under the tracks and over to the west side of the rails.
Suddenly, there was a tremble in the ground and a rumble in the canyon. A UP train bolted by, the clickety-clacking old red rail cars blanketed with graffiti, and the grimy, black, tube-shaped tank cars bearing letters and numbers, and in one case, the label "Liquefied Petroleum Gas."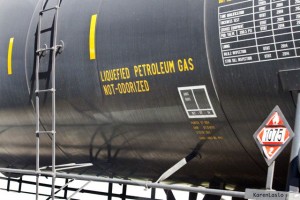 A concerned citizen will find it impossible to obtain an oil train schedule from official sources, who sometimes contend that disclosure could create a security risk. Garcia said that on two occasions he's seen train cars in the canyon bearing the number "1267" that indicates the probability they're carrying crude oil.
Garcia submitted several photos showing track deterioration to the county Board of Supervisors, and the board's September letter reflected concern over those photos.
The FRA declined to comment on the photos to ChicoSol, but it responded to the board in a three-page letter that details measures that have been taken nationwide to ensure safety. The Oct. 19 letter says inspectors were sent to the Feather River Canyon to review concerns that arose after the photos were submitted. Karl Alexy, director of the Office of Safety Analysis, says the tracks meet federal standards.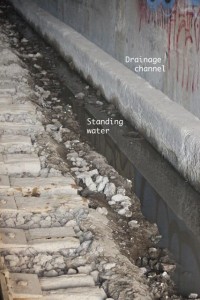 Board Chair Connelly did not return a call requesting comment for this story, and declined to meet with Garcia's group on the matter. But Connelly responded in an email to Garcia, who forwarded that email to ChicoSol.
"I find it difficult to see why you want the county to become involved with an interstate commerce issue," says Connelly's email.
"My Grandfathers, Father, Uncles and others worked on the WP [Western Pacific] railroad. There has always been a shipment of oil down the canyon. The facts are there has been and will be derailments in a canyon without permanent damage to our environment … We have done enough."
The real intervention point
The Standing Rock Sioux's effort to re-route the Dakota Access Pipeline to protect the Missouri River has garnered international media attention, while the work to re-route oil trains in communities across the nation has been quieter, more tedious, and, in Butte County, an organizing challenge.
But environmentalist Love says community pressure on local boards and action by those boards are key. Once a crude oil delivery facility is in place, local governments lose all control and "federal pre-emption" kicks in, she says. Furthermore, federal regulations are likely to become weaker in a Trump administration.
"These companies need off-loading facilities, and once they're built, they're under federal regulation," Love explains. The permitting process for the building of the facility, then, is "the real intervention point."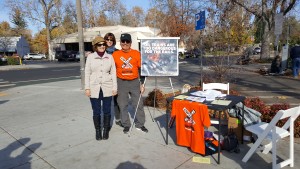 Activists in the #StopOilTrains movement, to differing degrees, worry about investment in more fossil fuel infrastructure that will be in place for decades, given that scientists agree that fossil fuels are a major culprit in the carbon emissions causing climate change.
Garcia says that his main concern is safety, though slowing down the installation of oil industry infrastructure provides a chance to evaluate its real cost and consider alternatives. "We're obviously not going to stop the production of oil," Garcia says. "The nation needs it. But we want safer procedures."