by Leslie Layton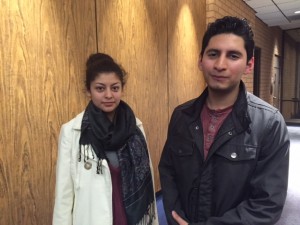 The Chico City Council's conservative majority blocked a community-wide effort, led by a group of college students who made brave and articulate presentations Tuesday night, to agendize a discussion on sanctuary status.
Sanctuary is a designation that could be as simple as an official statement welcoming diversity, or as meaty as a statement that guides law-enforcement policy toward the local immigrant community.
The panel quickly voted 4-3 against a motion by Councilwoman Ann Schwab to discuss sanctuary status for Chico at an upcoming meeting, after 37 people – including college students, attorneys, teachers, activists and other community members – asked for a hearing on the matter.
The students who asked for the sanctuary discussion seemed stunned as they left the Council Chamber, but said they wouldn't give up their cause. "I'm shocked," said Eder Gutierrez, president of a campus group, Leaders Educating for the Advancement of DREAMers. "But hopefully, in the spirit of Cesar Chavez, we can do something else, non-violently."
Schwab's motion was seconded by Councilman Randall Stone and supported by Councilman Karl Ory. It was opposed by Mayor Sean Morgan, Vice Mayor Reanette Fillmer and councilmen Andrew Coolidge and Mark Sorensen, none of whom explained their reasoning for opposing a discussion.
ChicoSol will post a longer story soon.