by Dave Waddell
Desmond Phillips, a mentally ill young black man killed by Chico police on March 17, was hit by 11 bullets — not shot 10 times, as Butte County District Attorney Mike Ramsey has claimed — according to a forensic autopsy report reviewed by ChicoSol.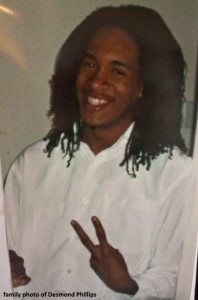 One of those 11 rounds hit Phillips in the nose and then re-entered his body through his chest, creating a total of 12 gunshot entry wounds, says the autopsy report. That same bullet, which the report says traveled in a downward direction at a "sharp angle," tore through Phillips' heart, causing his most grievous wound.
Erica Traverso, a Butte College instructor active in the Justice for Desmond Phillips group, said the autopsy indicates Phillips was in a position akin to kneeling when the deadly shot penetrated his heart.
"I don't see any other way for it to have happened," Traverso said. "The angle of the shot and the path it travelled suggest the shooter was above him."
In an April 7 report, pathologist Thomas Resk of Chico concluded that "a total of 12 gunshot-related wounds are identified over the body including one graze wound (to the arm) and 11 other gunshot wounds where an associated projectile or projectile fragments are recovered."
Resk's autopsy report is at odds with Ramsey's April 13 investigative report to Chico Police Chief Mike O'Brien, which says: "At a subsequent autopsy performed by (Resk for) the Butte County Coroner's Office, it was determined Desmond was shot a total of 10 times."
Together, officers Alex Fliehr and Jeremy Gagnebin fired 16 rounds at Phillips. Ramsey's report says "evidence of six missed shots were found at the scene" by state Department of Justice investigators.
In a telephone interview Tuesday, Ramsey told ChicoSol that a single bullet went through Phillips' upper arm and then re-entered through his side (represented by the letters I, J and K in a diagram from the autopsy report).

However, in a subsequent interview the district attorney acknowledged that Resk's report does not describe the side wound as a re-entry wound. In fact, the autopsy report says the upper arm entry and exit wounds (I and J on the diagram) were from a bullet with a horizontal trajectory, while the side wound (K) is about midway between armpit and buttocks. Ramsey said his determination that Phillips was hit by 10 bullets – not 11 — was mostly based on a total of 10 projectiles being found in or near Phillips' body.

When asked by e-mail Wednesday whether, as Ramsey claims, a single bullet was responsible for both the upper arm wounds and the side wound, pathologist Resk replied: "I have 'no comment.' If that's what Mr. Ramsey said, then I would go (with) your existing quote from MLR. He's the public figure, not me."
Phillips, 25, was shot under his right eye and had multiple abdomen, chest and arm wounds. The autopsy report and other documents were made available to ChicoSol by David Phillips, Desmond's father, who obtained them through public records requests.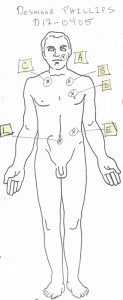 Ramsey ruled "the weight of credible evidence shows no criminal liability" on the part of officers Fliehr and Gagnebin. Fliehr fired his service revolver nine times at Phillips, while Gagnebin shot seven times. Ramsey, in a recent television news interview, described the brief encounter in David Phillips' small living room as "basically a rolling knife and gun fight," with Desmond Phillips slashing at the officers with weapons.Both Fliehr and Gagnebin were placed on paid administrative leave after the St. Patrick's Day killing; O'Brien returned them to duty following Ramsey's ruling.
O'Brien says Chico PD is conducting an internal affairs probe of the incident, which can be read about here, but has set "no timetable" for its completion. Jeramie Struthers, the department's "professional standards sergeant," typically heads up such inquiries.
Ramsey and David Phillips have publicly disputed a number of details about the killing, including where Desmond actually died. The district attorney said repeatedly that Desmond died at Enloe Medical Center after being rushed there, while the father says his son was dead before he hit the floor in a hail of police bullets.
In an Enloe report, surgeon David Collins wrote that Phillips arrived at the hospital with "what appeared to be a through-and-through gunshot wound to the left ventricle … There was absolutely no cardiac activity …"
Collins made a last-ditch effort of opening the chest wall and massaging Phillips' heart, after "it was determined that Desmond had not had any vital signs from approximately eight to nine minutes prior to arrival in the emergency room with multiple gunshot wounds."
"Given the prolonged time of his lack of cardiac activity … and the severe nature of the wound to the heart itself, further resuscitation was futile and the patient was pronounced dead," Collins wrote.
David Phillips, who witnessed Fliehr shooting his son, said he was not surprised by Collins' report because "there was no life in him" when he crawled to Desmond's side moments after the shooting.
Among the documents David Phillips obtained was the Chico Police Department incident report written by officer Joel Schmid. The report identifies Fliehr and Gagnebin, who were not hurt in the incident, as "victims," and Desmond Phillips as the "suspect." Most other information in some 40 pages of reports gathered from about 25 Chico officers was blacked out in copies the city provided to David Phillips.
Desmond Phillips' death certificate says he was born on the first day of 1992. A high school graduate who worked as a warehouse forklift operator, he was buried at the end of March in St. Mary's Cemetery in Sacramento. Resk's autopsy report describes Desmond as having a "history of acute psychosis, not otherwise specified."
A Butte County Sheriff's Office coroner's report says David Phillips was given permission to view his dead son at Enloe but cautioned not to touch him. "While David Phillips was viewing the decedent, he made contact with the decedent by kissing the left side of his face," the report says.
David Phillips told ChicoSol that Desmond's body was covered up to the neck and seeing his dead son with a bullet hole under his eye was deeply upsetting.
"That's when I kissed my baby goodbye," David Phillips said. "And I walked out. I hurt so bad to see him like that."
Dave Waddell is news director at ChicoSol. For the backstory, see our index of reporting on Chico Police Department in the column at upper right.