by Dave Waddell
Butte County District Attorney Mike Ramsey announced today that he has filed a civil lawsuit against the state Department of Water Resources (DWR) over last year's Oroville Dam calamity that forced the evacuation of 180,000 residents downstream.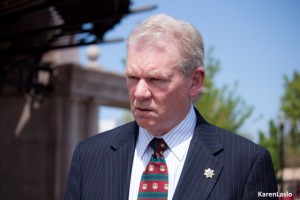 Ramsey's complaint against DWR was filed in Butte County Superior Court. It seeks damages of between $34 billion and $51 billion, or $10 for each of the between 3.4 billion and 5.1 billion pounds of material that the suit says were discharged into the Feather River during the crisis.
The complaint says DWR "assisted the California Department of Fish and Wildlife to evacuate millions of immature salmon from the Feather River Fish Hatchery located immediately downstream from Defendant's releases."
Ramsey said he will prosecute the case under one of California's oldest environmental laws, Fish and Game Code section 5650, which was enacted in the 1870s to combat river pollution.
In his complaint, Ramsey alleges that the DWR, in the 1960s, constructed Oroville Dam's flood-control spillway without "sufficient anchoring and slab thickness" on a "highly erodible foundation" that did not meet design specifications. He also alleges that DWR "failed properly to inspect, maintain and operate" the dam.
The DWR's release of water in February 2017 from the flood-control spillway, as well as down the dam's emergency spillway, "caused an estimated 1.7 million cubic yards of material deleterious to fish, plant life, mammals, and bird life" to flow into the Feather River, the suit says. The debris included concrete, earth and soil.
Dave Waddell is news director at ChicoSol.