by Dave Waddell
There were, appropriately, many passionate words Wednesday around peace and justice at Chico's 50th anniversary observance of the killing of Martin Luther King Jr. – the soulful singing of Frances Mann quite notably among them.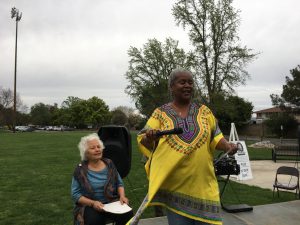 A Mann-led rendition of Joan Baez's "Ain't Gonna Let Nobody Turn Me Around" started off a march of about 50 people, who sang their way from the Dorothy Johnson Center on 16th Street several blocks to the statue of MLK at Community Park on 20th Street. There, a ceremony sponsored by the Chico Peace & Justice Center was led by Emily Alma.
Alma told the crowd she was surprised she hadn't met Mann, an Oroville resident for four years, until recently, calling her "my new best friend."
Among selections sung by Mann were "If I Can Help Somebody," "Reach Out and Touch Somebody's Hand," "Oh Freedom," and "We Shall Overcome" – the latter to which she had people holding hands, singing and swaying.
"I was just 10 years old when this song came out," she told the crowd, mid-song.
Speeches Wednesday were interspersed not only by song but by excerpts from recorded speeches of MLK.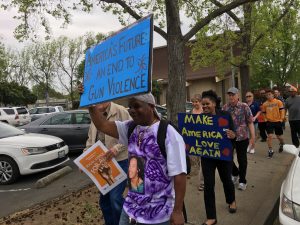 Alma, in her remarks, noted that the day King was assassinated, April 4, 1968, was "a huge day in our country's history" because the civil rights leader "in 39 years affected so many of us." Alma said King spoke out against the triplet evils of racism, poverty and militarism – even incurring the wrath of others in the civil rights movement for his outspoken opposition to the Vietnam War.
"Our country is morally bankrupt … and we need to follow our hearts to heal our country and our world," Alma said.
Lesa Johnson, an assistant professor in Chico State's department of sociology, decried the killing of Desmond Phillips, a young black man in mental crisis, by Chico police 13 months ago, as well the killing of unarmed Stephon Clark by Sacramento police three weeks ago. Johnson said "implied racial bias runs rampant" in law enforcement, "especially in Butte County."
"Until there is true justice, there will be no peace," Johnson said. "No justice, no peace, no racist police."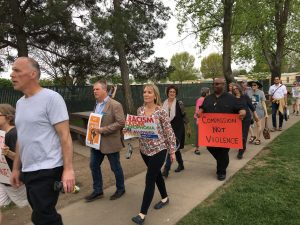 Alma told the crowd that not only was Wednesday the 50th anniversary of Martin Luther King Jr.'s death day, but also the 90th anniversary of poet Maya Angelou's birthday. Alma quoted the conclusion of Angelou's poem "Still I Rise": "I am the dream and the hope of the slave. I rise. I rise. I rise."
Dave Waddell is news director at ChicoSol.