news analysis by Dave Waddell
Contrary to Chico's latest urban legend – one sparked and fanned by certain news media and politicians in the midst of a City Council election campaign — Chico police did not "ask" for the highly controversial Sit and Lie Ordinance to be resurrected.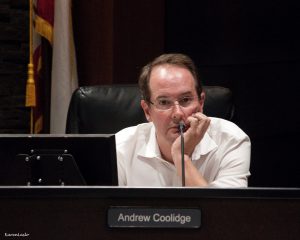 The distinction of raising Sit and Lie from the dead belongs to a single individual: City Councilman Andrew Coolidge, who's seeking re-election in the Nov. 6 balloting.
The current Council, controlled by a 4-3 conservative majority, is expected to restore the Sit and Lie Ordinance to city law at its meeting tonight – three weeks before the election, and as voters are receiving their mail-in ballots. The ordinance outlaws sitting or lying on sidewalks next to businesses during certain hours.
Three seats now held by conservatives are up for grabs on the Council in the looming election, and flipping even one of them to a liberal will be the end of Sit and Lie (again). The ordinance has actually been off city books for the better part of three years — longer than the law was in effect, as Sit and Lie quietly expired on the first day of 2016 after a two-year run.
"I would say that it was a desire on the part of a councilman to bring this back," O'Brien told ChicoSol. "It was not something I asked to bring back."
O'Brien says that Sit and Lie may have been a deterrent even after it ended.
"What we saw was a misconception that the ordinance was still in effect, so we had voluntary compliance," O'Brien said.
The resuscitation of Sit and Lie began with a May 9 email from Coolidge to City Clerk Debbie Presson in which he unveiled his "Chico Safe Now Proposals" for Council consideration. (The same memo proposed discussion of a Shelter Crisis in Chico, which the council declared Oct. 2 on a 4-3 vote with Coolidge joining three liberals in support.)
At the June 5 City Council meeting, councilors voted 4-3 "to direct the Police Chief to bring back citation data, including successful prosecution of these types of cases, along with costs of enforcement from when the (Sit and Lie) ordinance was in effect."
Three months later, the response emerged in the form of a memo to Council from Matt Madden, O'Brien's deputy chief of police, who put a positive spin on the ordinance's impact and recommended reinstatement. The memo was "reviewed" by O'Brien and "approved and recommended" by City Manager Mark Orme.
Madden's memo dodged the Council's question about how much it costs the city to enforce Sit and Lie, saying "it would be difficult to attempt to quantify."
The deputy chief reported that during the two years Sit and Lie was in use, police issued "247 verbal warnings" and a total of 56 citations to 39 individuals.
O'Brien told ChicoSol he "essentially" was not even asked his opinion about restoring the law until the Council's contentious Sept. 4 meeting, at which orchestrated disruptions from opponents of the ordinance led Mayor Sean Morgan to close the meeting to the public. ChicoSol journalists also were barred from the meeting.
Coolidge did not respond to a ChicoSol message asking why he did not consult with the police chief before reviving the Sit and Lie Ordinance.
Dave Waddell is news director at ChicoSol.