by Leslie Layton
More than 200 hundred people converged on Chico's City Plaza Tuesday evening to support President Donald Trump's impeachment, joining many thousands of people across the nation who mobilized.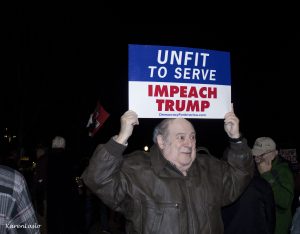 Chico's Jim Henson led a spirited series of chants as demonstrators waved signs, many saying, "Nobody is above the law," until a man from a pro-Trump counter-protest that was also stationed at the plaza slipped into the middle of the larger group and raised a bright blue "Trump 2020" banner. Henson, who didn't organize the event, then asked the pro-impeachment demonstrators to follow him to the City Council meeting and show support for sheltering the homeless; about half of the demonstrators followed him.
That left more than a hundred pro-impeachment demonstrators in the plaza without a leader or a focus for their simmmering energy. Valerie Meza, one of those demonstrators, was disappointed and said she felt "kind of used as a community member."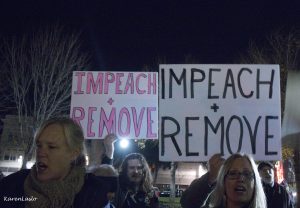 Meza said she had come to rally for impeachment, not for other causes, and believes that Trump has violated the U.S. Constitution on multiple occasions and it is the job of the citizenry to defend the Constitution. "I took an oath to defend and uphold the Constitution," said Meza, who works for a state entity and as a field hockey coach.
Henson said he wanted to avoid outbreaks of violence between the two groups at the plaza, particularly after the Trump banner was raised in the middle of the impeachment rally. According to the daily newspaper, there had been a "heated exchange" between the two groups and a "minor assault."
Chico's Senny Walker was one of about 15 people there to show support for Trump. She dismissed the quid pro quo allegations against the president as "fake news" and a "witch hunt" that had begun when Trump took office.
Observers estimated the crowd in favor of impeachment initially at between 200 and 300.
Nationwide, the demonstrations were organized rapidly — ahead of the vote that will take place today in the House of Representatives on two articles of impeachment — by several organizations, including MoveOn and Indivisible. A Common Dreams article said hundreds of thousands joined rallies in more than 600 locations across the country. NBC News estimated there were tens of thousands.