by Karen Laslo
guest commentary
If you were driving west on Sacramento Avenue past the CSA GRUB Farm early Oct. 8, you might have seen a big blue and green globe floating above the tall trees on the edge of the farm.
It was a Greenpeace hot air balloon, painted to look like planet Earth and trailing a giant banner with a definite and firm message to the governor of California: "Newsom: Stop fueling the flames."
The message was in reference to the massive climate change-driven wildfires that have scorched Northern California.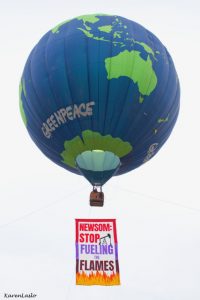 Greenpeace, along with some 750 groups, have formed the Last Chance Alliance that claims that Gov. Gavin Newsom isn't doing enough to facilitate the switch from fossil fuels to renewable energy sources. According to the Alliance, Newsom has issued more than 1,500 oil and gas permits in 2020.
Greenpeace chose to bring its Earth balloon to Butte County because of the climate-fueled Camp Fire that killed 86 people in 2018 after years of drought, a fire that was triggered by a fatal spark due to PG&E negligence.
Representatives of local environmental groups showed up to help inflate and tether the big balloon and it floated above the farm, an urgent reminder of the importance of Last Chance Alliance's call to: 1) Stop new oil permits, 2) Drop existing oil production and 3) Implement oil field setback limits.
The rise of the Greenpeace balloon is a crucial reminder that our lives depend upon what we do now.
Karen Laslo is a Chico photographer who publishes a blog called "A Picture's Worth."