by Leslie Layton
Sometimes change happens quietly, and sometimes there is a quiet — almost imperceptible –shift in consciousness on a social issue that surprises.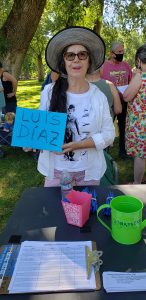 A vigil held on this Memorial Day to remember people killed by law enforcement officers and encourage police reform was organized around the belief that messages can sometimes be heard best when people are quietest. About 50 people gathered for the "Say Their Name" vigil organized by Concerned Citizens for Justice (CC4J) at the Bidwell Park One Mile.
They were encouraged to fan out around the pool to quietly stand with a placard in honor of someone who had been killed by a local law enforcement agency. But the turnout for an event that had been set up quickly was surprisingly high, prompting some to wonder if there should have been an agenda that included more activity.
"We had in mind that this would be a vigiling kind of gathering for people who have died at the hands of law enforcement," said CC4J coordinator Emily Alma.
CC4J provided a list of 31 people who they said have been killed by a Butte County law enforcement agency during the past 20 years, and a list of 967 people who were killed by law enforcement officers in the past year across the nation. Vigil participants wrote out the name of someone on the list and carried a placard for that person around the One Mile Recreation Area.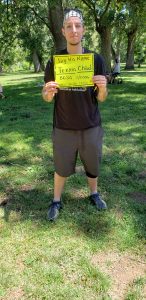 Suzie Garrett, one of the vigil organizers, said she has been moved to a solo vigil, which she holds every Monday, by the police killing of George Floyd in Minneapolis on Memorial Day in 2020.
"You have to meet people where they are at," Garrett said, adding that she merely invites people to "make space for the humanness that is lacking."
Today's vigil attracted a mix of longtime activists and people who aren't often seen at such events. Some said they were concerned about police violence and some had been directly affected by experiences with local law enforcement agencies.
One was Frances Tzugaris, grandmother of Andrew Thomas, who was fatally shot by Paradise police officer Patrick Feaster in 2015.
Tzugaris said the family received some financial compensation, but "that doesn't bring him back."
"He wasn't a perfect kid, but he didn't deserve to die," said Tzugaris of her 26-year-old grandson.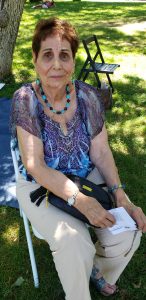 Feaster was convicted of involuntary manslaughter in the death of Thomas, who was unarmed but intoxicated, only after Butte County District Attorney Mike Ramsey was pressured by public outrage to reverse his initial position exonerating the officer.
Leslie Layton is editor of ChicoSol. This story was corrected on June 4 in the sixth paragraph to more accurately explain that Suzie Garrett was moved to vigilling by Floyd's murder, but interested in this issue long before Floyd's death.