by Natalie Hanson
posted Feb. 17
Kathryn Robinson, a Chico woman who says she has long Covid, wishes she could have hard evidence to battle misinformation and the isolation she has suffered.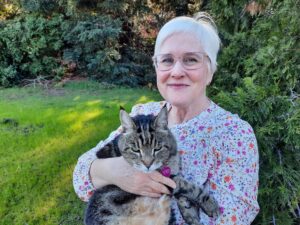 "You almost feel like you're crazy," she said. "I've had people actually walk away when I've told them."
The Centers for Disease Control is one of the few institutions releasing guidance about long COVID symptoms, as recognized researchers conduct more studies of the fairly new condition.
Joanna Hellmuth of the Memory and Aging Center at the University of California, San Francisco, said research shows that in some patients, their immune system was stimulated by the virus and functioning "in an unintended pathological way."
Researchers also found that participants with cognitive symptoms had more risk factors -– such as past heavy substance use, diabetes, hypertension or a history of ADHD, anxiety, depression or learning disabilities. There is only "modest but consistent" evidence suggesting exercise capacity is reduced in participants with long COVID.
Michael Peluso, assistant professor of medicine and infectious disease specialist at UCSF, said studies show that COVID may linger for up to seven months.
Currently, the known symptoms of long COVID include anxiety or fatigue interfering with daily life; fever, cough or shortness of breath; sleep problems; changes in smell or taste; joint, muscle, chest or stomach pain; heart palpitations and changes in menstrual cycles.
In May, UCSF released findings that the antiviral drug Paxlovid, approved for high-risk COVID patients, may also benefit those with long COVID, according to a small case series that needs more rigorous study. Paxlovid is prescribed to patients who test positive for the coronavirus and are older than 65 or have underlying conditions. It is taken in pill form within five days after symptoms begin.
Peluso noted, though, that its safety is unknown and access can be difficult. "There is no way to access the drug unless a doctor is willing to break the rules, which we are not advocating," he said.
Small study sizes, oversampling of hospitalized participants, and varied definitions of long COVID make the study process more difficult.
Priscilla Hsue of the UCSF Department of Medicine and of the Division of Cardiology said that more trials are needed to study how long COVID may cause dysfunctional breathing, nerve damage, "and the inability to increase the heart rate adequately during exercise."
"Only by doing rigorous studies will we get answers," Peluso said.
Natalie Hanson is a contributing writer to ChicoSol.
I