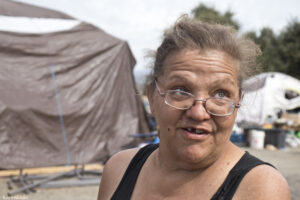 by Leslie Layton
posted Oct. 2
The first in a two-part series on homelessness in Chico in 2023.
Donna Shepard spent some of Chico's hottest days this past summer hunting down water.
Shepard lives at the encampment known in Chico as the "alternate site" -– the homeless campground the City established to comply with a lawsuit settlement -– and though a spigot was installed, the water it released in the middle of a hot day was itself often too hot to touch.
After collecting water elsewhere, she'd douse herself and her three small dogs. "It gets so hot out here I almost lost Dixie," she said of her 15-year-old Chihuahua mix. Her two other dogs are service animals; she describes herself as "four times legally blind." read more