by Leslie Layton
An immigration fair held Saturday in Orland, sponsored by nonprofit organizations including ChicoSol, served about 100 area residents by providing attorneys for consultations, seminars on Constitutional protections and access to community groups.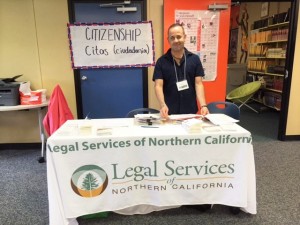 The Immigration Information Fair was held at Orland High School in order to provide information and resources to community members who may have become concerned about how the Trump administration's policies will affect them. About 50 people who had made appointments in advance were able to consult with attorneys or law students at no cost. In meeting rooms, they filled out citizenship applications, discussed citizenship eligibility and learned from immigration attorneys about possible eligibility for residency and work programs.
Fair participants attended know-your-rights sessions on Constitutional protections and visited the tables set up by a dozen community and governmental organizations. Migrant Education, Butte College and ChicoSol were a few of the organizations that tabled in order to provide information about their work and services.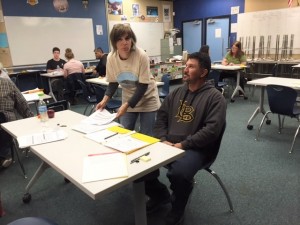 Orland Unified School District Superintendent Ken Geisick said the district agreed to co-sponsor the event after parents who use the district's Student & Family Resource Center recently began voicing concerns.
"Some [parents] began calling in fear about their status and some were asking questions about citizenship," Geisick told ChicoSol. "We didn't have the answers, but we felt compelled to bring together organizations that do have those answers."
Geisick said the partnerships that developed as a result will help the district meet needs of its students not related to immigration.
The event was sponsored by the Orland Unified School District, OneJustice,Legal Services of Northern California, ChicoSol, Northern Valley Catholic Social Services and APIR (Alliance Pro-Immigrant Rights.) OneJustice is a nonprofit based in San Francisco and Los Angeles that brought attorneys and law students to Orland on the "Justice Bus."
Dozens of students from Orland High, Chico State and Butte College also participated in the event, providing child care, translating and other services.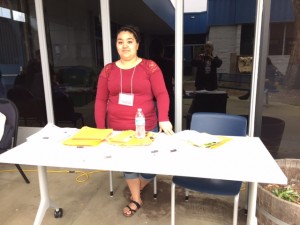 One woman who attended a know-your-rights session was asked what she liked best about the afternoon. She said she learned about her rights. "Cuando vienen a tocar la puerta, lo que tienes que hacer," she said. In other words, she learned what to do if immigration officials knock on her door.
Miguel Ramos Aguirre, a representative of the Mexican consulate in Sacramento, spoke and tabled at the fair. He spoke with many Latino community members on Saturday about how they can obtain Mexican passports and Mexican citizenship for U.S.-born children. He provided fliers on maintaining dual citizenship.
The consulate, he said, wants unauthorized immigrants to be prepared for the possibility they'll face deportation proceedings, and some want to take their children with them if they're returned to Mexico. "We want them to be prepared and talk about what they'll do if they get deported," Ramos Aguirre said.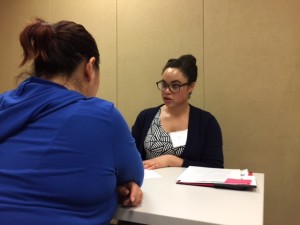 Esther Rosario, a consultant to Orland Unified who helped open the Student & Family Resource Center, said an overwhelming community response to the event showed how much it was needed. There were waiting lists for individual consultations with attorneys, inquiries from local businesses and referrals from other school districts, including Chico Unified. People traveled from Redding, Corning and other towns for the event.
"I had a chance to speak with many of the volunteers, community partners and representatives from the agencies," Rosario wrote in an email following the event, "and I have to say all reports were positive. Many [of the volunteers] shared very touching moments as they translated and/or assisted families and learned of the plights and struggles individuals experienced seeking information and assistance."
The caption on the photo of attorney Denise Grady was corrected on March 22. We apologize for originally misidentifying her organization.
Kate Sheehy is outreach coordinator for ChicoSol.