by Karen Laslo
Usually, the park maintenance crew has Sycamore Pool cleaned and ready for use by Memorial Day weekend, the official start of the summer swimming season — but not this year.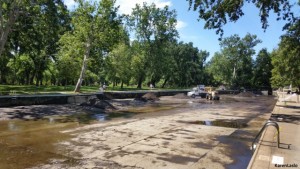 Heavy winter storms and a swift spring snow melt brought a greatly increased flow of water down Big Chico Creek, resulting in a pressure and volume of water too great to be accommodated by the underground tunnel the park maintenance crew relies on to divert the creek while it cleans the pool. Finally, last week when the water flow had calmed, the crew began the yearly cleaning of the pool at the One-Mile Recreation Area.
Park maintenance workers Kyle, Peggy, and Alex worked two days to load and haul 57 truckloads of sediment and rocks out of Sycamore Pool. Now, early on a recent morning, the pool sits quietly and calmly waiting for the lifeguards and hundreds of kids and adults who'll seek refuge from temperatures expected to soon reach 100 degrees.
Chico Area Recreation & Park District's website says lifeguards are on duty at Chico's iconic pool from 12 p.m.-7 p.m. Fridays through Wednesdays.