by Dave Waddell
A state Department of Justice investigation has been launched into the Chico police killing of Desmond Phillips, a mentally ill young black man gunned down in his living room last March, Phillips' father claimed at a news conference Monday.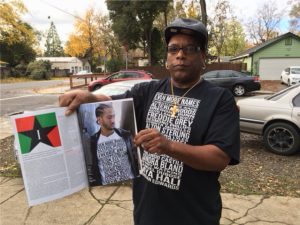 Neither state Attorney General Xavier Becerra's press office nor Butte County District Attorney Mike Ramsey responded immediately to requests from ChicoSol for comment on David Phillips' claim.
Ramsey previously ruled that the shooting by Chico police officers Alex Fliehr and Jeremy Gagnebin, who together fired 16 rounds at Desmond Phillips, was justified. A wrongful death claim – often a precursor of a lawsuit – was filed by the Phillips family but denied by the city.
David Phillips and his attorney, John L. Burris of Oakland, met Nov. 9 with Becerra at the AG's San Francisco office.
"Mr. Becerra affirmed that there is now an investigation under way that will be happening independent of the influence of Butte County law enforcement or District Attorney Ramsey," said David Phillips, reading from a prepared statement. "Mr. Becerra stated that he will be overseeing this case personally."
Besides Fliehr and Gagnebin, David Phillips named at the news conference three other Chico police officers he believes fired their guns at his son, but provided no evidence to support that claim and then declined later to answer questions, saying he was following his attorney's advice in not doing so.
Erica Traverso with the Justice for Desmond Phillips campaign provided to the news media a list of 28 people she says were killed by Butte County law officers in the last 20 years, including three shootings in 2017.
"Seventeen of the 28 victims had a history of mental illness known to law enforcement and 12 of them were killed by police responding to a mental health crisis or welfare-check call," Traverso said.
David Phillips wore an "Even More Names" T-shirt that was a replica of one worn by former professional football quarterback Colin Kaepernick for a photo for GQ that illustrated the naming of Kaepernick as that magazine's citizen of the year. Before his release by the San Francisco 49ers, Kaepernick sparked debate by kneeling during the pregame playing of the national anthem as a protest against social injustices.
The shirt lists the names of numerous African-Americans who have been killed by law officers or who died in police custody, including Freddie Gray, who died in 2015 after being transported by Baltimore police. Gray is listed just above Desmond Phillips' name on the T-shirt.
Among others speaking at the news conference, held at the Bethel AME Church in Chico, was Scott Rushing of Ventura, whose son Tyler died in a shooting involving Chico police on July 23. Rushing noted that Monday was his and wife Paula's 41st wedding anniversary.
"Unfortunately, our celebration is choked and suffocated" by the killing of their only son, Rushing said. "We support the use of trained crisis intervention personnel to deal with barricaded people like Desmond and Tyler so there is a possibility that no one gets hurt and no families have to suffer the loss of a loved one."
Dave Waddell is news director at ChicoSol.