by Dave Waddell
Chico teenagers spoke out passionately Saturday against school gun violence to a crowd of thousands at City Plaza, leaving some of their older listeners not only admiring their steely resolve but in tears at their stirring words.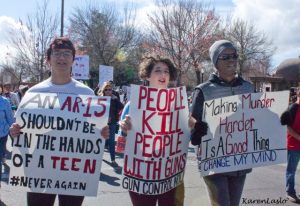 "Do you know how it feels to hear the 'all clear' in a Code Red and say 'Thank god I'm alive' when across the country parents are crying 'God, why? God, why did my baby have to die, their lives stretching out before them, withering in opportunity and promise?" asked Bailey Christiansen, a 15-year-old Chico High School sophomore.
"They had nothing to lose except the one thing that was taken from them: Their Second Amendment right to protect themselves with an assault rifle. Wait, what!? No! God, no! It was their lives that were taken, stolen, ripped away … and their souls too young to leave our world that were taken."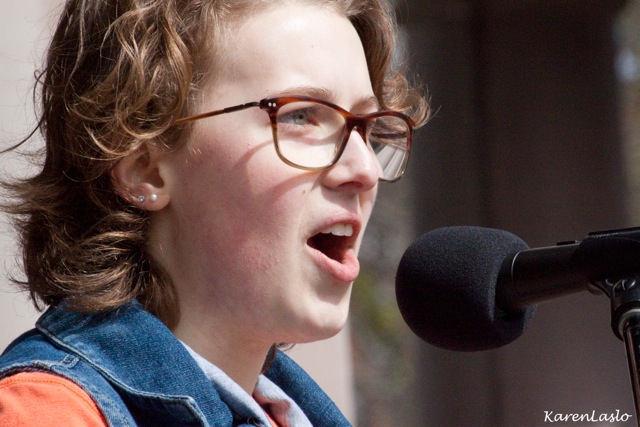 Christiansen and other students spoke at Chico's March for Our Lives after the demonstrators marched from City Plaza down Main Street to Third Street, over to Broadway, and then back to the plaza. Event organizers estimated 2,000 people attended.
The New York Times reported, quoting national gun-control groups, that rallies like Chico's were taking place in 390 of the country's 435 congressional districts. The young survivors of the Parkland, Fla., school shooting led a march that packed Pennsylvania Avenue between the White House and Capitol Hill.
Some Chico protesters held signs that were supportive of and grateful to youth for the march – and the movement — including "Thank you, teen-agers," "Elect the kids because they know better. Please replace us," and "Students: Not owned by the NRA."
Other student speakers included Pleasant Valley High School senior Rose Miller, who recounted a "downright terrifying" Code Red drill while in elementary school. Another student she was huddled with had asked whether there was a "shooter by the window," and Miller thought she had said "scooter by the window" and replied in the affirmative, frightening her classmate, who responded, "Rose, I love you."
"She thought, at 8 years old, those would be her last words," Miller said.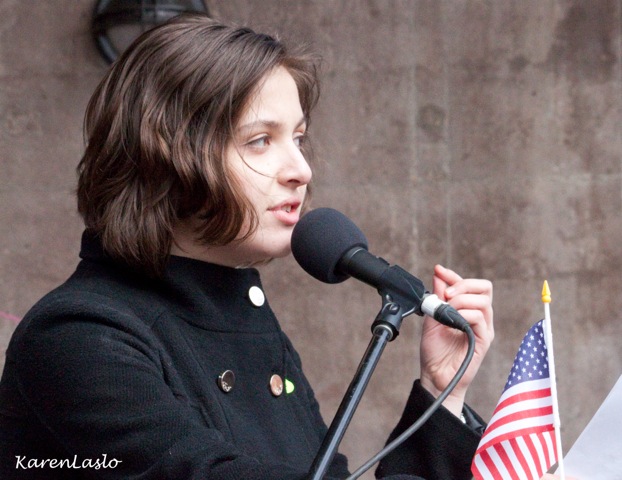 Like other speakers, Miller called on lawmakers to work together to respond to gun violence. "There's no excuse. We are dying. We call B.S.," Miller said. "We're calling on legislators to make our lives a priority."
Another Pleasant Valley HS senior, Olivia Bridgnell, 17, asked that schools be made as safe as courthouses and airports.
"I see hope that the government has finally started – started – doing something because of us, because of everyone here today," Bridgnell said.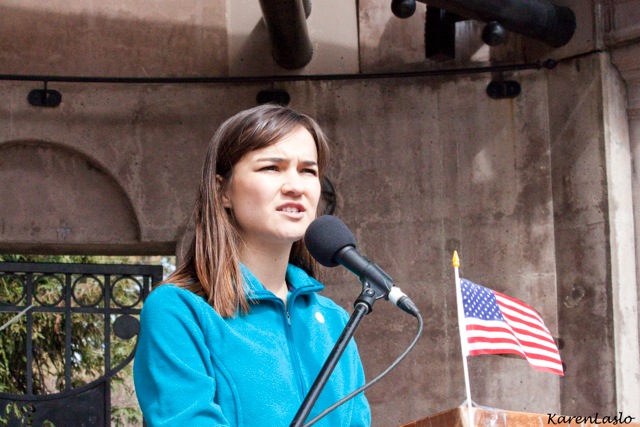 Bridgnell mentioned as a positive Assembly Bill 2067, which was introduced by state Assemblyman James Gallagher, R-Yuba City, after the Feb. 14 shooting of 17 students and staff at Parkland's Marjory Stoneman Douglas High School. AB 2067 would require that all public K-12 schools receive funds to have trained security personnel at each school site. The bill was approved by the Assembly Education Committee on March 21.
At student-led marches across the nation, some protesters were calling on Congress to go much further, for example banning semi-automatic weapons. At the Chico rally, student and adult protesters sometimes took aim at the NRA.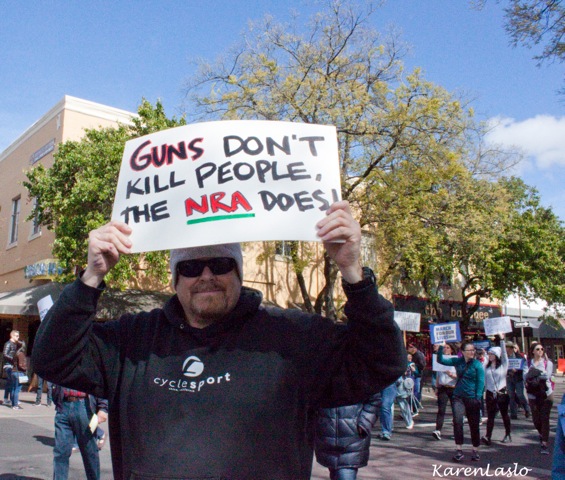 Students Miller and Bridgnell were instrumental in obtaining funding for Saturday's march.
Christiansen, the Chico HS sophomore, said there is "a fear of those who don't hesitate to pull the trigger – the trigger on their guns, the trigger on their opinions, the trigger on their place in this world of ours."
Christiansen also spoke of what it means "to be set on fire by the knowledge of the deaths of kindergartners – I repeat, kindergartners!" – but then to be made to feel powerless by politicians who "huddle in their ivory tower peeking from behind their barricades of NRA cash money." She called on lawmakers to address gun violence courageously "without fear of retaliation, without fear of loss of money, power or office."
Christiansen took a swipe at the Chico Unified School District administration for trying to prevent students from leaving campus for the #Enough National School Walkout on March 14.
She said that when "you begin to include your campus in a worldwide revolt against inaction … those around you in their own ivory towers tell you, 'Don't be political, don't offend anyone, and don't leave. Don't you dare leave this campus because it could be unsafe.'
video by Dave Waddell
"Unsafe? Don't you dare tell me that leaving this campus to fight for what I believe in is unsafe," when the entire point of such activism is student safety, Christiansen said.
Dave Waddell is ChicoSol news director.