Chico's Raeanne Flores-Owens protested with about 19 other people Monday, saying that while Rep. Doug LaMalfa (R-Richvale) was raising money for his re-election campaign, much of the Northern Sacramento Valley was burning. "We are covered in smoke, it's hazy, our children can't play outside," she said of the Carr Fire's impact.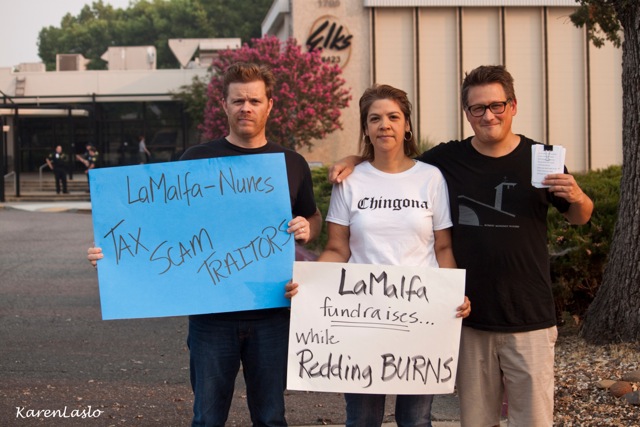 The 110,000-acre Carr Fire has been identified as the most destructive fire in Shasta County's history, and the weather system the fire is generating has been linked to climate change. Air quality in the northern valley today ranges from "unhealthy for sensitive groups" to "hazardous," according to KRCR news.
Flores-Owens was one of the protesters outside the Manzanita Place event hall in Chico who oppose the Republican congressman's position on climate change and his support for President Trump's immigration and tax policies. LaMalfa's staff, meanwhile, held a dinner that cost donors up to $5,400 for those who wanted to be "event chairs." Congressman Devin Nunes (R-Tulare) was advertised as a guest at the round-table discussion and dinner.
"Climate change is happening and they are willfully ignoring that, and we, the 99 percent, are suffering because of it," Flores-Owens said.
LaMalfa in 2016 criticized former President Barack Obama for his "misguided focus on climate change, which threatens to derail key sectors of the American economy."