by Dave Waddell
Chico's police union and a longtime businessman have supplied big bucks to bolster a political action committee (PAC) trying to keep conservatives in control of Chico city government.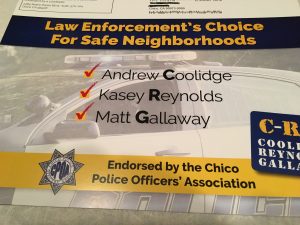 A $5,000 donation from the Chico Police Officers' Association, as well as Tom Dauterman's unusually large $10,000 contribution, were booked in recent days by the PAC, called Chico Citizens for Accountable Government (CCAG).
CCAG reported raising $22,000 during the first half of October, more than doubling its 2018 fund-raising to a total of $43,000 through Oct. 16. CCAG is working to elect incumbent Andrew Coolidge and newcomers Kasey Reynolds and Matt Gallaway to the Chico City Council. Even before the October infusion of fresh money, the three conservatives and CCAG together had raised more than $200,000.
In the Nov. 6 election, the three seats up for grabs are all occupied by conservatives, who've held a 4-3 Council majority since the beginning of 2015. Conservatives Mark Sorensen and Reanette Fillmer are not seeking re-election.
An example of CCAG's handiwork – a slick, 9-by-11-inch mailer — arrived in Tuesday's mail for some Chico voters. The mailer extols the backing by the Chico Police Officers' Association (CPOA) of Coolidge, Reynolds and Gallaway, with tough-on-crime quotes from the three candidates.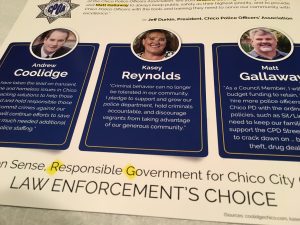 The police union's $5,000 contribution was reported on CCAG's most recent campaign disclosure forms. CPOA gave $3,500 to the PAC for the 2016 Council election.
Dauterman, the founding owner of Thomas Welding & Machine on West Eighth Avenue, has long funded conservative candidates and causes. He contributed $5,000 to CCAG in both 2014 and 2016, so his $10,000 donation amounted to a doubling down for the 2018 election.
Dauterman's was the main money behind a two-year, $86,000 effort to move City Council elections from November to June. In a special election in 2011 that was reported to have cost city taxpayers about $150,000, Measure A lost in an avalanche: 68 percent of voters opposed switching the election date.
In addition to Dauterman and the police union, also giving to CCAG this month were Gayle Chrysler, a Chico retiree, $3,000; Alex Dubose of Durham, owner of Rental Guys, $2,000; S.F. "Bud" Caldwell of Paradise, owner of Northgate Petroleum, $1,000; and Richard McGowan of Chico, a farmer, $1,000.
Previously contributing $5,000 each to CCAG were Bill Webb Construction, Epick Inc., SCA Development Corp., and real estate developer Thomas van Overbeek.
Chico Citizens for Accountable Government began in 2014 with Mike Maloney, a former Chico police chief, as the PAC's principal officer. CCAG spent about $32,000 that year to advance the candidacies of Fillmer, Sorensen and Coolidge. All three won.
In 2016, the PAC supported to the tune of $35,000 another winner, Mayor Sean Morgan, as conservatives maintained their 4-3 advantage, despite three liberals – Ann Schwab, Karl Ory and Randall Stone – also winning.
In past years, CCAG has put out hit pieces against certain liberals. In 2014, the PAC targeted with a negative mailer councilman Scott Gruendl, who finished sixth in a race for three seats. Stone had the PAC's bullseye on his back in 2016.
Dave Waddell is news director at ChicoSol.