A bulldozer arrived early today in lower Bidwell Park when city employees, accompanied by Chico Police Department Target Team members, began clearing what Councilor Scott Huber said was "abandoned personal property" at the horseshoe pits encampment.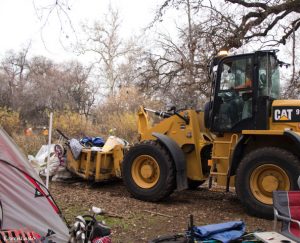 The action follows a vote by the new conservative majority on the Council to enforce a ban on camping in the park. Huber stood with about 60 protesters who, with signs, banners and conversation, pointed out that the homeless living in the park have nowhere to go.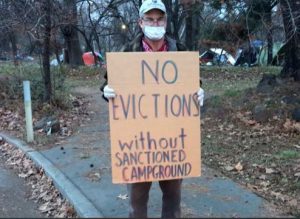 Robyn Alana Engel, from the group Team Chico Paradise, was also at the protest. Engel said the city was bulldozing "through a whole area with a lot of campers" and campers were being told to "move on."
"Campers were bereft, devastated," Engel said, noting that many of the homeless living in the park — there may be 200 or more — have no idea where to go if they're forced out.
Felipe Jose Ramirez, Jr., died in the park near Sycamore Pool in early January.