by Leslie Layton
Amma Culture founder Anecia Johnson, for the past several years, has been delivering a pointed message to this community: Teach African American kids African history and they'll identify with accomplishment, not oppression.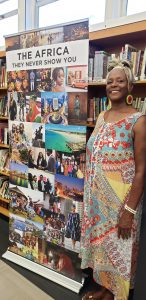 Before they learn about slavery or police violence, Black children — and all children, for that matter — should learn about Africa's magnificent history that includes stories of kings and queens, astronomers and architects, Johnson says. In pre-colonial Africa, for example, ancient Egypt was known for its remarkable systems of literacy, mathematics and medicine.
Johnson, an African American and a Chico native, founded Amma Culture in 2017 to preserve culture and history among African descendants, encourage a sense of pride and belonging, and, as the website says, promote "social cohesion."
That mission dovetails with the approach taken by David McKay, principal of Bidwell Junior High School, who believes that gaining an appreciation of culture and history – whether it's yours or someone else's – enriches. The Amma Culture mission, as well as conversations with parents, inspired McKay to resurrect the school's "World Cultures" class for this academic year and invite Johnson to participate as a guest speaker in the Africa unit.
The course, which began with the re-opening of school this week, will include units addressing other minority cultures with a home base in Chico. Speakers from the Hmong, Mechoopda and Mexican-American communities will also be involved, McKay said.
"History is by definition a perspective, a point of view, a telling," McKay says. "There are ways to present that information that exclude people and ways to include people. With Amma Culture, we're providing a way to expand on that knowledge basis, tapping into community wisdom, inviting people to be part of our school community."
Johnson, daughter of prominent community leader Dorothy Johnson, knows better than most what it's like to belong to a minority group; African Americans are still only 2 percent of the population in Chico. Johnson says that African American children need to know that their ancestral history didn't begin with slavery in the Americas.
Though Johnson believes that learning a more complete history of the African continent helps Black children build a positive self-image, she also found joy as a child in learning about cultures that weren't necessarily hers. She recalls signing up for an elective as a junior high schooler.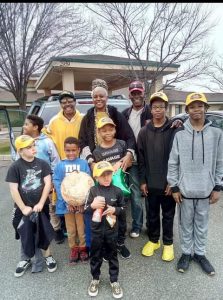 "I remember that at Chico Junior High one of my electives was Spanish," Johnson says. "I was so excited I could learn Spanish. I always had an interest in diversity, always valued knowing more about other people."
During her childhood in Chico, Johnson was "immersed in the dominant society's educational system," but says she later became interested in "how I was connected to the peoples of Africa and that history."
"It was never presented to us that Africans explored the world, for thousands of years, perhaps," says Johnson, who speaks with a stately conviction borne from her cultural study and exploration. "Africa produced the first astronomers and architects whose knowledge was gleaned by the Europeans."
In 1987, Johnson graduated from Chico State University with a degree in international business.
McKay grew up in a diverse Bay Area community, an experience that he says has helped him as a "white guy" interact with diverse groups of people more "completely and authentically."
"I benefited from being around Spanish-speaking families," McKay said. "I benefited from neighbors and friends, from [diverse] cultural dynamics. I grew up feeling more human and connected to people I didn't even know. Everyone benefits from understanding; it alleviates fear, stereotypes."
McKay continued that learning as a Chico Unified administrator. At Bidwell, where McKay is beginning his fifth year as principal and 30 percent of the student body are students of color, McKay says he's learned about "historical barriers" that keep some community members from feeling comfortable in the school system.
One of many things schools can do, McKay says, is provide more complete depictions of history; African history is a classic example. "Does that history begin with slavery?" McKay says, "or does it start millennia before that?"
Teaching incorrectly that African history begins with slavery is detrimental to Black children, Johnson says. "Some might call it psychological warfare to disable the potential of Black youth," she contends, instead of teaching about both the ancient and modern contributions of the African Diaspora.
Dolores Alaniz, the World Cultures teacher, told ChicoSol that she has a roomful of 6th, 7th and 8th-graders excited about studying world cultures this year. Alaniz said the course will benefit both the students and the community.
"Since we started talking about this project we have already made connections with members of various cultures," Alaniz wrote in an email to ChicoSol. "For students … it will help them break down barriers and stereotypes … my students and I are excited to embark on this wonderful multicultural experience together and expand it over time."
It's the beginning of a journey for both Amma Culture, which has been working for several years to support a more complete educational perspective in local schools, and Bidwell Junior.
"Culture is a no-brainer," McKay says. "Schools often default to the white middle-class students, and you don't know who you're alienating.
"I feel like it's long overdue that we understand where each other is coming from," McKay adds. "We'll be providing historically factual stuff that you would find in any peer-reviewed journal. We're broadening and deepening, and not at the expense of anything else."
Amma Culture offers sponsorships to people interested in supporting its mission. Learn more here.
Leslie Layton is editor of ChicoSol.