by Leslie Layton
Several days prior to the third anniversary of the devastating Camp Fire, a group of Paradise residents and former residents hoisted a banner with their message to the world painted in charcoal: "COP26: WE ARE ON FIRE. DO SOMETHING!"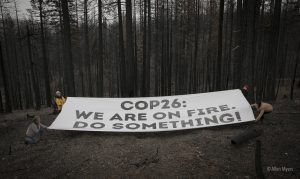 Gathered in the Plumas National Forest in the Dixie Fire burn scar on Nov. 6, the demonstrators said their message was directed to world leaders at COP26, the United Nations Climate Change Conference underway in Glasgow, Scotland. "The climate crisis is here. We are on fire," said Allen Myers, executive director of nonprofit Regenerating Paradise.
Later, by phone, Myers said it wasn't his intent to minimize the role of PG&E — the utility that owned the malfunctioning transmission line that ignited the Camp Fire.
"By highlighting climate change I do not want to minimize the lessons of mismanaged forests or the faults of PG&E," Myers told ChicoSol.
Climate change, Myers pointed out, is acting as an accelerant in Western U.S. wildfires, making them burn hotter and larger. "We're trying to connect to a large global population," Myers said. "This is a moment where world leaders are gathering to talk about solutions. People are dying as a result of climate-driven wildfires."
The banner was painted by activist/writer/artist David Solnit with charcoal from a home that was destroyed by the 2018 Camp Fire that killed 85 people.
Myers, a filmmaker and photographer who lost his Paradise home in the Camp Fire, was in Grizzly Flats taking pictures today — the third anniversary of the Camp Fire. Grizzly Flats was leveled earlier this year by the Caldor Fire. "It looks like Paradise did three years ago to the day," Myers said. "There's total devastation, blackened out forest. It's jarring yet familiar."