by Natalie Hanson
posted July 7
California children are lagging behind adults in vaccination rates, and misinformation about vaccine safety may increase risks for families, health experts say.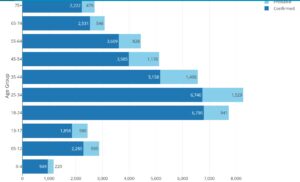 The battle over scientific data versus politicized debate erupted in Butte County, where parents and political leaders at times pushed false information about the virus to argue against shutdowns and removal of masking requirements.
While vaccines for those younger than 5 were approved in June, vaccines for children older than 5 have been available for months. But the state's Health Equity dashboard shows that statewide, in the 5-11 age bracket only 36% are fully vaccinated and in the 12-17 bracket 67% fully vaccinated. The average vaccination rates for adults in California range from 78% to 85%.
There have been 71 deaths due to COVID-19 among children in California to date, with 54% being Latinos. There have been 90,745 deaths among adults, with almost 44% being Latinos.
Butte County Public Health said that every child older than six months can now get either Pfizer or Moderna shots, which have the FDA emergency use authorization for people aged 6 months to 15 years old. Public Health clinics will offer the vaccines beginning next week in both Chico and Oroville, two days a week.
In a recent Ethnic Media Services briefing, East Bay Pediatrics Dr. Jennifer Miller said she talks to many parents who are protective of their children and want more answers about the vaccine. Some only disapprove of the COVID vaccine, although they approve of other inoculations like the one against influenza.
Miller said misinformation about the vaccine's danger to children — that it is somehow more dangerous than the virus — has created a situation where some parents "are more comfortable getting COVID again than risking the vaccine." She added that people mistakenly think the vaccine was approved too quickly and that "steps were skipped," although there were several phases of testing.
"They don't feel the vaccine is safe, they don't feel it's necessary and they're afraid of the side effects," Miller said. "And they're afraid of the long-term effects of the vaccine. They will not get it until it's approved by the FDA.
"This vaccine is built from more than 20 years of science," Miller explained. "The science behind this vaccine is not new. I let parents know that ultimately, it is their decision to make … and I am here for them. The decision not to vaccinate is a decision to get the COVID virus. There's no predicting how mild that will be."
Miller said that new data shows children under age 4 were hospitalized five times more during the latest winter 2021 surge than during the Delta surge. Of 12 million children who have had COVID nationwide, 120,000 have been hospitalized and close to 1,500 died, she said. More new Centers for Disease Control information on COVID-19 trends among children nationwide can be found here.
Dr. Lucia Abascal of California Department of Public Health said the state regularly tracks attitudes toward vaccines and misinformation.
"Some conceptions like the idea that kids don't get sick from COVID were disseminated through some official narratives, and some politicians have used that idea and spread it," she added. "There's this idea that COVID is now milder. But if we look at children's data, we can actually see hospitalizations peaked in January and February, when the surge started, as well as deaths."
She said the misinformation "is the main reason parents are not willing to get their kids vaccinated."
"The misconception that kids are safe (from COVID-19), that nothing happens to kids, is wrong," Abascal said. "We have more evidence that more kids are at an acute risk of death, and kids can also suffer from long term consequences."
The Covid vaccination clinics that begin the week of July 11 will serve Butte County children. People can book appointments on the state website, or walk in Wednesdays at 78 Table Mountain Blvd. in Oroville and Thursdays at 695 Oleander Ave. in Chico.
There are additional vaccines available 1 p.m.-3 p.m. July 18 at 7204 Skyway in Paradise; 1 p.m.-3 p.m. July 26 at 1820 Mitchell Ave. in Oroville; and 1 p.m.-3 p.m. Aug. 2 at 299 Spruce St. in Gridley.
Natalie Hanson is a Bay Area-based journalist who produced this story on a fellowship from Ethnic Media Services.