by Natalie Hanson
posted Sept. 9
Butte County faces a worsening drought and a dim outlook for water supplies amid another year of extreme heat and little rain, as pressure on local water management to conserve grows.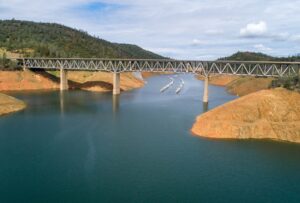 The Butte County Water Commission met Sept. 7 to discuss current groundwater supply and drought levels, led by Vice Chair Matt Tennis filling in for the chair. County officials reported a dire situation that has been worsened due to low precipitation and snowpack and reduced reservoir conditions, which combined with higher temperatures puts more pressure on groundwater demand. As a result, over the last 20 years, data shows the majority of all local basins are in an ongoing decline, according to Kelly Peterson, county water resources scientist.
Peterson shared the latest data showing that 2022 water levels have reached the same "critical" low as during the 2014-2015 drought; half of Butte County is in an extreme drought, which means a major loss of crops is expected in those areas.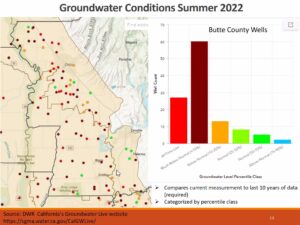 "We're seeing some very severe drought conditions throughout the county and the region itself," Peterson said. "Most of the wells within Butte County, 76% here within our county boundaries, were at either an all-time low or the lowest 10% of the measurements we've had for that same month."
Kamie Loeser of the county's Department of Water and Resource Conservation said many people have reported shallow wells going dry, and even some deeper wells have been reported dry.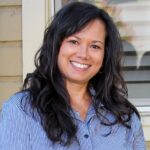 The situation is spread fairly evenly throughout the county, Loeser said. However, reports show the most wells reported far below normal levels are clustered in the southern region of the county, particularly around Biggs and Gridley.
Loeser also said the county is working on funding to administer work on local plans to conserve groundwater in order to comply with the state Sustainability Groundwater Management Act. She said staffing and finances are the main obstacles to meeting the state's requirements for Groundwater Sustainability Agency (GSA) plans. Butte has several GSAs to manage local groundwater.
The Commission did not take any immediate action after hearing the drought report.
Water policy analyst Jim Brobeck said he thinks the Commission needs to get better educated on the process of groundwater allocation. He said he is concerned that Commissioner and Board Supervisor Tod Kimmelshue asked what groundwater allocation is at the last Vina GSA meeting.
"The departments and GSA must be better informed on this eventual process of groundwater allocation," Brobeck said. "If a local agreement can't be reached, then either the state water board will take over, or groundwater use will be [turned over] to the courts … to engage in expensive, time-consuming adjudication."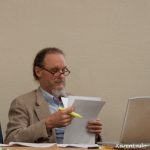 Brobeck reminded the Commission that the Tuscan Water District election will be decided on Sept. 20, and asked if other water agencies are keeping track of the outcome and the district's activities.
The Water Commission also reviewed the latest draft of the Butte County General Plan 2040. Commissioner Aimee Raymond was the main detractor, expressing concern that there was a major focus on the agricultural industry in the county when other sectors provide a larger sum of the area's economy, including sales and employment.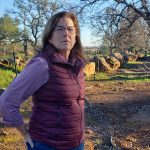 "I'm looking for a little more balance and focus on other industries … that are of value and create diversity and wealth and have an important contribution to Butte County and the health and well-being of Butte," Raymond said.
"Ag consumes 90% of the water, but that might be disproportionate to the value they add to our economy."
Last month, Gov. Gavin Newsom released a plan for counties like Butte to further stretch precious water supplies to respond to the impacts of climate change. His strategy, titled "California's Water Supply Strategy, Adapting to a Hotter, Drier Future," calls for investing in new sources of water supply, accelerating projects and modernizing state water management through new technology to capture, recycle, de-salt and conserve more water. These actions include creating new storage for up to 4 million acre-feet of water; recycling and reusing at least 800,000 acre-feet of water per year by 2030; freeing 500,000 acre-feet of water through efficient water use and conservation; and capturing storm water and desalinating ocean water in groundwater basins.
"Climate change means drought won't just stick around for two years at a time like it historically has –- extreme weather is the new normal here in the American West and California will adapt to this new reality," Newsom said.
All data on current well and reservoir levels can be found on California Groundwater Live.
Natalie Hanson is a contributing writer to ChicoSol.