by Addison Winslow
guest commentary posted Sept. 3
The Warren v Chico settlement forced Chico into a reckoning with homelessness; such a reckoning that city policy now has the effect of a boulder rolling down a hill. Not once since I was sworn into office last December has the City Council been asked for or given direction on homelessness.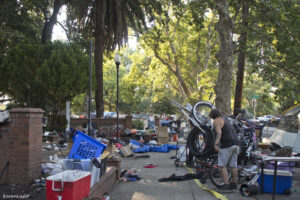 Taking the settlement forced on us by a federal court as the entirety of our City's policy to address homelessness puts Chico in a rut. Because the court decided that a shelter bed only qualifies as a token for eviction if it is indoors, we have sidelined the quickest and simplest option to improve conditions of people camping in public spaces: managed camping in an environmentally responsible location. The biggest absurdity of this is that, as part of the settlement agreement, we have sanctioned campgrounds (three of them, technically, though all at the same intersection), and regulation is just piecemeal or nonexistent.
Because these campgrounds are a product of a federal court ruling and not any independently thought-out strategy, the most legal option available to anybody to enter the campgrounds is to accumulate an excess of dogs and plant themselves in such an inconvenient place the City prioritizes them for eviction. Indeed, the number one reason people have been assessed for the campground is that they have too many animals to be admitted into an actual shelter.
At this point it would be competitive to become a priority encampment for eviction. As the last large encampment at Depot Park is being cleared out, people are scattering to camp in increasingly further reaches of the city. Neighbors reach out to the City Council distressed that their neighborhood could now be host to people in need.
I want to add a bit more on dogs because their sometimes-snappy behavior illustrates how, even with campgrounds that are indisputably the responsibility of the City, public health and safety are disregarded in their operation. First, no City Council ever directed staff to stop enforcing off-leash laws in encampments. That was an administrative decision that made encampments in parks considerably worse for the general public.
In July, eight dogs at the Eaton encampment attacked a cyclist and a woman who stopped to help him. A month later, during a blistering heat wave, a contracted worker tasked with refilling the water tank at the campground left after being threatened by off-leash dogs. The water consequently ran out over the weekend. This week I visited a friend of mine living at the encampment who showed me her own wound from a neighbor's dog. She agrees dogs need to be controlled, but without management she has no recourse.
In my position as a city councilor in today's political climate, I've become accustomed to arguing with a presumption of indifference to the lives of unhoused people. My personal feeling, however, is that the government owes safety and security to everyone, housed and unhoused alike. As it stands, passersby assault and harass people in the Eaton encampment. Recently, I'm told, someone tossed a firecracker over the fence which exploded late at night. Because so little care has been put into the arrangement of camps and the exposure to the wind, arsonists could torch the place like Chico's Old Chinatown. It is, in so many respects, an utterly untenable situation and at the next opportunity, on September 5, I will be requesting a discussion of management and an intake and referral process independent of eviction.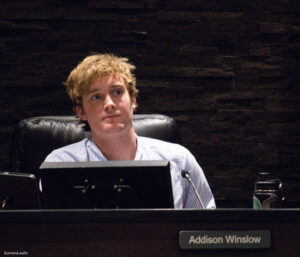 Addison Winslow represents District 4 on the Chico City Council.