by Dave Waddell
A prominent lawyer representing the family of Desmond Phillips, a mentally ill young black man killed March 17 by Chico police, has arranged a face-to-face meeting with state Attorney General Xavier Becerra to discuss the shooting, according to David Phillips, Desmond's father.
The meeting will be held Nov. 9 at the AG's office in San Francisco and include David Phillips and his attorney, John L. Burris of Oakland, Phillips said.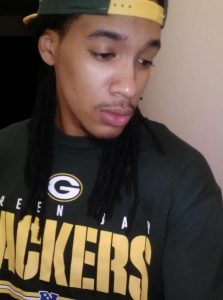 "Mr. Burris was the one who got the meeting with Xavier Becerra," David Phillips told ChicoSol this week. "The purpose is to present our evidence … to have those officers fired and brought up on murder charges."
The attorney general's website directs news media inquiries to Becerra's press office. Numerous email and voice mail messages from ChicoSol to the press office seeking confirmation of the meeting went unacknowledged and unanswered.
Desmond Phillips, 25, was shot 11 times by Chico police officers Alex Fliehr and Jeremy Gagnebin in his West Fourth Avenue living room on St. Patrick's Day evening, according to an autopsy report. Police had been called to the residence after David Phillips sought medical aid for his son, who was having a mental health episode and wielding kitchen knives.
Together, Fliehr and Gagnebin fired 16 rounds at Desmond Phillips, including one bullet delivered from a sharply downward angle that tore through his heart. Butte County District Attorney Mike Ramsey ruled that Fliehr and Gagnebin committed no crime in shooting Phillips about seven seconds after police, believing his family was at risk, busted into the Phillipses' home with guns drawn.
Multiple previous attempts by David Phillips to contact Becerra were unsuccessful. In September, Phillips was unable to get through the front door at the AG's office in Sacramento in trying to deliver a petition seeking a criminal investigation into the shooting of his son.
Phillips said Ramsey, who has been Butte County district attorney for nearly 30 years and is the longest-serving DA in California, "has people in a lot of places" and has thwarted efforts to obtain a state investigation into Desmond's shooting.
"(Ramsey) knows people; he's been there forever," Phillips said. "It was just another door we had to open."
Burris, who has been dubbed "the Johnny Cochran of Oakland," is a civil rights attorney best known for his work on behalf of plaintiffs in police brutality cases.
Meantime, Scott Rushing of Ventura, whose son Tyler died July 23 after being shot by a private security guard and a Chico police sergeant, said he and his lawyer, Brian Vogel, are considering a legal collaboration with David Phillips and attorney Burris.
"Brian will be talking to Burris attorney to attorney," Scott Rushing said this week. "If there is some advantage to Tyler and Desmond, then we're exploring that. We're open to it, but only if it will help both men."
David Phillips said he was first informed of the Nov. 9 meeting by Kelli Evans, who was hired in May as Becerra's special assistant attorney general and adviser on criminal justice reform, civil rights and public safety policy, according to a Los Angeles Times story. Evans has worked for the ACLU of Northern California and most recently was senior director leading "access to justice work" for the State Bar of California, the Times reported.
Phillips said that, in addition to Becerra and Burris, he also expects Evans to be at the meeting. In attendance, too, will be Erica Traverso and Rain Scher from the Justice for Desmond Phillips group, he said.
"I am honestly reservedly hopeful that there will be some kind of investigation into Desmond's shooting, maybe even Tyler's and all the others since Ramsey got into power," said Traverso, referencing law enforcement shootings in Butte County. "In particular, I would like to see (Ramsey) called up on civil rights violations against the Phillips family for the way he talked to them and about them and Desmond."
Dave Waddell is news director at ChicoSol.