by Leslie Layton
A lunchtime "Stop the Bans" reproductive justice rally took place in Chico Tuesday as pro-choice groups nationwide called for a "Day of Action."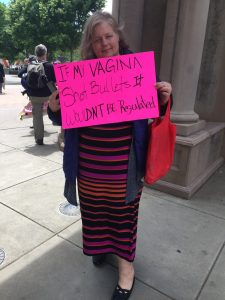 "Across the country, we are seeing a rash of extreme bans on abortion and cruel attempts at taking away reproductive freedom in an all-out assault on abortion access," states a Facebook post promoting the Chico rally, which was organized by Women on Reproductive Defense (WORD), Women's March Chico, Trans Empowerment Project of Northern California, and other groups.
Christine Moore, one of more than 70 people attending the rally at City Plaza, said she was 1 year old when the U.S. Supreme Court made its landmark 1973 decision in favor of the right to choose whether or not to undergo an abortion, at least during the first and second trimesters. "This fight should have been over long ago," Moore said.
One of the most extreme laws has been passed by the state of Alabama, which would make performing an abortion a felony punishable by life in prison. Even in cases of rape and incest abortion would be outlawed.
Anti-abortion activists hope one of the new laws will reach the U.S. Supreme Court and give the conservative majority a chance to overturn or roll back the 1973 ruling in favor of women's right to choose.