essay by Denise Minor
On the surface, this story appears to be about a disagreement over the T-shirt design chosen to commemorate this year's Almond Bowl, the cross-town football game that each fall marks athletic rivalry between two local high schools.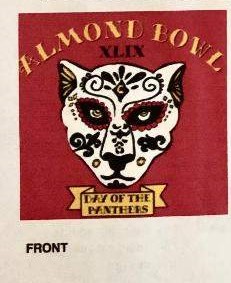 But beneath the surface, the story is really about how we, as individuals and a society, choose the symbols and imagery we find acceptable to represent ourselves to the rest of the world. And beyond that, it is about the divisions between whom we view as "us" and "them."
Some background: Every year the Chico High School (CHS) Associated Student Body holds a design contest for the T-shirts and sweatshirts that students and fans wear to the big game against Pleasant Valley High School. This year's game falls on Nov. 1, the traditional Mexican Day of the Dead. Given that coincidence, a club for Latino students called VOCES Latinxs came up with the idea of combining the school's panther mascot with some typical Day of the Dead design touches. (In English, "voces" means "voices.")
In the club's design, the face of a white panther is painted with curlicues and flower petals, and below it on a scroll "Day of the Panther" is written in archaic letters.
On the back, the letters "CHS" are emblazoned on three squares that resemble papel picado, colorful tissue paper banners often hung at Mexican celebrations.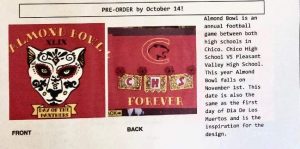 Soon after the club submitted its entry in late September, VOCES Latinxs learned it had won. The students' elation at winning, however, quickly turned to hurt and frustration when members realized that the CHS Instagram was overrun with negative comments about its design. Club Co-President Saray Bautista said one sentiment she saw repeatedly read, in essence, that some students "didn't want multiculturalism shoved down their throats."
"I guess some students don't see in the shirt what we see in it," said Bautista. "For me, it felt great to help create a shirt that had something of my culture in it."
Spanish teacher and VOCES adviser Jamie Fisher Vargas said she was shocked by what she read. "Some wrote that it was too Mexican and that it didn't have anything to do with 'us'," she told me in an interview. The administration shut down the Instagram account, and public criticism moved to private social media pages.
Then club members learned that some football players were backing an alternative design with a more traditional athletic logo, and that a parent was helping them get it printed. Bautista saw the design and said it depicts a panther and reads, "CHG until the death of me."
She was told that CHG stands for "Chico High Gang."
Bautista was sanguine about the competing layout. "It's a cool shirt," she said.
I haven't seen that design, but as I look at the VOCES Latinxs "Day of the Panther" creation, I can't help wonder what it is about this image that stirred up such anger. A few students are going to the trouble of coming up with a lay out, purchasing T-shirts, going to a screen printer and having the shirts made, perhaps not even knowing how many to order and what sizes to produce. Less enterprising or passionate people would simply have foregone wearing a T-shirt or tracked down the shirts used last year.
I wanted to talk to the players or other students who have taken a stand against the winning tee, but my emails to teachers and administrators at Chico High to find out more were not returned. And to be fair, if I were an adult at the school and had students on both sides of the issue, I might not respond to press inquiries.
As I struggled to make sense of this, I remembered a day about a year ago when I had a small revelation. I was sitting in the Enloe Prompt Care waiting room on Bruce Road when I spotted across from me a woman who appeared, in many ways, to be like me. We were both white, middle-aged and slightly plump. We both wore jeans and athletic shoes. We both had chosen dark brown as the preferred dye for our shoulder-length hair.
But there was one important difference in our appearance that to the trained eye revealed that we were in different tribes. On my purse handle I had pinned a button that read "Black Lives Matter." On her T-shirt was imprinted a flag whose design resembled the U.S. flag, but with a significant twist. The white stars lay on a black background and the stripes were black and white with the exception of one royal blue stripe running across the middle. It was the symbol of the "Blue Lives Matter" movement that defends police against critics who blame them for violence against African Americans.
To a visiting foreigner, my pin and her flag might have seemed unremarkable, nothing they would even notice. But to us they signified division as much as the hand signals of gang members, the colors of athletic teams or the medals pinned on the chests of military members. They told anyone in the know: One woman is a liberal. The other is a conservative. One voted for Hillary Clinton. The other voted for Donald Trump.
For longer than could be considered polite, we stared impassively into one another's eyes until I broke the gaze. This is ridiculous, I thought. If someone asked her if she thought it was fine for police to kill unarmed black people, she most likely would have said no. If someone asked me if I thought it was fine for police to be killed in the line of duty, I would have said no. Yet, there is no way I would wear that T-shirt or that she would don my button.
Of course, my experience cannot be compared to the situation of the Chico High students. One division is political and the other is cultural. But when and how do we decide that a style or symbol can represent the big "us"? Across town from Chico High, the mascot for Pleasant Valley high is a blond Viking wearing a helmet with horns. The percentage of students at PV with Scandinavian blood is probably quite low, yet most of the student body would proudly wear that Viking image. Students do so because, during the school's 1964 opening, people decided upon that mascot. And now, most students choose to wear an image from a culture that isn't theirs.
As I prepared to write this essay, I looked for a more apt comparison. What if, I thought, there were a sports competition in the spring and one year it fell on St. Patrick's Day? Would there be any conflict if the winning commemorative T-shirt design included Irish symbols, such as a shamrock and a rainbow with a pot of gold at the end?
In essence, my question is: When will designs, words or images from Latino culture cross the line and be considered acceptable for communicating "this is us" for the whole community?
We are surrounded by Spanish place names because California was once part of Mexico. We live in state where there are more Latinos than Anglos or any other designated ethnic population, and at Chico High about one third of the student body is of Hispanic heritage. When does "they" meld into "us"?
Maybe the answer is now. Just before my deadline, Fisher Vargas told me that the school sold three times more VOCES Latinxs shirts than any other T-shirt design in the contest history. Bautista was thrilled by the news. "Right now we live in a tough world. Being different is looked down upon," she said. "But this shows that we have support. I never thought this shirt would become so popular."
Perhaps there will be other benefits to VOCES Latinxs that come from this difficult experience. Chico State University students, instructors and professors learned of the T-shirt debate, and some have since decided to contact the CHS student club to invite it to campus to learn about future educational options. Department Chair Sara Cooper of Multicultural and Gender Studies said her students hope to meet with VOCES members, and some of them plan to attend the Almond Bowl wearing the winning T-shirts that Cooper gave them. Spanish Instructor Gerardo Mireles who is adviser to MEChA (Movimiento Estudiantil Chicanx de Aztlán) said his students also plan to connect with VOCES Latinxs. Fisher Vargas said that club members were thrilled to learn they would be "guests of honor" in meeting with college students.
"For my students, to see that other people cared about their club and what they are doing really opened their eyes," said Fisher Vargas. "They have been trying to figure out who they are as students at Chico High. But this whole issue has shown them that they can go beyond that. It makes them want to be part of a bigger community, to share their culture and to be part of change."
Denise Minor is a retired Spanish and linguistics professor from California State University, Chico. She worked previously as a journalist and is now an author and contributor to ChicoSol.

Editor's note: Readers have asked about the T-shirt design in past years. ChicoSol obtained these photos of the fronts and backs of the tees chosen for the past two years: