by Maya Klein
guest commentary
posted Dec. 10
Ed. note: This is a condensed version of a presentation made by Chico's Maya Klein at a Dec. 7 statewide Ethnic Media Services briefing.
My high school — Inspire School of Arts and Sciences — is a bubble within Chico. Our student vaccination rate is 82%, and our population generally follows mask and hygiene guidelines.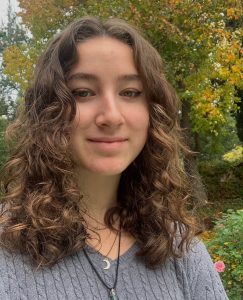 Our 2020-2021 school year remained almost entirely on Zoom classes, following a 1×8 schedule in which we delved into a single class for each month until the end of the school year. During this time, other high schools within Chico had returned to in-person learning, and as a result, student Covid cases began to increase.
This was and still remains a reality that I feel relatively detached from: Students at Inspire, a public charter school focused on the sciences and arts, have witnessed from afar a local unwillingness to adhere to safety guidelines. This is obvious when entering the community, whether that be in another school or in a grocery store. At the height of the pandemic, our Covid hospitalization rates were terrifying, a matter which was reflected in the extremely painful experiences people in our community have endured. However, it was not reflected in the actions of the community.
A culture and climate of denial grew out of that year and continued into this year. My high school has now returned entirely to in-person learning along with all other local high schools, and with that return came an apparent silence when it came to addressing the effects that the pandemic has had on our community. Both in and out of school, the conversation about Covid has ceased. My age group now faces a reality in school where hygiene and safety is recognized, but the phenomenon of the pandemic itself now goes unnamed.
Young people were thrown into the pandemic at a formative age of mental health, facing all the nuances of becoming a young adult. This was coupled with a global health crisis that disproportionately hurt our community. Though these factors affected every one of my peers and myself, the climate in Butte County has made it difficult to start this conversation of healing, or even of initial acknowledgment.
"Both in and out of school, the conversation about Covid has ceased."
Covid has become something of a taboo topic, where misinformation has fed fear and has led to an overall sense of confusion and denial. I believe that there are a multitude of reasons that this is the case, first and foremost being that a conflict zone exists, which our community fears inciting. With such opposition over the topic of Covid, it's difficult to have a conversation with anyone in Butte County without polarizing the topic. Exploring how to walk the line of this polarity has been an issue not yet resolved in Chico. Because there is no written rule book for how to approach this conversation, it has not been brought up.
As a result, we have not begun to face the reality in our community, which is one of low vaccination rates, lack of information, and continuous disease. I truly believe that the fear of conversation around Covid is responsible for the extreme rates that our county is experiencing.
Another factor which has affected everyone within Butte County is the new existence of an inevitable wildfire season that occurs every summer and fall. Especially within the last five years, we've faced extreme destruction as a result of climate change induced drought. These fires have driven a mass population of those affected into Chico, which has changed our cultural, social, and political climate in all imaginable ways. In 2018, when the Camp Fire burned 240 square miles in our area, a third of the students at my high school lost their homes. This massive change within our county has created a wide disparity of public opinion when it comes to the unhoused and unemployed, whose experiences are amplified by the exodus of fire refugees. Consequently, this reality has added to the fear and uncertainty during the pandemic.
A new political identity within our community has emerged as a result of the polarized issue of housing, and has accentuated the local silence surrounding Covid. These divides take the shape of weekly protests at our county's public health press meetings, vocal protests at local school board meetings, protests at our City Council, and protests from our own medical workers at our hospital in regards to anti-masking and vaccinations.
Butte County seems to be defined by disastrous wildfires which emphasize the disparity and calamity of Covid. Youth are at the center of this, frequently being faced with emotional hardship. At the same time, however, these adversities are unacknowledged which only extends the hardships. Covid-19 is an unfathomable reality that the world endures: Starting a conversation with our youth is the first step in beginning to grapple with how it affects us as a whole.
Butte County has yet to realize this, but I hope that they can turn to their young population to begin that dialogue of healing.
Maya Klein is a high school junior and a Chico native.