by Natalie Hanson
posted April 27
Parents are calling for change after a Rosedale Elementary assistant vice principal, who acted as equity leader for the school, said she has been placed on administrative leave.
Joana Campos Castañeda, known at Rosedale as Ms. Campos, alleges that she has been suspended for insubordination after voicing concerns about the school's approach to inclusion, while serving part-time as equity team lead this year.
Chico Unified School District (CUSD) administrators have declined to comment on any disciplinary action or investigation, and Castañeda is still listed as Vice Principal Joana Campos on Rosedale's website.
The news comes as schools around the district face backlash from some parents in relation to discussions about important historical events and ethnic history, including Black History Month and Cesar Chavez Day. The phenomenon — called "culture war" by some news outlets — is seen as a push from conservative leaders across the country. Some in CUSD fear teachers and staff have been pushed out as parental pressure during the pandemic increased.
Parents at the two way immersion school are calling for answers from the principal about why Castañeda was placed on leave on April 1.
Concerned parent Pablo K. Cornejo said he was disappointed to learn from Castañeda that she was told by district administrators that she was too focused on equity "and as a result of that, would not be returning to Rosedale as assistant vice principal." He was also alarmed that Castañeda's suspension took place after "multiple examples of reactionary pushback by some parents on social media."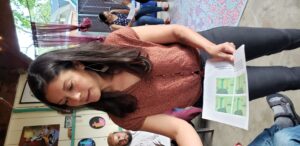 In a letter to Rosedale's Principal Jo Ann Bettencourt, obtained by ChicoSol News, Cornejo asked why Castañeda was barred from Rosedale's campus, and asked what the school's response will be to a person who has commented on the school's Instagram posts about Black History Month and Cesar Chavez Day.
Cornejo alleged that a social media commenter attacked "efforts to integrate a more diverse and equitable education," which Castañeda promoted as the school's equity lead.
"Pushback against these efforts are problematic, xenophobic, and insulting to many in our community," Cornejo said. "There appears to be a deliberate and targeted attempt to create controversy around activities that are largely celebrated by the larger Rosedale community."
After this letter was sent to the principal, Castañeda agreed to speak to ChicoSol about what happened to her role as assistant vice principal and equity team lead at Rosedale.
ChicoSol repeatedly asked for comment from Bettencourt, who did not respond. Bettencourt responded to Cornejo via an email that was provided by Cornejo to members of the Rosedale community. Bettencourt said in the email that she is working with the district office "to come up with a plan to ensure this does not happen in the future."
"Too focused on equity"?
Castañeda said she was hired to be a part-time assistant vice principal, while also teaching at the school part time. Last year, the district committed to starting an equity team with equity leaders assigned on every campus. This decision was part of implementing the annual Local Control and Accountability Plan (LCAP) required by the state. Administrators selected Castañeda as the equity team lead for Rosedale, although she said she was not given a description of her role.
Castañeda has experience managing dual immersion programs and helped launch the Dual Immersion Program in Orland. As she undertook the equity team role, she began to notice issues at the school that troubled her. She said several parents began to push back against organized events celebrating state and federally-recognized celebrations like Black History Month, and later, Cesar Chavez Day.
Castañeda helped write public posts for Rosedale's Instagram page, such as about how the school was talking to students about Black History Month. "Parents said things like, 'I hope you're not teaching these students that this country was founded on slavery,'" she said.
She said she thought at first, "It was a really important conversation that happened on our Instagram page. For it to be happening on an immersion campus, I think it's beautiful actually to have that discourse out in the open, because we learn about it that way."
However, she said one parent's continued commenting caused CUSD Director of Educational Services Ted Sullivan to come to her office, and said he told her that the posts she wrote "invited this kind of discourse, which was inappropriate."
"He said as an educator, I must remain neutral on these topics," Castañeda said.
"I disagreed with him. He did not like it."
She said pushback from the school increased after she reported issues of representation among students. CUSD's Two Way Immersion Program groups native Spanish speakers with native English speakers in the same classroom. This program offers Chico students a chance to learn to read, write and communicate fluently in Spanish and English by starting at the elementary level. Two way immersion works on the premise that half of all students in classrooms speak Spanish at home and half speak English.
Today, Rosedale has many more students whose first language is English, Castañeda said.
"If you have more English speakers in a classroom, it changes the power dynamic, it changes the ability to reach goals in the target language, because teachers need to translate too much. We need to create a place where Spanish speakers can come in and feel at home right away."
Castañeda said she looked at district-wide data measuring success rates in reading, writing and math for English learner students, and found that "it's abysmal" at middle schools and both high schools, and particularly at Chico High. (English learner students speak a language other than English at home.)
After having voiced her concerns about these numbers to administrators, Castañeda alleged that Principal Bettencourt met with her and told her, "It's not working out, we don't have the same visions for the school, you're too focused on equity."
Castañeda said she realized that without clear parameters for this new role she was a "guinea pig."
"I did it my way – and they didn't like it. They weren't ready for it," she said.
Castañeda said she was told she could continue as a teacher, but that she was uncomfortable with not having a performance review and stalled on signing a document acknowledging Bettencourt's decision. When she asked Bettencourt several days later to discuss the decision again, she said she was told her work organizing events around equity "caused a lot of extra work for the principal because she has to answer too many questions … and it's too political."
"The more I sat with it, the more I was determined it couldn't end there," Castañeda said. She said as the daughter of Salvadoran immigrants, having worked hard through her Master's and credential programs, she needed to speak on behalf of the Rosedale family community "that really has grown to accept me and love me and need me in many ways."
Castañeda said she voiced concerns about the things she witnessed at the final CUSD Equity Alliance meeting on March 21, with most equity team leaders from other schools and in front of some administrators.
"The response was just absolute silence," she said, adding she was told to stick with the agenda for the meeting, that she was "making people uncomfortable."
Later at Rosedale, on March 30, Bettencourt sent a mass email to the entire school, obtained by ChicoSol:
"I know there are Cesar Chavez activities going on tomorrow," Bettencourt wrote. "We need to ensure that all topics are kept neutral. A few years back, there was an issue with presenters implying that farmers are not good people … students went home and told their parents (who were farmers) that "all farmers are bad" or something along those lines (this was not at Rosedale, but rather a high school)."
Bettencourt also wrote that educators must be "keeping presentations neutral and free of politics" with the expectation that "if discussions turn one-sided and/or political that you as the classroom teacher will step in and shut it down."
Castañeda said the next day, the same parent who had complained on social media posts asked to meet with her and Bettencourt. The principal allegedly told Castañeda to attend but did not grant her request for a witness at the meeting, so she refused to meet without one – and said she was told to leave campus on grounds of insubordination.
Cornejo sent his letter of complaint to Bettencourt last week as news of Castañeda's suspension spread to parents. He alleged there are "minimal efforts" from Rosedale's administrative staff to stand up to parents, and that he is concerned administrators are making decisions "because some parents are uncomfortable."
"I was shocked to find out that she is on leave and think the community deserves to know what is going on," Cornejo wrote. "Anyone that has met Ms. Campos (Castañeda) knows that she has been an inspiring leader that has had a positive impact on our school. Her efforts to create a more equitable and inclusive environment have been deeply appreciated by my family and many others in our Rosedale community."
Castañeda said Friday that she is on her third week of leave, with "silence from the district" after one meeting with Sullivan and the district's assistant superintendent of Human Resources, Jim Hanlon. She said she was told that because she was an administrator she was not allowed to have a witness in meetings involving a parent and the principal.
Castañeda said she explained that she did not feel safe being in a meeting alone with the principal and parent, as she thought, "This meeting was an ambush, with a parent who was not interested in anything I have to say."
Sullivan did not respond to a request for comment and Hanlon noted that he can't comment on personnel issues. When pressed, Hanlon said, "I can confirm that the employee has not been released."
ChicoSol contacted a parent who commented on Instagram posts about her opposition to Cesar Chavez Day and Black History Month celebrations who has the user name "ginabax20." (Gina Bax is identified as one of the co-chairs of the Chico Parents for In-Person Learning group in this KRCR story. That group unsuccessfully initiated an attempt last year to recall all members of the school board except for Matt Tennis.)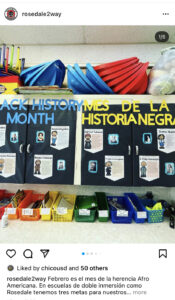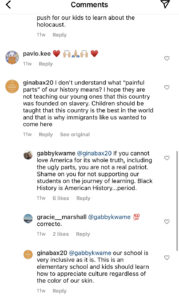 Bax told ChicoSol via a Facebook message, "Everything is great at Rosedale."
"Everything got taken care (of) and I'm very pleased our school, CUSD leadership team and (school) board member Matt Tennis helped parents to overcome the challenges we were facing," she said via messaging.
Social media 'culture wars' pressure teachers
The news about Castañeda comes as teachers face pressure district-wide, often from parents who have become more vocal at school board meetings with accusations that educators are instructing students about "critical race theory" or are "too political." These have often been led by Chico Parents for In-Person Learning. And a new group, Butte County New California State, has been organizing meetings on mask and vaccine mandates and "critical race theory."
"The [teachers] that call me, they're exhausted" — CUTA President Kevin Moretti
Chico Unified Teachers Association President Kevin Moretti said he has seen far more resignations and retirements in the last two years than before, and in some cases it's because of these kinds of issues.
"The ones that call me, they're exhausted," Moretti said. "We have a lot of people retiring and resigning, and earlier than they would have otherwise."
Moretti called it "disheartening" to see the attacks some teachers face on social media, to hear of parents "coming to their classrooms" opposing masking standards and education on issues of race and ethnicity and history.
"They have no idea what they're talking about. Teaching the Civil War is not teaching critical race theory," Moretti said.
CUSD school board President Kathleen Kaiser has spoken before about the city's political climate.
"There's a tremendous amount of misinformation that's out there on social media, and parents are reacting to what I would call trigger language and stuff that isn't true," Kaiser said. "We're not doing critical race theory (education). It's just a buzzword that gets them going."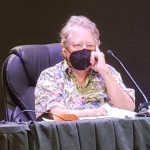 Kaiser said there have been lots of arguments between parent groups over which holidays should be celebrated, and how.
"We recognize all of those holidays, but a school site may do it in different ways depending on teachers and the population and what their history has been," Kaiser said.
"There was a lot of resistance to Martin Luther King, Jr., day … and for Cesar Chavez, we're in a very heavy agriculture region and we may get people who have very different views of that.
"People tend to not use facts. They use belief systems or perceptions of what they heard or that somebody else told them. And I don't know if they want the facts."
Hanlon agreed with Moretti that resignations during the last two years have increased.
Accusations that critical race theory is taught "have come up much more than in the past," he said. He said the district tries to intervene when criticism reaches the administrative level "because we don't teach critical race theory in CUSD."
Hanlon thinks there is confusion once the topic of equity is broached.
"We're very careful to not politicize the curriculum," he said. "We make sure staff are not taking a side on any political issue in the curriculum. We have to be neutral and we deal with that on a case by case basis."
Administrators prefer to meet with a parent in person, and Hanlon said they will always "support the teacher" and "make sure they aren't being badgered."
He said when parents stay online, "and make inaccurate accusations or have inaccurate information, we will respond and try to educate them."
However, he added: "We don't go out into the social media world and try to correct all the things out there. It's beyond our mission, and it can be very difficult if not impossible to respond to all that stuff."
Parents concerned about CUSD response to Rosedale
Krista Stone, Rosedale parent and former member of the school site council, said she has worked closely with Castañeda and didn't know the assistant vice principal had been placed on leave.
She admires Castañeda for her focus on events like the school's Cesar Chavez Day parade that was criticized on Instagram by the user "ginabax20."
"When I worked with her, it felt like she wanted to boost the morale of the school for teachers, for staff and for kids as well," Stone said of Castañeda. "She was just always so sweet and kind and caring, and very present when I have been with her."
While Stone said she and her husband remain "grateful for the care and consideration the school provides," she also said, "I'm very sad about this news and kind of in shock … it's a huge loss for us at Rosedale, I think."
Cornejo agrees, but is also worried about the long-term implications of a decision to suspend Castañeda.
video by Leslie Layton
"These are either state or federally-recognized holidays that are being celebrated to create a more positive school culture and are overwhelmingly supported by the majority of parents," Cornejo said. "It seems like a very vocal person is almost driving this … and we find that to be extremely problematic."
Cornejo said many parents have become concerned and are organizing this month to call for the district to explain Castañeda's absence from campus and demonstrate a commitment to equity.
Christopher Carrero said he is one of those parents. He and his wife have admired Castañeda's work since her days teaching at an immersion school in Orland and were glad to see her hired at the school their son attends.
"I was glad to see a woman of color in leadership, in a role that kids can look up to. Representation is very important for me.
"We never thought this would happen, that she would be in a position where she was being pushed out for doing her job," Carrero added. "She was just building the blocks, posting things on Instagram and videos of kids celebrating different holidays or posting stuff on the board at school. That's like, the basics of an equity leader. It worries me, because I know people of color are the minority in Chico."
Castañeda said there are several parents' meetings planned with her this week as families learn the news of her suspension. She said rather than return to the campus as a teacher, she is ready to stand with them and demand change from the district.
"Parents are ready to work together to make sure this district treats people (of color) equitably. If we let this go, this sets a precedent.
"We've lived a life in the U.S., and we've gone through this system and we are educated and motivated because of the possibility of creating a better system for our kids," she said. "So we are going to do it with a lot more force and intentionality than the average white, privileged person who hasn't done the work to become an anti-racist.
"There are many beautiful white people who have done the work and are allies," she added, "and are ready to be uncomfortable with our country's history."
The group of concerned parents hope that while the school board is working on next year's LCAP, which created the equity team last year, the district will also hear their concerns about what happened with Castañeda, Carrero said.
"What I would hope is that they start treating this issue seriously," Carrero said.
"I want the district to be more transparent, actually take action in the next LCAP meeting, for some of those concerns we expressed to be addressed. And if they're not solved, to let us know if they're working on it."
Natalie Hanson is a Marin-based journalist who has reported extensively in Chico.
This story was clarified to explain that the "abysmal" test scores discussed in the section "Too focused on equity"? weren't for Latino students but for English learner students overall. (And some Latino students in the district speak English as a first language at home.)