by Natalie Hanson
posted Sept. 24
A crucial school board election is drawing unusual public interest in Chico, with pressure high on administrators and elected officials to address performance gaps, school safety and politically-driven battles over educational materials.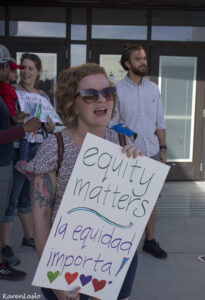 Voters will fill three seats on the Chico Unified School District (CUSD) Board of Education on Nov. 8. Board members have faced unprecedented demands during the pandemic, as the majority chose to follow the state's guidance -– despite outcry from some parents and an unsuccessful recall attempt. In addition, the suspension of a Rosedale Elementary School vice principal and equity leader sparked scrutiny of the district's equity practices.
"The outcome of the race could represent a change in the whole dynamic of teaching and learning in Chico," said Laurel Avalon, a retired paralegal who helped form the group Chico Peace Alliance after the Uvalde, Texas, school massacre.
The Chico Unified Teachers Association has endorsed candidates Scott Thompson in District 1, incumbent Tom Lando in District 4 and incumbent Eileen Robinson in District 5. A map of all trustee district areas is available online.
Their opponents are supported by Chico Parents for In-Person Learning -– a community group that unsuccessfully attempted to recall nearly every board member last year. The group, organized in 2020 to oppose mask mandates and other Covid precautionary measures, supports incumbent trustee and group co-founder Matt Tennis, as well as newcomer-candidates Logan Wilson and Rebecca Konkin.
With Chico schools back to in-person education for more than one school year, Chico Parents for In-Person Learning has turned its focus to other issues. The group's public Facebook page shares content about hot-button issues, like efforts nationwide to oppose the supposed teaching of critical race theory in public schools and about what the Tennis campaign calls the "newfangled cult of mediocrity" that it blames on the "constant pressure to eliminate 'equity gaps.'"
(Critical race theory isn't taught in CUSD schools.)
Tennis, Konkin and Wilson all have endorsements from Chico Police Officers Association, the local police union. Last week, Chico Parents for In-Person Learning announced that Tennis had also been endorsed by Butte County Sheriff Kory Honea.
Cal Matters reported last month on the statewide GOP effort to win local school board seats with its "Parent Revolt" training and recruitment program for conservative candidates.
Chico Parents for In-Person Learning posted a link to the article, but didn't respond to ChicoSol's request for comment for this story.
Avalon says the education sub-group in Chico Peace Alliance is concerned about the implications of the school board election given the larger state and nationwide political efforts to shift power on boards. She said Californians need to understand that efforts like the "Don't Say Gay" bill in Florida could be attempted in their state.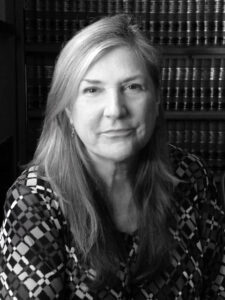 Avalon said Chico Parents for In-Person Learning's shift in focus clearly represents an attempt to oppose and weaken the teacher's union. She said Tennis helped drive the attempted recall against his school board colleagues and spread messages that "frightened people about school control."
"They're cultural scare tactics, and it doesn't do our kids any good to take that route, to start these culture wars in the name of parental involvement and parental control over education," Avalon said.
Konkin, one of the candidates supported by Chico Parents for In-Person Learning, said she thinks the election has generated interest because parents want more representation in decisions around public education.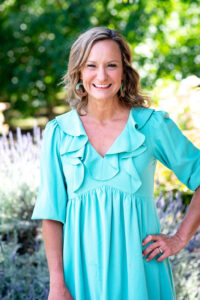 Konkin said parents should have more influence on how some subjects are taught. "I would like to see parents have some input into what the teachers are teaching in regards to sensitive subjects, for example sex education," she said.
At present, Chico Unified gives parents discretion to decide whether their children take certain classes on subjects like health and sexuality.
"We recognize now, more than ever, that we are vital partners in the community and desire to partner with school educators to achieve our common goal to see our students succeed," Konkin said.
District 5: Robinson vs. Wilson
Robinson, a longtime Chico resident and seasoned educator and board veteran since 2010, is running for re-election for the third time. Her top priorities are investing in programs that improve academic abilities and close learning gaps and in social and emotional support resources. She is also concerned with how the district will raise money to continue the facilities master plan update that calls for refurbishing seven campuses.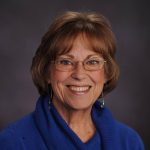 Robinson addressed attacks on the board for its approach to the COVID-19 pandemic. She said the board always follows state health department guidelines; in any case, now all classes are in person and students can choose whether to wear masks. "I don't want another year and a half of political divisiveness taking away energy from what we need to be focused on," she said.
Robinson has won the endorsement of retired CUSD continuing education administrator Bernie Vigallon, who said he appreciated her "dedication to CUSD teachers/staff, students and the community in general."
Wilson, a businessman who is also running for the seat, said he wants to "bring sensibility back to the school board and to be a voice for parents who want a say in the education of their children." His priorities are improving campus security and giving parents more control over childrens' education.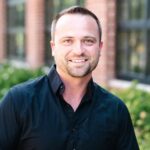 "I'm a big advocate of having student resource officers on campus and increasing exposure, making sure kids of elementary age feel comfortable around a police officer," Wilson said.
Wilson is also endorsed by the Peace Officers Research Association. A Camp Fire survivor, he has lived in Butte County for about six years and owns the agriculture and real estate commodities company The Stogan Group. He's chief financial officer for Gran Mutual Water Company, and has been volunteering at Chico Unified and coaching for CARD and Little League.
"If we're all doing this because we're invested in our kids, in the future of Chico and in our teachers, that's the answer to every problem," Wilson said.
District 4: Lando vs. Tennis
Lando, running for re-election, grew up in Chico and works as an academic intervention administrator for an online charter school. He is concerned about hiring enough teachers for special education, and says the district expects lower future enrollment numbers due to large outgoing classes and smaller incoming classes. (See sidebar on enrollment trends here.)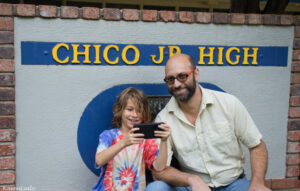 He's also focused on raising funds to keep up programs boosted by COVID federal and state relief and convincing voters to support a bond measure to refurbish campuses in need of repairs -– especially on buildings that are falling out of usability due to age and maintenance issues. That's why rebuilding support for teachers and Chico Unified is a priority, he said.
"When teachers feel attacked or not supported by the community, it makes their jobs even harder," Lando said. "We can disagree as long as we all have the best interests of the kids at heart. Unfortunately, there are definitely people who see the school board as a political stepping stone and a place to score points, rather than keeping that goal firmly in line."
Lando's opponent Tennis did not respond to requests for an interview. Tennis also serves on the Butte County Water Commission. He has repeatedly claimed on Facebook, in board meetings and in a previous ChicoSol interview that COVID-19 was not a good excuse to keep students off campuses, and has stood apart from fellow board members on other issues, too.
Lando pointed out that Tennis refused to vote in favor of the the state-funded LCAP plan for improving academic outcomes because the trustee disagreed with use of the word "equity" in the plan to recommend how funds are spent.
District 1: Konkin vs. Thompson
Because of the redistricting process that changed the configuration of trustee seats, District 1 will have two new candidates vying for the seat.
Konkin, a Chico resident for about 14 years, works as a part-time pediatric nurse practitioner and coaches cross country and softball. She said she decided to run because she opposed school closures during COVID.
Konkin said she wants to increase campus safety by implementing a disciplinary plan based on specific infractions, while supporting at-risk students "to address underlying causes for why school violence might occur." She is also concerned about learning loss, saying, "I don't support eliminating grades or standards as I believe it lowers our expectations."
Thompson is a native Chicoan and works as manager of facilities for the county's Department of Employment and Social Services. He said he was inspired to run for the board after parenting his children through the district for decades, watching their struggles and learning about parenting children with autism. He said he's also running to support public education in general.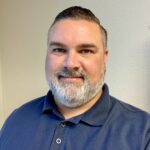 "I see that public education is under attack in this country," Thompson said. "There are concerted efforts in every state, in a majority of school districts, to stack education boards with people who do not have every single child's interest at heart."
Thompson also wants to offer his experience in security to improve response to emergencies. "It only takes one small hole in our defenses to allow a dangerous situation to occur, and I intend to look at school security very closely."
Learning loss
All of the candidates who were interviewed said they want to make sure students can catch up to state and federal standards, given the well-documented drop in key skills -– particularly math scores -– identified in the recent school year.
Lando said the school board is studying methods to improve math scores with intervention systems to ensure students can catch up. He said he wants to boost teacher partnerships, a teaming-up to identify students with different needs.
Konkin said she wants to increase tutoring with assessment systems to monitor academic loss among students who are struggling.
Thompson said he wants to ensure students from all backgrounds have equal opportunity to achieve their goals, particularly supporting those who need "additional services." He also suggested tools like "high-dosage" tutoring sessions offered several times a week.
"Equity in education is the only way that we will be able to serve disadvantaged students, and we need to focus necessary resources to those who need them most in order to produce the most successful education experience," he said.
Book banning and equity
Nationwide, political pressure has grown on schools to pull material on everything from the Civil War to multicultural events, producing a cultural battlefield. Board members have told ChicoSol they know there is pressure locally, as well.
Avalon says she's alarmed to hear candidates repeat "culture war" messaging
Thompson said he is worried about efforts in 26 states to ban more than 1,000 books, limit access to mental health support and other assistance and regulate or refuse to recognize LBGTQ students. He said he wants to support teaching all aspects of history including "how marginalized people have been treated in this country and around the world."
"History is history, it happened, and it needs to be accurately documented and taught in order for our children to avoid making the same mistakes," he said. "Glossing over things that make us feel uncomfortable is not doing our children any kind of service."
Robinson said she thinks terms like equity have been "weaponized." She said parents need to understand teachers can pick their course materials as long as they meet curriculum standards approved by the district and state. But the district also vetoes some things, like a poster in a high school classroom that she said administrators removed because it was "too political" by referencing supporting transgender students.
"In my opinion, equity means taking away the barriers that exist for students' path forward," she said. "Education is not political."
Konkin said she wants to see schools creating awareness of neurodiversity among children and doesn't think new materials on diversity and cultural awareness need to be added right now.
Wilson thinks the district should focus on children's learning and improving student scores, rather than on prioritizing new state curriculum on cultural awareness. "My priority would be to focus on learning loss and recovery," he said.
Lando said he is concerned about the politicization of school board elections, pointing to nationwide efforts to fund Republican candidates.
"The party is pouring a lot of money into traditionally non-partisan races as a way to groom future leaders and tilt the future discussions," he said. "It's disturbing to think that anybody would use schools and students as pawns."
Avalon, too, said she's alarmed to hear some candidates focus so heavily on "parental control" and repeat "culture war" messaging Republican candidates have used to get elected in other states.
"Parents have always had the option to opt out of sex education and particular curriculum; it's not like they haven't been able to control these parts of their kids' school experience," she said.
Natalie Hanson is a contributing writer to ChicoSol.