by Leslie Layton
posted Aug. 29
How to hold Pacific Gas & Electric Corp. accountable was a top concern at an Aug. 24 community meeting in Butte Creek Canyon following the canal failure that created a landslide earlier this month.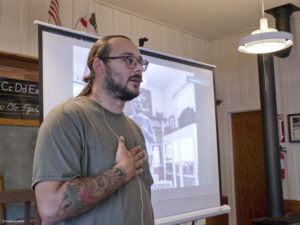 Butte Creek Canyon residents, still worried about the welfare of this year's relatively small spring run of wild Chinook salmon, also want to know how future accidents can be prevented and whether steps to conserve the fragile ecosystem will be taken. The canal failure washed out a hillside, for a short time damming the creek and for a couple of days turning it sludgy orange.
"This is a sacred, sacred part of California and deserves more loving care because we have the last salmon run," said Phaedra LaRocca Morrill, one of the organizers of a meeting attended by some 100 people that crowded into the historic Centerville School House on a warm summer evening.
Butte Creek hosts one of the few wild salmon runs left in interior California and the most substantial spring run in the state. It's still unclear how many of the roughly 500 salmon that returned in the spring have survived the turbidity and whether they can successfully spawn.
The Chinook have been struggling as well in recent years –- and in some cases dying — with warmer waters brought about by hotter temperatures from climate change, according to the conservation organization, Friends of Butte Creek.
A breach in Butte Canal was discovered by PG&E early the morning of Aug. 10, as water gushed down the side of a canyon, taking out trees and filling the creek with mud about 1.5 miles upstream from the Butte Creek Forks Recreation Area.
"This enormous slurry of clay and mud made its way down," reported Zeke Lunder, a hydrology and wildfire expert who showed a video explaining the incident at the community meeting. "It created this new, kind of giant gulley," he says in the video narration.
The creek turned a startling orange within hours, and while much of the sediment has since washed downstream, some has settled on the creek bed and along the edges.
"If there are survivors –- and we have heard that there are some live fish up there -– they can lay their eggs and a week later a storm comes in and covers them up," said Allen Harthorn, executive director of Friends of Butte Creek. "Every single rainstorm will bring down more and more sediment."
Harthorn believes that about 5 million pounds of debris gushed down in the landslide, and dump trucks or daily helicopter runs would be needed to access the site and remove that much debris. "It's going to be a problem for quite some time," he told the meeting participants.
Several community members noted, or asked why, there had been no announcement to explain the accident immediately after the discovery of the breach and whether the water was safe for swimming. Others wanted to know how to prevent another such accident in canals that were constructed in the 1800s for gold mining and converted later to hydropower flumes.
"They have a dilapidating infrastructure that needs care," said LaRocca Morrill. "When you don't put your record-breaking profits into repairs, catastrophic things like this happen."
Biologist Sam Garcia, incident commander for the PG&E emergency management team that was set up to respond to the accident, told canyon residents at the meeting that the breach and the company's response is under investigation. As a wetlands ecologist, he was alarmed by a "debris pile into the creek" and launched a rapid response.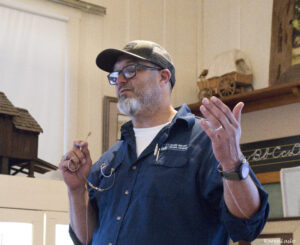 Barry Ceccon, a lieutenant for Butte & Glenn counties with the Department of Fish & Wildlife, which along with the power company is also investigating the incident, said surveys have been underway by snorkelers trying to find the Chinook salmon. One live fish was recently spotted but the water was too murky to identify it, Ceccon said.
Ceccon said later that he arrived at the site of the breach with two other officers by noon on Aug. 10 after he was contacted by a member of the public. "[The water] looked like chocolate milk," he said.
At the meeting, Jarred McCord said his family members have been residents of the canyon since his great-grandparents settled there. "What do we need on our end to make sure that we can have more transparency from you guys?" he said, directing his question to PG&E. "At the end of the day, what are we going to do to prevent this?"
LaRocca Morrill said she and McCord represent a new generation becoming involved in trying to safe keep the Butte Creek Canyon ecosystem. Speakers at the meeting were also critical of county actions, including the use of herbicides near roadways that produce toxic runoff into the creek and create what LaRocca Morrill said is a tremendous fire hazard.
Friends of Butte Creek is spearheading a letter-writing campaign to regulatory agencies asking that PG&E be held accountable. "We must not let PG&E continue to get away with destroying our watershed," says the Friends of Butte Creek website.
District 5 Supervisor Doug Teeter, who represents the area on the Board of Supervisors, promised canyon residents a town hall meeting to discuss road maintenance and herbicide use.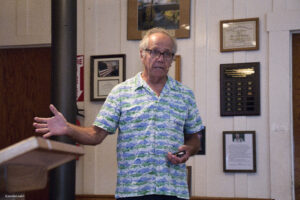 Harthorn presented a long-term plan for making Butte Creek the site of fisheries restoration by removing canals and two dams, "freeing the Creek, forever."
"Cold water from the west branch of the Feather River [would be] delivered to upper Butte Creek through a tunnel," he says.
Butte County District Attorney Mike Ramsey said PG&E will be held accountable, at the very least, for reparations based on violations of the Fish & Wildlife code. "They cannot not be held accountable," Ramsey said. "PG&E was obviously responsible and obviously is going to have to pay for reparations."
The DA reminded canyon residents that his office successfully prosecuted the first manslaughter case against a major utility — PG&E — for its role in the 2018 Camp Fire that destroyed Paradise.
Pete Woiwede, an organizer for the statewide Reclaim our Power, said the work by Butte County to hold PG&E accountable for that deadly fire was important, but penalizing the power company with fines hasn't produced the structural reform needed. The campaign was borne out of the California wildfires and power shutoffs in recent years, and works with communities on utility reform plans.
"PG&E has failed time and time again," Woiwede said. "The dollar amounts [in penalties] become a pittance compared to the impact on our communities."
Leslie Layton is editor of ChicoSol.