by Ulises Duenas
essay posted Oct. 29
Death is universal and inevitable. It's almost impossible to prevent a loved one's death from being emotionally painful when it happens. But how a culture or family views death and the passing of a loved one is far from universal.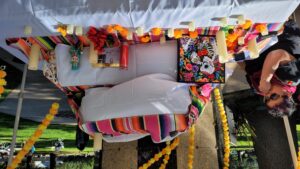 Día de los Muertos, or "Day of the Dead," is a Mexican holiday that came from combining Aztec and Spanish traditions. The focus is on celebrating the lives of those we lost and using food and music to give them a good time before their souls return to rest. The holiday is all about associating death with feelings of joy and thankfulness rather than with reopening old wounds.
Chico is a town full of Mexican influence; the name "Chico" itself is a Spanish word, and the bounties of Mexican culture are shared through the entire community. That includes a Día de Los Muertos event that's been happening at the Chico Cemetery on Mangrove Avenue, a celebration that's in its third year. The organizers, Amber Rodriguez, Josiah Anaya and Jessy Maice wanted to highlight the beautiful symbols, vibrant culture and positive emotions that the holiday evokes.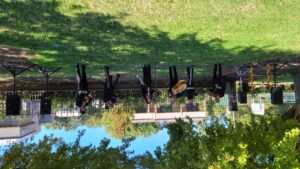 "In the cemetery community we realized, in serving all faiths and families, that every culture has different needs, and this is our way of addressing the needs and desires of the culture that we serve," said Josiah Anaya. He added that, as someone who works in funeral services and sees death every day, the holiday is "an outward expression and reminder that every day is a gift, and the story and legacy of those who passed lives on as long as we memorialize them."
Families gathered at the Chico Cemetery Oct. 28 to enjoy free tamales, horchata-flavored cotton candy and a live mariachi band. There was an irony in seeing so many smiling faces at a cemetery, and that's a testament to what the holiday can do for people. Nothing can take the pain away from death, but having just one day where a community can come together to celebrate those they lost can have powerful effects. There was also a traditional ofrenda, which is an altar decorated with sugar skulls, candles and food for the spirits to enjoy.
"We want to just bring more awareness to what the culture has and what it means," said Rodriguez. "Every year we hope to grow and get the community out here to teach them more about the Day of the Dead."
The organizers already have a good number of people who show up for the event, but there's no reason it can't grow.
Death will always carry with it a mystique. It's a reality of life that death is as ethereal as it is natural, and as we navigate our own feelings on mortality, it's important to remember that even death is not final. Whether you believe in an afterlife or not, you still have to deal with death in some way. Día de los Muertos helps us remember that our dead loved ones were more than people who aren't around anymore — they were people with lives worth remembering and celebrating.
Ulises Duenas describes himself as "the son of two Mexican immigrants who has a passion for writing."