By Dave Waddell
Seemingly undeterred by a state investigation into its activities, a political action committee is following a script in this year's Chico City Council race that is similar to the one that brought scrutiny to its politicking two years ago.
The PAC, called Butte County Awareness and Accountability, widely distributed a mailer in recent days that lambasts council liberals Ann Schwab, Tami Ritter and Randall Stone. All three face re-election Nov. 8, along with conservative Vice Mayor Sean Morgan.
The state Fair Political Practices Commission (FPPC) opened an investigation in August into Butte County Awareness and Accountability and its treasurer, Thomas Kozik, as a result of a ChicoSol story that can be read here.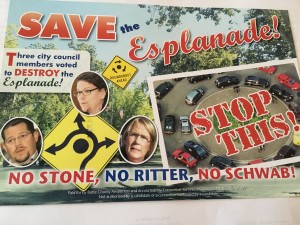 The bulk of Butte County Awareness and Accountability's spending during the past couple of years has been to produce and mail slick hit pieces aimed at City Council liberals.
The FPPC does not comment on active investigations, but ChicoSol reported that Kozik's PAC appeared to violate state law by filing its campaign disclosure reports with the Butte County elections office in Oroville, rather than with Chico's elections office. Kozik did not return a message seeking comment for this story and had previously declined to comment on the FPPC investigation, which can be read about here.
This year's flier from the PAC focuses on one issue: Schwab, Ritter and Stone's short-lived support for roundabouts on the Esplanade, Chico's iconic, tree-lined thoroughfare. In April, the liberal trio joined conservative Mayor Mark Sorensen in approving the roundabouts, but all except Schwab quickly backed off in the face of a major public backlash. The flier claims the three liberals "voted to DESTROY" the Esplanade.
In 2014, Butte County Awareness and Accountability mailed two text-heavy fliers attacking former Chico Mayor Scott Gruendl, who was defeated that election in his bid for a fourth council term.
The financial disclosures Kozik has submitted through Thursday for the Nov. 8 election show that this year his PAC had raised $8,750 and spent about $4,500. The PAC says it paid almost $3,000 to produce and mail a flier — presumably the "Save the Esplanade!" mailer, although it doesn't specify.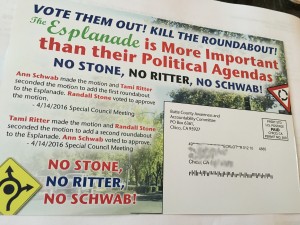 In 2014, about 78 percent of Butte County Awareness and Accountability's spending went for the two Gruendl mailers. State law requires that if a PAC spends 70 percent or more of its funds in a city race, its fundraising and spending reports should be filed with that city. Instead, Kozik has sent the PAC's disclosures to the Butte County elections office.
However, unlike two years ago, Kozik recently began submitting to the city elections office "courtesy copies" of his PAC's disclosure forms for 2016, said Dani Rogers, deputy city clerk. The forms may be viewed here.
As was the case in 2014, Butte County Awareness and Accountability's biggest donor this year has been Chico developer Wayne Cook, who has given the PAC $3,500 of the $8,750 it has raised to date. Two years ago, Cook donated $5,000 of the $11,162 that Butte County Awareness and Accountability spent.
Butte County Supervisor Larry Wahl also has contributed to the PAC, donating $500 this year.
Cook, who received $2 million in loans from the City Council while building the Hotel Diamond downtown, acknowledged previously that the ads he helped finance against Gruendl turned out to be "pretty harsh."
Kozik was a leader of the Tea Party in Chico as recently as 2014 but says he no longer is involved with the right-wing group. He was appointed to the Chico Municipal Airport Commission by the City Council in early 2015.
In establishing Butte County Awareness and Accountability in September 2014, Kozik claimed the PAC was a "general purpose committee." However, in spending the largest part of its funds going after Gruendl, the PAC seemed to behave like a different classification of committee. State reporting forms distinguish between a general purpose committee and one "primarily formed to support or oppose specific candidates or measures in a single election."
Jay Wierenga, the FPPC's communications director in Sacramento, has said that while he can't comment on the Kozik case, PAC treasurers are required by law to submit truthful filings.
"(PACs) are supposed to file at the proper location, based on the type of committee, and where and how they are spending and raising the money," Wierenga said.
Penalties range up to a $5,000 fine for each violation of the state Political Reform Act.
Dave Waddell is news director at ChicoSol.