by Dave Waddell
The Chico Police Department – criticized for not having body cameras on its officers in the recent killing of a mentally disturbed young black man – deployed those cameras on Saturday, Chief of Police Mike O'Brien said today.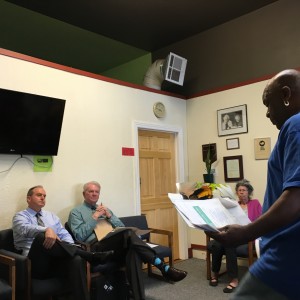 O'Brien made the surprise announcement at the somewhat raucous April 3 meeting of the Human Relations Network of Butte County (HRN), at which he and Butte County District Attorney Mike Ramsey revealed more details and answered questions about the Chico police shooting of 25-year-old Desmond Phillips on March 17. Two officers fired 16 rounds, with 10 bullets hitting Phillips, Ramsey said.
Chico police tested and selected body cameras for use in 2015, but deployment was delayed, partly to obtain funding for costly data storage. The latest delays were attributed to a persistent glitch in being able to transmit camera data from Chico PD to the district attorney's office. O'Brien said that issue was finally fixed, and that all uniformed patrol officers began April 1 using the cameras, which are affixed to the officer's chest and are supposed to be turned on in any enforcement action.
O'Brien also announced at the HRN meeting that the Chico Police Community Advisory Board will launch what he predicted would be "an uncomfortable" community conversation about the treatment of the mentally ill. The discussion will begin at the board's next meeting, 5:30 p.m.-7 p.m. May 17 at the Old Municipal Building, 441 Main St., he said.
Read our story on the fatal shooting of Desmond Phillips here.